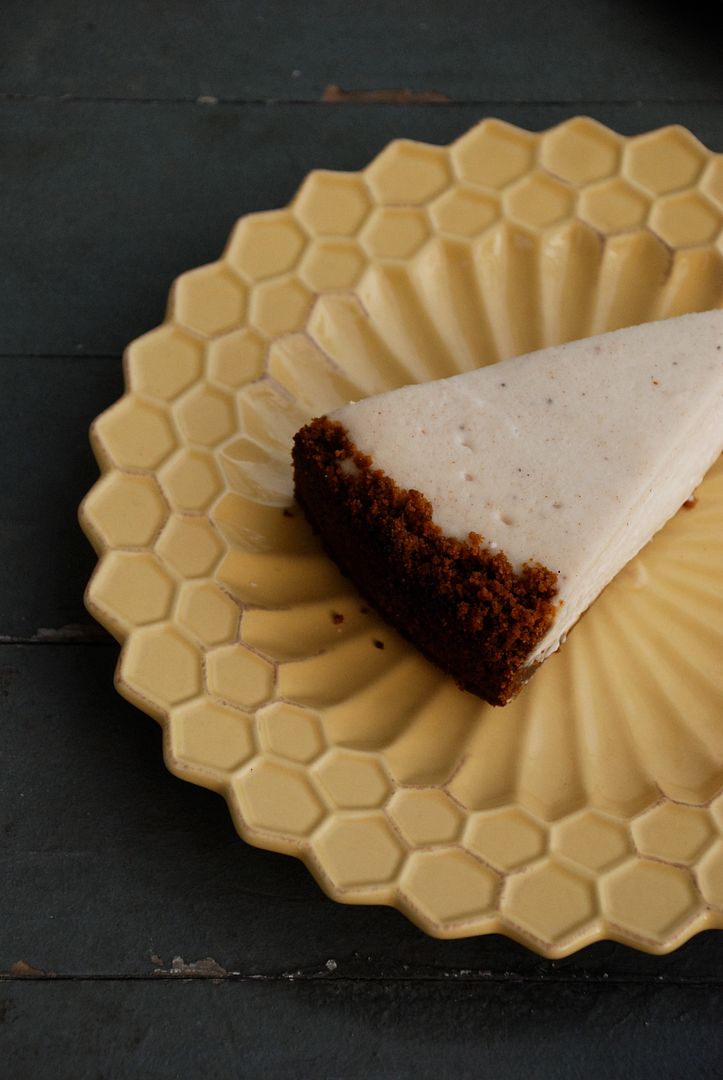 The holidays have finally come and gone. The new year is rapidly approaching. If your past month was anything like mine you probably have ample cookies tucked away in cabinets and half finished containers of nog in the fridge, already starting to get pushed towards the back behind those takeout containers and almond milk. This is the perfect recipe to help you finish off those cookies and nog. I started looking around for recipe inspiration and was really intrigued by
Meet the Shannon's soy nog cheesecake
, but I didn't have all the ingredients on hand. It was 9pm, I was already in pajamas and was set on making nog cheesecake
now
. So I took their beautiful recipe and tweaked it to fit my needs.
I made the crust from some gingerbread cookies that I rolled out too thin and baked a bit too long. They were too crisp to put into the cookie baskets I made for our friends & neighbors, so I tucked them away at the time not sure why I was saving them. But low and behold, they were perfect for making cheesecake crust. The spice balanced nicely with the creamy filling, and I didn't have to throw cookies away. One of the utmost offenses known to man. Also, if my cheesecake looks a little soft it's not because the recipe will give you a too soft filling. It's solely because I took the cheesecake out of the oven ten minutes before it was done baking. I suddenly got really tired and decided it was time to turn the oven off and go to sleep. Late night baking: you win some, you lose some. Waking up with soy nog cheesecake, a win. Even if it's a little under baked.


Crust
13 ounces gingerbread or gingersnap cookies
1/2 cup Earth Balance margarine.
Crush the cookies to crumbs in a food processor. While those are being pulsed, melt the Earth Balance in the microwave. Pour over the cookie crumbs and mix with hands until the butter is fully incorporated. Start with 1/2 cup of melted Earth Balance. If the cookie crumbs still aren't wet enough to hold together when you squeeze it in your hands, then add another tablespoon or two. Press into the bottom and up the sides of a 9 or 10" springform pan. I used a 10" pan.

Soy Nog Cheesecake Filling
3/4 cup Silk soy nog
3 tablespoon EnerG Egg Replacer
28 oz Tofutti cream cheese (3 1/2 tubs)
3 tablespoon coconut flour
1 cup sugar
3 tablespoon flour
3/4 teaspoon cinnamon
3/4 teaspoon nutmeg
scraping of one vanilla bean

Heat oven to 350. Warm the soy nog and whisk in the egg replacer. Allow to thicken and slightly cool for several minutes. Meanwhile, in the bowl of a standing mixer with the paddle attachment combine all the remaining ingredients. Add nog and beat until the batter is smooth. Add to springform pan. Bake for 40 minutes or until the center of the cheesecake is only slightly wiggly but appears firm. Allow to cool overnight.