So this pie might not be seasonably appropriate. But this fall has also not been seasonably appropriate. The weather has been all over the place. I never know whether I am going to be searching for a jacket or wishing I had worn shorts by the time I leave the house in the mornings. I feel like this fall has slipped past me quicker than most. Greg and I just went apple picking last weekend. Only to find that the majority of the apples were totally gone. I salvaged a few Granny Smith's from the ground to make into applesauce, but there was little plucking from the tree action. I haven't even watched any Halloween movies yet, which is
totally
unacceptable. Last year we had cable, so all I had to to do was turn on ABC family at any point I was home and I could watch the Addams Family and Hocus Pocus and Corpse Bride at a whim. This year we have cut it off, and I can't find them anywhere. I have spent a fair amount of time browsing local shops that sell older movies, but I think I am going to have to cave & buy them online so that this tragedy doesn't happen again next Halloween. I have made hundreds of little chocolate bats & black cats and ghost cookies. There's 500 spiderweb cupcakes just waiting to be eaten at the bakery. A few weeks ago I bought a ton of candy and hid it away so my sugar cravings wouldn't annihilate it. Last night I finally picked up a little bowl to put it all in. And resisted to buy a miniature cauldron, because I am running out of space for such things. I'm ready to see all the tiny witches and goblins and super heroes tomorrow, but I'm not ready to let Halloween go yet.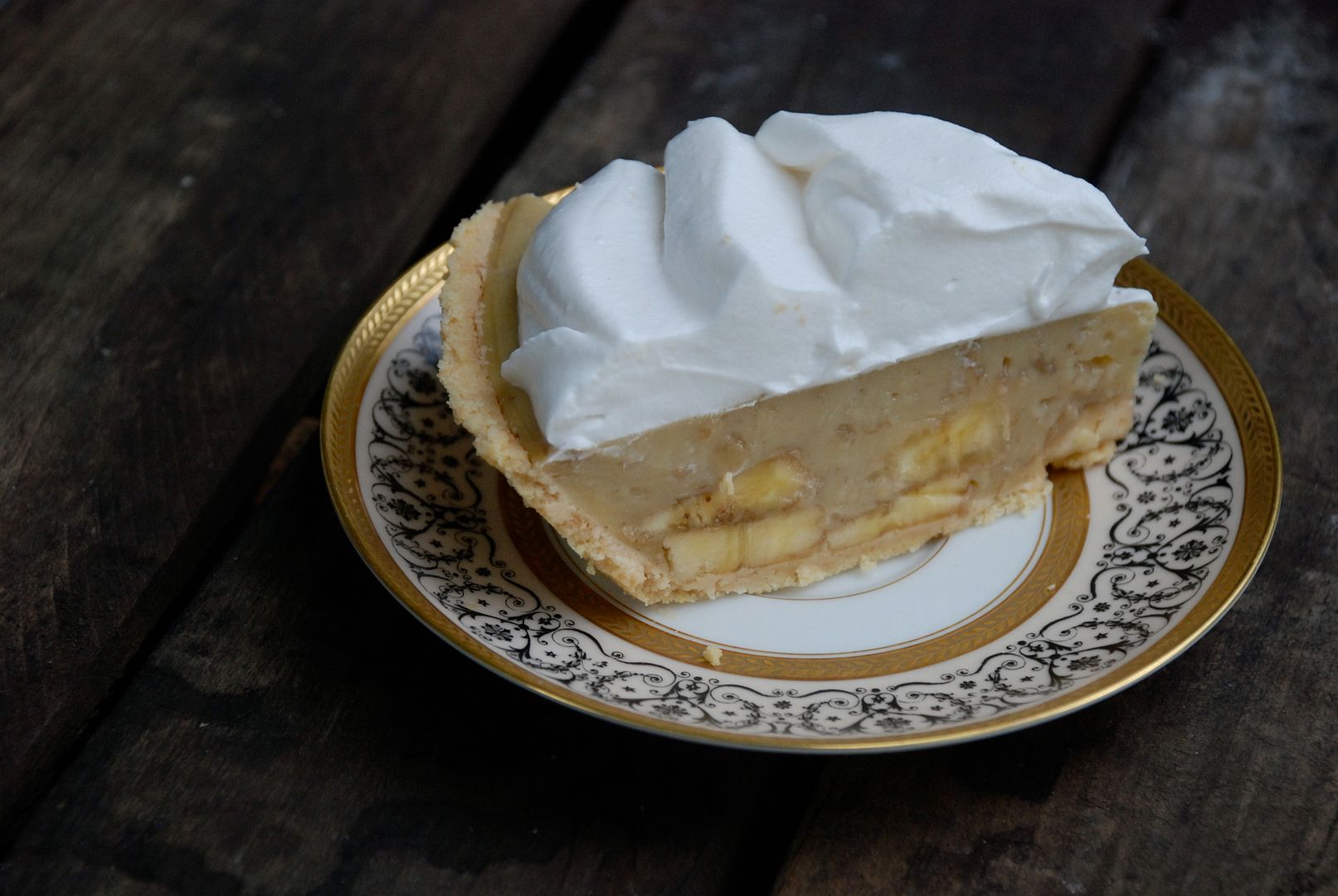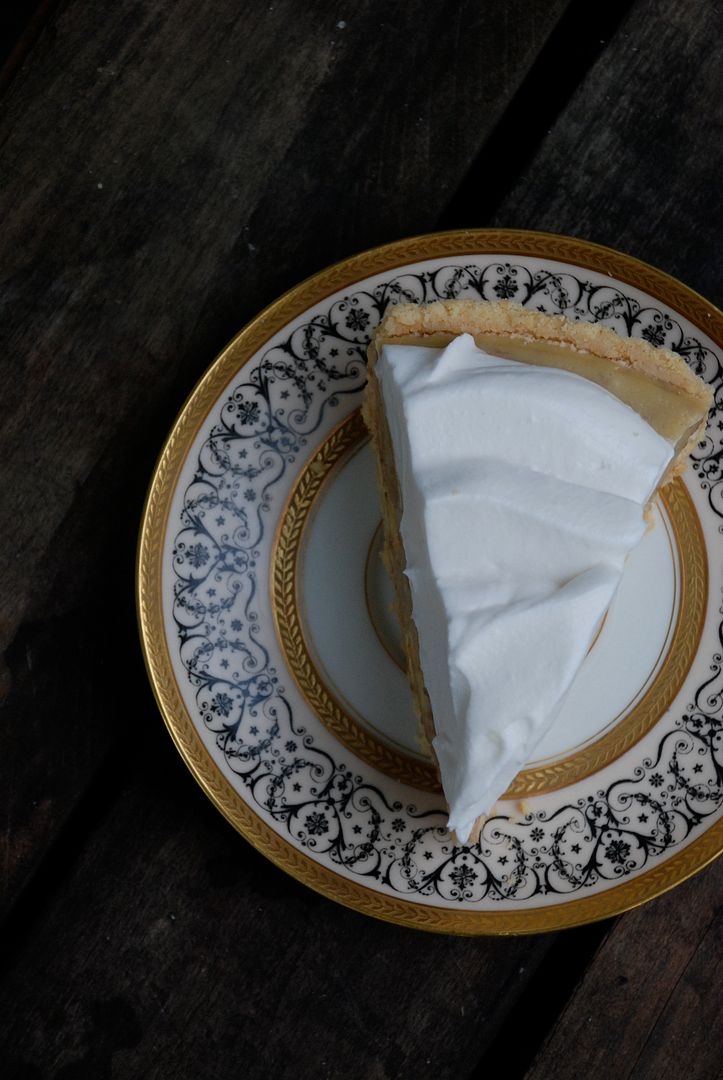 Banana Cream Pie

one 9" pie shell (I used a shortbread cookie crust)
3 bananas (2 sliced & 1 pureed)
3 cups almond milk
1/4 cup sugar
3 tbl Bird's Custard Powder
1 tbl cornstarch
1 tsp vanilla extract
vegan whipped cream of choice (I love the cartons of Soyatoo!)

Place the banana slices along the bottom of your pie shell. I prefer to have a ton of sliced bananas, but if you don't then you might be able to get away with only one sliced banana. In a small bowl combine 1/2 cup of the milk with the custard powder and cornstarch. In a medium sauce pan bring to a boil the remaining almond milk and sugar. Once boiling stir in the contents of the small bowl and cook until thickened. Remove from heat and fold in one pureed banana and the vanilla extract. Immediately pour into pie shell. Allow to cool at room temperature for fifteen minutes before refrigerating for at least two hours. The pie will develop the banana flavor further overnight. Top with whipped cream and slice.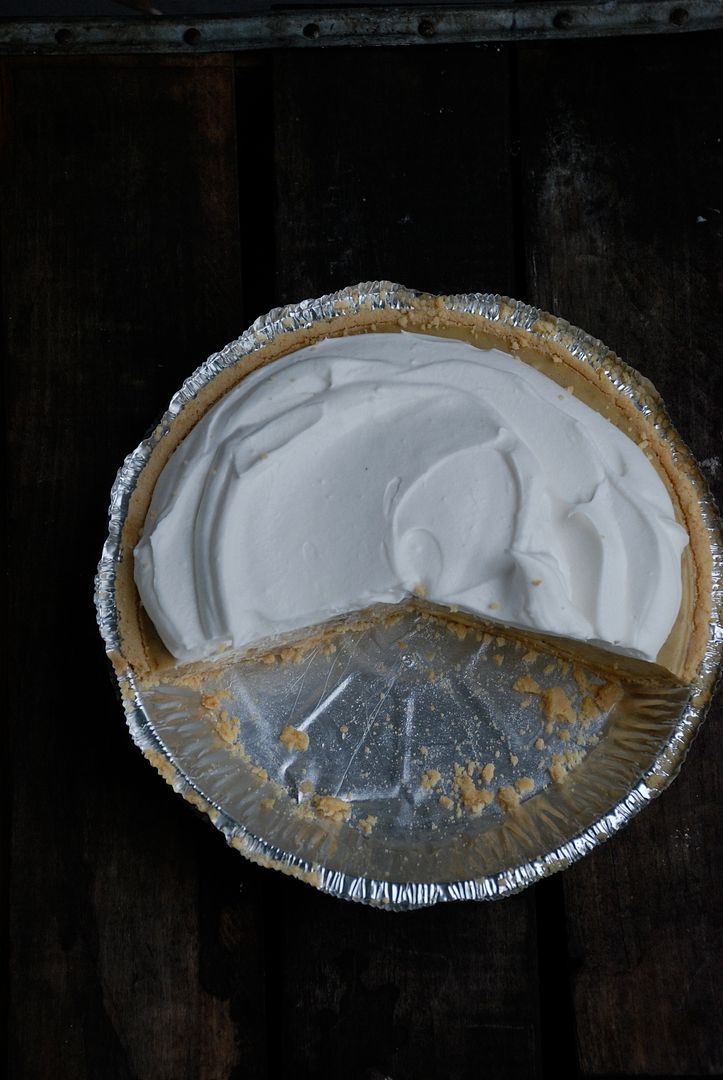 Maybe I made this pie because I'm not ready to let summer go yet either. It feels like time just keeps going faster and faster and no matter how little I sleep or how much coffee I drink, I can't quite keep up with it all. I'm ready to dig my heels into the ground and pull things to a halt. Just for a
little
while. I need some time to clean my bathroom and organize the kitchen without missing out on all the terrific things happening around me. I feel like I have always been pretty good at time management, but now I'm trying to figure out ways to use my time even better. Listening to podcasts and books on tape while I commute. Paying bills and writing blog posts while I am watching tv. Making larger dinners so that I have leftovers to save a little cooking time. Hopefully it adds up and I feel a little less cramped for time soon.
Do you have any magical tips for enjoying the present but still staying incredibly productive?! Are you doing anything terrific for Halloween? I didn't come up with a costume this year, because it didn't even cross my mind until it was too late. I saw a terrific Scully & Mulder. I think it's my favorite costume so far.
Today it feels like fall finally. It's cool but not freezing. It rained this morning, and there's leaves blowing around the streets. I am going to bake another pie (pumpkin this time, I get
it
it's fall!) and make a giant batch of soup with some broccoli that I picked at Larriland Farms earlier in the week. I've got a kettle warming up on the stove to make another pot of tea. I feel a little too stressed for it to be a day off, but it's ok. Everything will get done eventually.