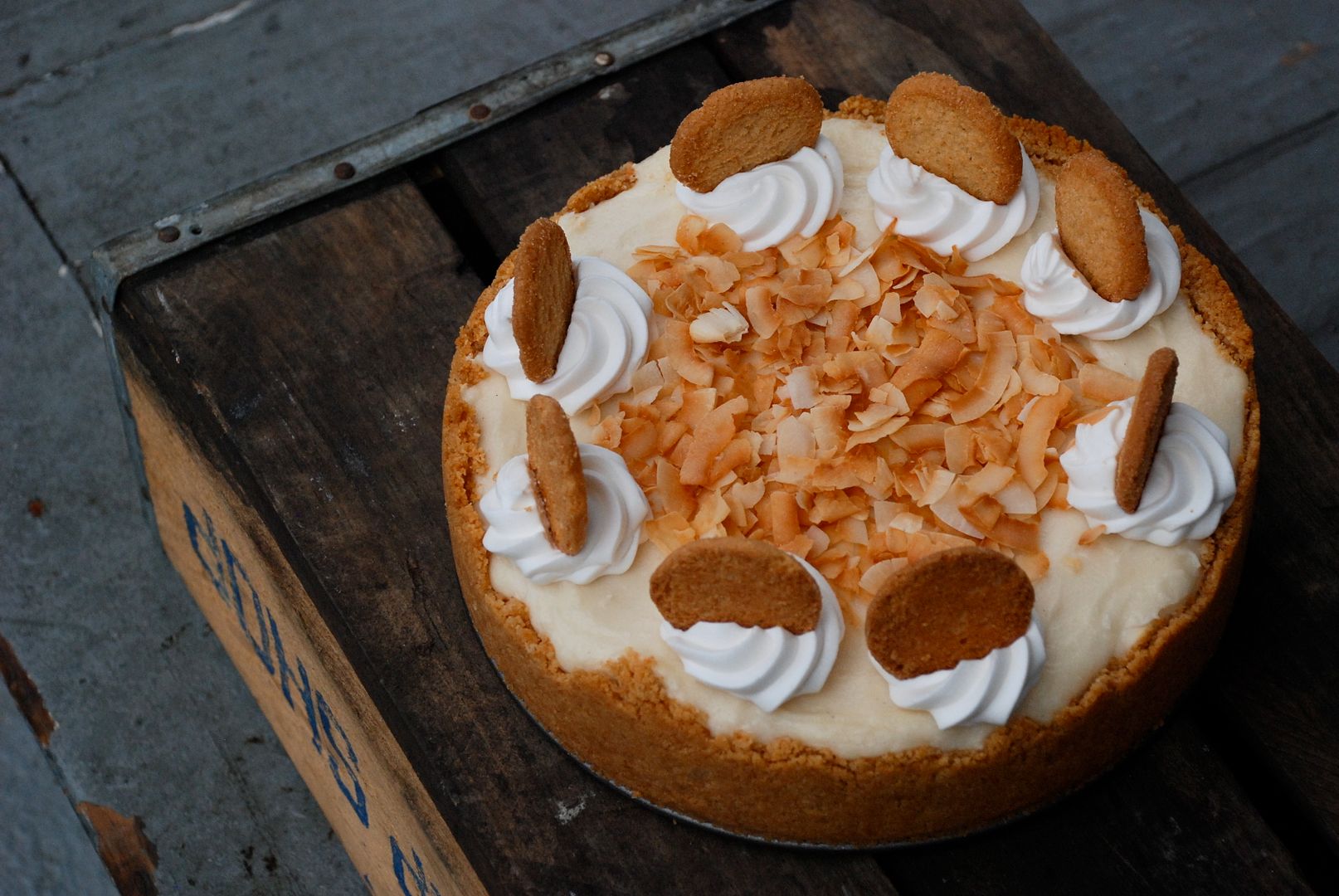 There might be green grass & tulips now, but I made this spring-inspired cheesecake in the dead of winter. I made it on a bitter, cold day when we had run out of oil and were waiting for the tank to be refilled. I really needed an excuse to turn the oven on & wish for warmer days. There's not much of a sunnier combination than lemon and coconut, so that is what I went with. I tweaked the recipe from my
soy nog cheesecake
to incorporate those flavors. And just for the record, if you have never had the pleasure of living in a house heated by oil consider yourself lucky. Our giant, old house in DC requires thousands of dollars of oil to make it through the winter. And that's not toasty warm, it's just tolerably chilly & with the windows wrapped to keep out the drafts.
Luckily worrying about heat is over, since it finally hit 70 degrees this week. I opened the windows. I broke out my shorts. I wore a skirt without tights. It was magical. I even braved the crowds to see the cherry blossoms in peak bloom for the first time. I snuck onto an empty lot a few blocks away and picked a ridiculous amount of daffodils to fill a few milk bottles. I am starting to see lilies in bouquets at the grocery store, so I know May is rapidly approaching. My favorite flowers are the lilies that bloomed in my mother's garden. They always opened up right around my birthday, my favorite time of the year. Not
just
because it's my birthday, but because May is the most beautiful month of the year. So here's to cheesecakes and flowers and perfect spring afternoons.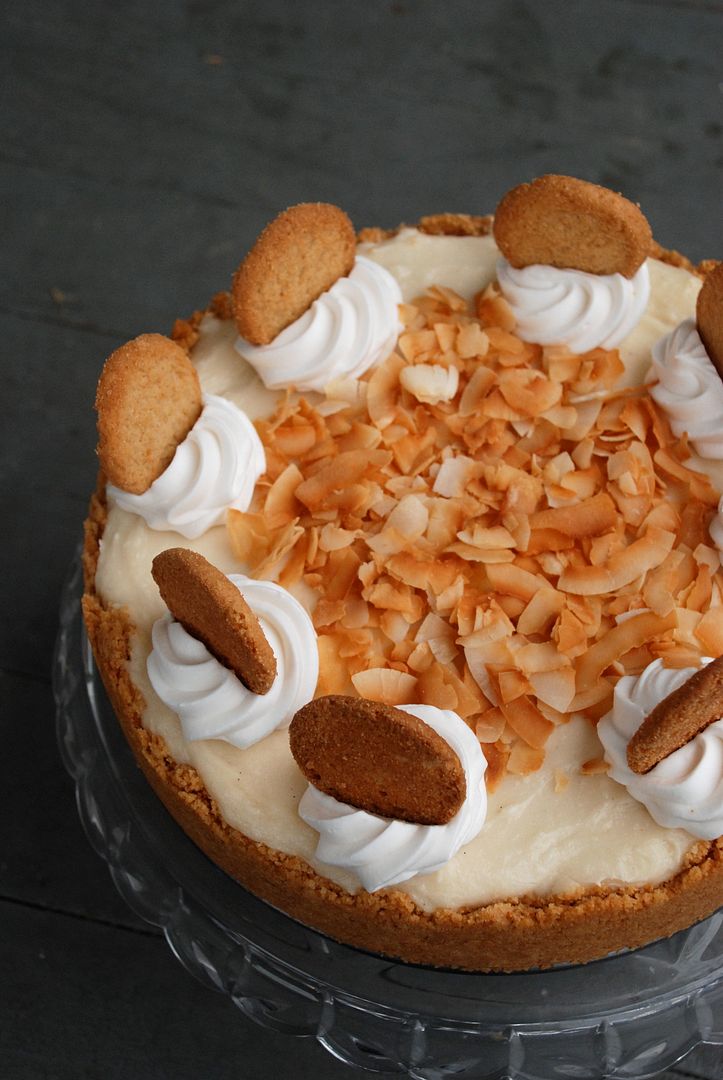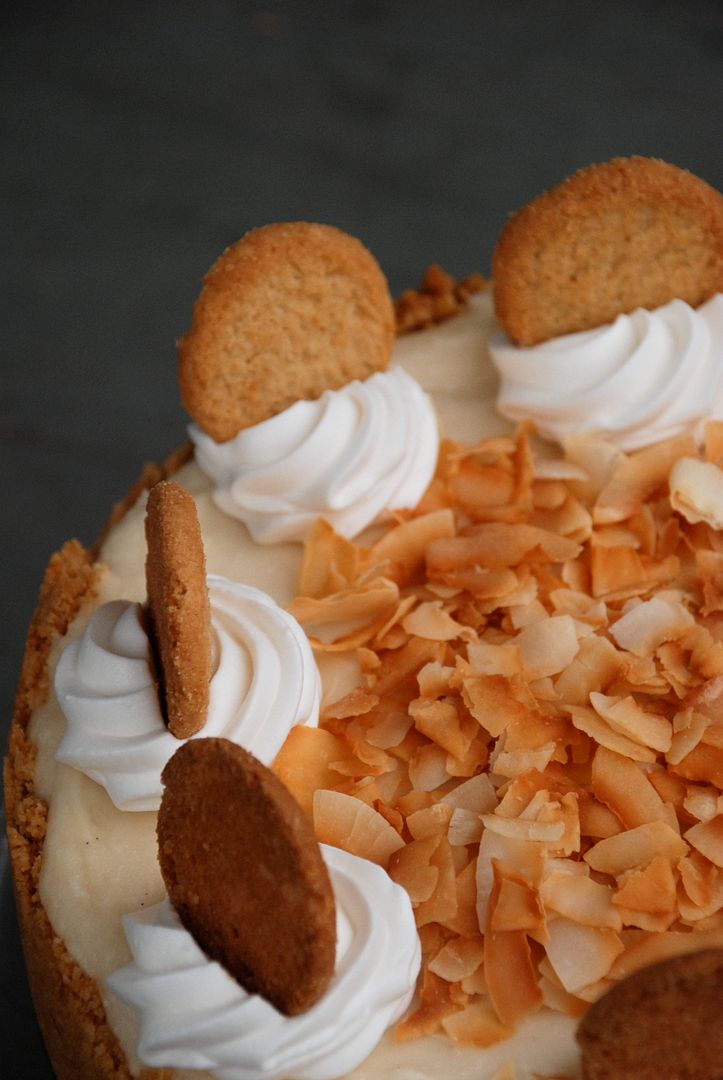 Lemon Coconut Cheesecake
makes one 10" cheesecake

Crust
9 ounces lemon cookies (I used Back to Nature's California Lemon)
4 ounces shredded or flaked coconut
1/2 cup shortening

Crush the cookies & coconut to crumbs in a food processor. While those are being pulsed, melt the shortening. Pour over the cookie crumbs and mix until fully incorporated. If the cookie crumbs still aren't wet enough to hold together when you squeeze it in your hands, then add another tablespoon or two of shortening. Press into the bottom and up the sides of your springform pan.

Cheesecake Filling
3/4 cup coconut milk
3 tablespoon EnerG Egg Replacer
28 oz Tofutti cream cheese (3 1/2 tubs)
1/4 cup coconut flour
1 cup sugar
scraping of one vanilla bean
zest of one lemon

Heat oven to 350 degrees Fahrenheit. Warm the coconut milk and whisk in the egg replacer. Allow to slightly cool & thicken for several minutes. Meanwhile in the bowl of a standing mixer with the paddle attachment, combine all the remaining ingredients. Add coconut milk and beat until the batter is smooth. Pour into to springform pan, smoothing the top of the cheesecake. Bake for 40 minutes or until the center of the cheesecake is only slightly wiggly but appears firm. Allow to cool overnight. I topped it with coconut whip, additional lemon cookies, and tons of toasted coconut flakes.