Two years ago was the first time I made hamantashen. I think Greg and I just googled vegan hamantashen recipes and made whatever we found. I remember them being good, but never saved the recipe. This year we decided to take on the challenge of making several recipes until we found one that we were blown away by. We made 4 batches over the course of 2 days. Two of the recipes were good. One recipe was mediocre. The last recipe resulted in pre-jammed biscuits. While I appreciate a good biscuit, it does not make for a good cookie. We also had a large number of our cookies fall apart during baking. I was upset. I don't take failure well, and frankly it has been a while since I have experience a baking disaster. I couldn't sleep because I was too busy trying to figure out how to make perfect hamantashen. Luckily for me, the next morning Greg's sister posted a round up post of
interesting flavor combinations
which offered an alternative to pinching the edges that I thought might work. But it also caused us to change flavor course. I was no longer satisfied with raspberry, strawberry, and chocolate. I now needed something more interesting. So I settled on samoa and he made a few of the PB&J variety. We still had cookies fall apart with the folding rather than pinching. I decided the main problems were that we were overfilling the cookies (who can blame us?!) and over-flouring the counter as we rolled them out. Once I remedied those two grievous errors, we had plenty of beautiful, photogenic hamantashen. The dough recipe that follows is adapted from the inspiration for the samoa hamantashen I saw on
Kitchen Tested
. I liked that dough, but my favorite was Hannah's recipe from
Vegan Desserts: Sumptuous Sweets for Every Season
. It's probably the recipe we will use again next year.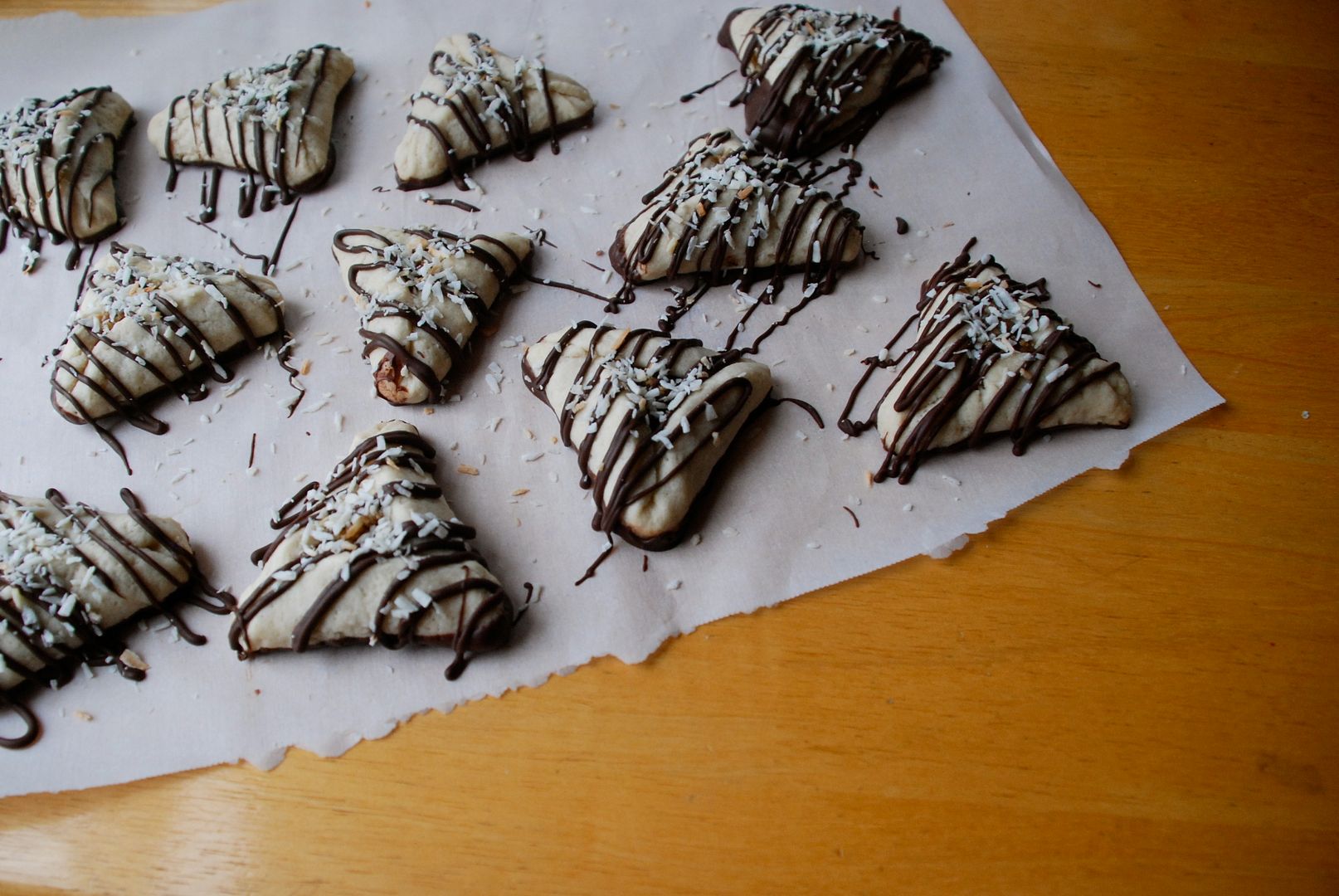 Samoa Hamantashen
halved & veganized from Kitchen Tested
1 cup Earth Balance
1/4 cup sugar
1/2 cup full fat canned coconut milk
1/2 tsp vanilla extract
3 cups flour
Coconut caramel, recipe follows
13 oz chocolate chips, semisweet or dark.

Cream Earth Balance and sugar. Add coconut milk and vanilla extract. Beat until combined. Add flour in halves, mixing until a thick dough forms. Chill for at least one hour before using (make coconut caramel filling during this time). Roll out between parchment paper with as little extra flour as possible. This will help keep your hamantashen from falling apart. Add approximately a half teaspoon of filling to the center of each circle, then either fold the sides or pinch the edges together to create a triangle. Bake at 375 degrees for 11-14 minutes until the edges of the cookies are lightly browned. Once cookies are cooled dip bottoms in melted chocolate. Drizzle additional chocolate in zig zag formation over top of cookies then sprinkle remaining coconut from the filling on top.

Coconut Caramel
1/2 cup full fat canned coconut milk
1/3 cup dark brown sugar
1 tablespoon Earth Balance
1/2 tsp vanilla extract
1 1/4 cup unsweetened shredded coconut

In a small sauce pan combine coconut milk, brown sugar and Earth Balance. Allow to come to a low boil. Simmer for 20-25 minutes until the mixture has thickened into a syrup and smells like caramel. It will also darken in color. While this mixture is simmering, spread your shredded coconut on a sheet pan and bake at 350 degrees for 4-7 minutes. After 4 minutes stir the coconut to ensure that the coconut isn't browning unevenly. Remove when half of the coconut is lightly browned and continue to stir on the pan while it is cooling, as the coconut will continue to toast while the pan is hot. Reserve 1/4 cup of the coconut for sprinkling on top of hamantashen. Stir the other cup of coconut and the vanilla extract into the caramel. This will fill at least 2 dozen cookies, potentially more depending on amount of filling placed into the cookie and the amount of times you eat a spoonful of caramel for good measure.


I ended up making extra coconut caramel and now I feel like I have to make more samoa cookies to really utilize the rest of it. Otherwise I will end up eating it with a spoon when I get home from work and am too sleepy to make myself a real dinner. I can't get the majority of those flavor combinations I read about out of my head. I can't decide what next year will be. Caramel apple? Spumoni? Who knows.