I went on this date in college. It was with someone several years older, which was really what I was looking for at the time. He was an NPR reporter and seemed to have his life together in a totally attractive way. Somehow on the night that we met I mentioned that since becoming vegan I had really missed eating cannoli, and he suggested that we figure out how to make them. Next thing I knew he bought this set of
cannoli forms
online. When they showed up I went over to his house for the evening to make cannoli. If you've never made cannoli before, this is a really long process, which was probably (
definitely
) a terrible idea for a first date. If you have only spoken to someone in a crowd for fifteen minutes, you might not want the next step to be being alone in a tiny apartment kitchen for 6-7 hours. It was all just a little awkward. I remember there were dinosaurs all over his room and then top top it off, he showed me his
chainmail
collection. He was really sweet and I was really nice the whole time, but I just
knew
about ten minutes into this several hour process that we were only going to be friends. We made the cannoli from this bizarre recipe I found online using silken tofu to fill them, and they were downright awful. But I pretended it was great and avoided a goodbye kiss, and I ended up walking away with a set of cannoli forms he didn't want to keep.
Flash forward a few years, and I have made vegan cannoli two more times. The first time I got the shell right. But the filling still wasn't quite what I wanted. I knew that I didn't want it to be too sweet or frosting-like, which is how I feel about Vegan Treats cannoli filling. So I decided to try and get as close to possible as a ricotta by making one from almonds. It worked out quite well. I think it would work with cashews too, but I think the almond flavor is a little more subtle.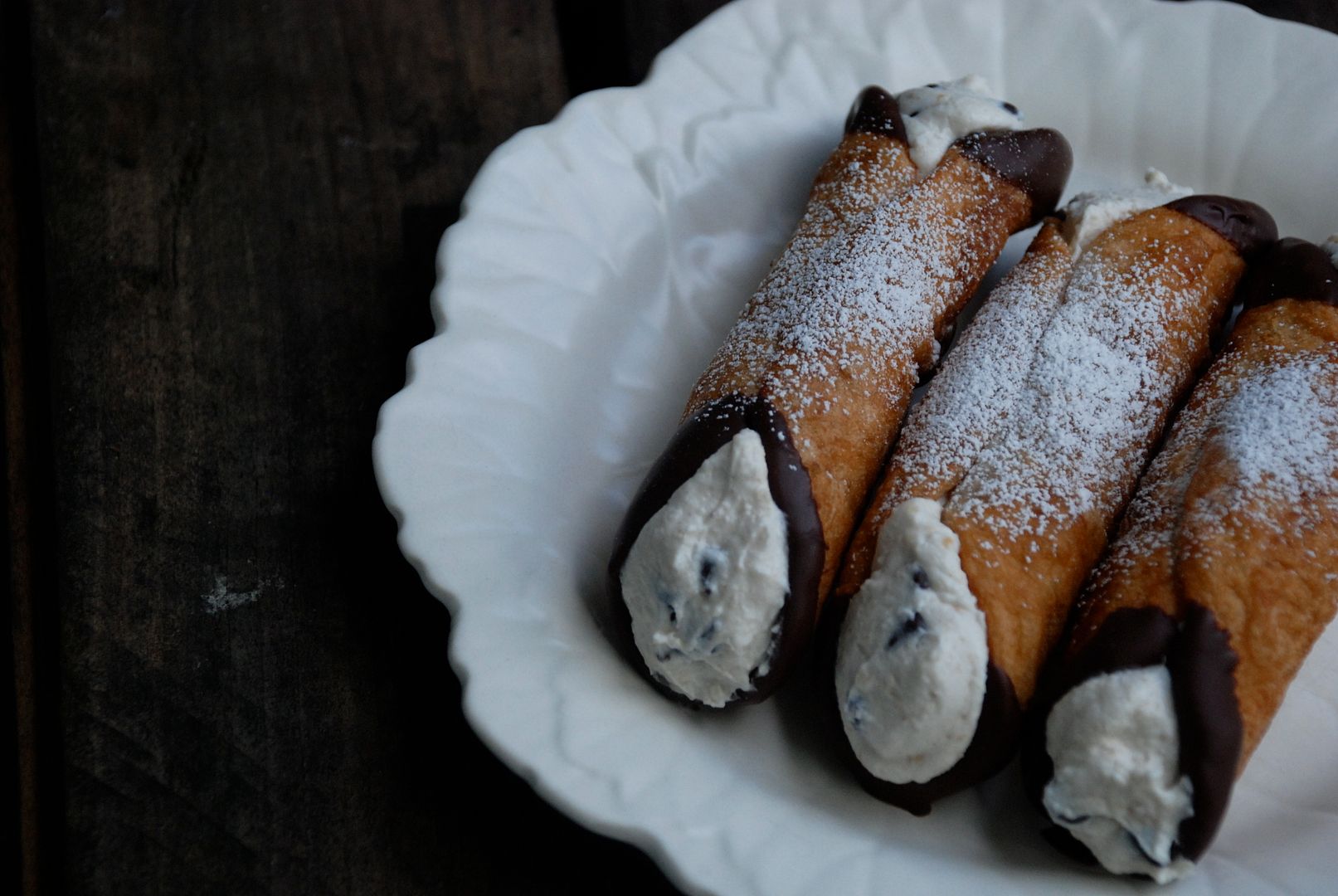 Almond Ricotta

1 1/2 cup almonds
3/4 cup canned coconut milk
1/4-3/4 cup water

Pour almonds in a bowl and completely cover with several inches of water. Soak overnight. The next day drain the almonds while boiling a few cups of water. Pour boiling water over almonds and allow to sit for 2 minutes, stirring occasionally. This is called blanching. Now peel all the almonds, by squeezing them between your thumb and forefinger. This is a tedious task, but a great time for self reflection. Plop all your peeled almonds in your best blender/food processor with the coconut milk. Start trying to process it. Stopping to add more water as need to keep the blades moving and making sure to scrape down the sides frequently. It took me about fifteen minutes to get the ricotta as smooth as I wanted it. The ricotta can be made in advance and chilled for about 4 days before it will start to sour. If you have additional ricotta left over, you can add savory seasonings and use it in pasta dishes!

Cannoli Filling

12 oz almond ricotta, recipe above
12 oz vegan cream cheese
2 tbl shortening
3/4 cup powdered sugar
1 tsp vanilla extract
1/2 tsp cinnamon
1/2 cup mini chocolate chips

Combine ricotta, vegan cream cheese, & shortening and beat for several minutes until combined. Add powdered sugar, vanilla, and cinnamon and beat for several minutes until fluffy. This should have a very thick, frosting like consistency with a hint of cinnamon and a very subtle sweetness. If you're filling isn't think, it is probably because you needed to add additional liquid when making your ricotta, you can add a little more shortening to thicken it up. Fold in chocolate chips and allow to chill until ready to use. The filling can be made up to 4 days in advance, too much longer and it will start to sour.

Cannoli Shells
makes 15-20 cannoli shells depending on thickness rolled out too

2 3/4 cup flour
2 tbl sugar
1/2 tsp cinnamon
1/4 cup shortening
2/3 cup marsala wine
2 Ener-G eggs, prepared separately
enough oil for frying, I used around 4 cups.
3 oz of chocolate, optional
powdered sugar for dusting

Prepare one Ener-G egg and let sit to thicken. Combine flour, sugar, and cinnamon. Mix until evenly distributed. Add shortening in small chunks, and begin to mix on a low speed. Add Ener-G egg and slowly drizzle in wine until a thick dough forms. Wrap in parchment and allow to chill for one hour.
Prepare second Ener-G egg and allow to sit. Add oil to a pan that is at least two inches deep. Turn to a medium-high temperature and allow to heat up while you start rolling out the dough. I broke the dough into 6 small portions to make it more manageable. I rolled each portion out between sheets of parchment paper and didn't need to use any flour to keep the dough from sticking. I cut sections of the dough with a 3.5" cookie cutter & then rolled those out in one direction to make very thin,wide ovals. Place your cannoli form at one end and roll it towards the other side. Brush the inside edge with a little Ener-G before placing it on top of the other side of the dough. Fry one at a time until totally golden. Allow to cool for several minutes before trying to pull out the cannoli mold or you will burn your fingertips! I had 4 forms, so normally by the time I got to the last one, I could pull the first mold out of the shell. Repeat until all dough is used. Once cooled dip ends in melted chocolate if desired.
Place the filling in either a piping bag with a large tip or use a ziplock bag or a spoon if that's all you have. Fill it until it can't hold any more filling. You can dip the edges of the filling in chopped pistachios & a cherry if you want to get super Italian. You could dip them in more chocolate chips. I left them the way they were so I could see the beautiful filling I was so proud of. They are fine for 2 days, but are really best eaten immediately.


I had seen a recipe for a baked cannoli bite on
Cooking Classy
that I knew I also had to try since I was already making cannoli. My shell recipe really didn't taste great baked. I found it to be a little too crunchy and I think the flavor of the oil is pretty essential in giving the dessert their signature taste. However the bites were still super cute. Since making these last week I have been thinking about it quite a bit, and came up with an alternate way to make mini cannoli cups. You could freeze the dough in the mini cupcake pans and then fry them individually! I am 99% sure this will work, and it is definitely on my to try list. That way you don't have to even worry about buying your own molds, unless you too have a date who might buy some for you?!
This wraps up my Vegan MoFo sweets! I wanted to save the best for last, and I really think I did. It's a close call with
baklava cheesecake
, but I think this is definitely the winner in my book. I hope everyone else had a great month. What was your favorite thing that you made? Did you meet lots of amazing new bloggers too? It's always refreshing to find new people with similar views.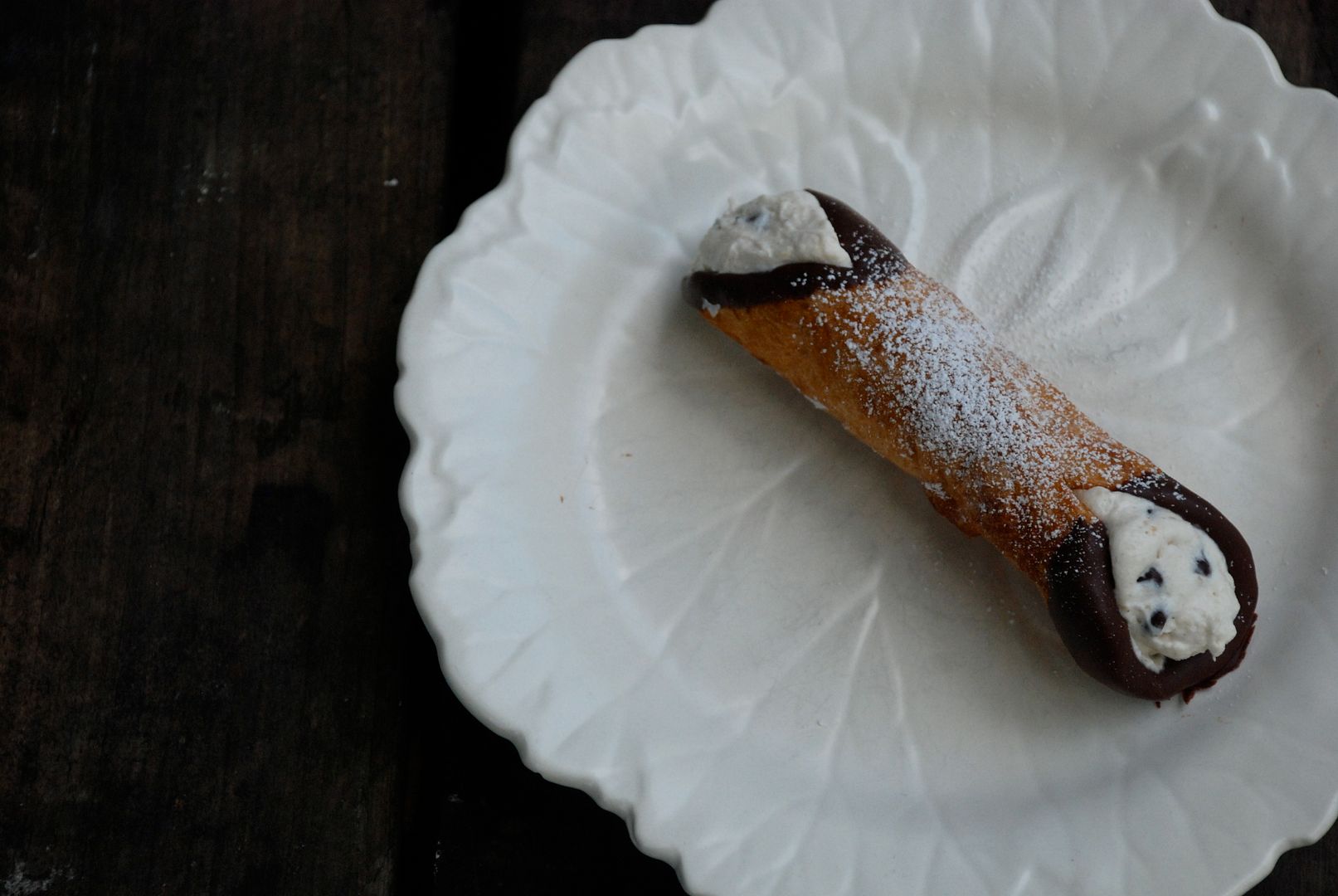 Also if you don't already have a KitchenAid mixer and live in the US or Canada, you have 24 more hours to
enter to win this mixer
I am helping give away! It's my favorite piece of kitchen equipment, and I can't remember how I made do without it. So enter!