This weekend I took another stab at the
salted caramel pretzel ice cream
that I told you about earlier in the month. Last time I tried to follow Chloe Coscarelli's recipe but forgot the sugar, which is pretty crucial in ice cream. This weekend I tried out some new things. I instead opted for the
vanilla recipe
from
The Vegan Scoop
. I got the book over the holidays was pretty excited to finally put it to use. The grocery store near my work doesn't carry Silk soy creamer, so I bought two pints of the vegan brand they did have. While the label was pretty misleading and showed white creamer being poured into a steaming cup of coffee, the creamer itself looked like chocolate milk! I'm not sure if that is only true for their french vanilla flavor, which maybe has additional vanilla extract tinting it? The ice cream tasted delicious, but it did look like it should be chocolate or coffee flavored rather than vanilla.
I also went a different route for the mix-ins. Rather than add the chocolate covered pretzels to the ice cream, I allowed everyone to throw a few on top of their scoop to accommodate for different tastes or potential gluten allergies. The
caramel recipe
that I used was a recipe I had bookmarked years ago from Dog Hill Kitchen, but hadn't made yet because I only recently bought a candy thermometer. It was perfect! I made a quarter batch and cooked it to 230 degrees F, like suggest for a sauce. I threw in 1/4 tsp sea salt with the vanilla after taking it off the burner. The warm caramel hardened as it hit the cold ice cream, which was really magical for me. I can't wait to make individually wrapped caramels from this recipe.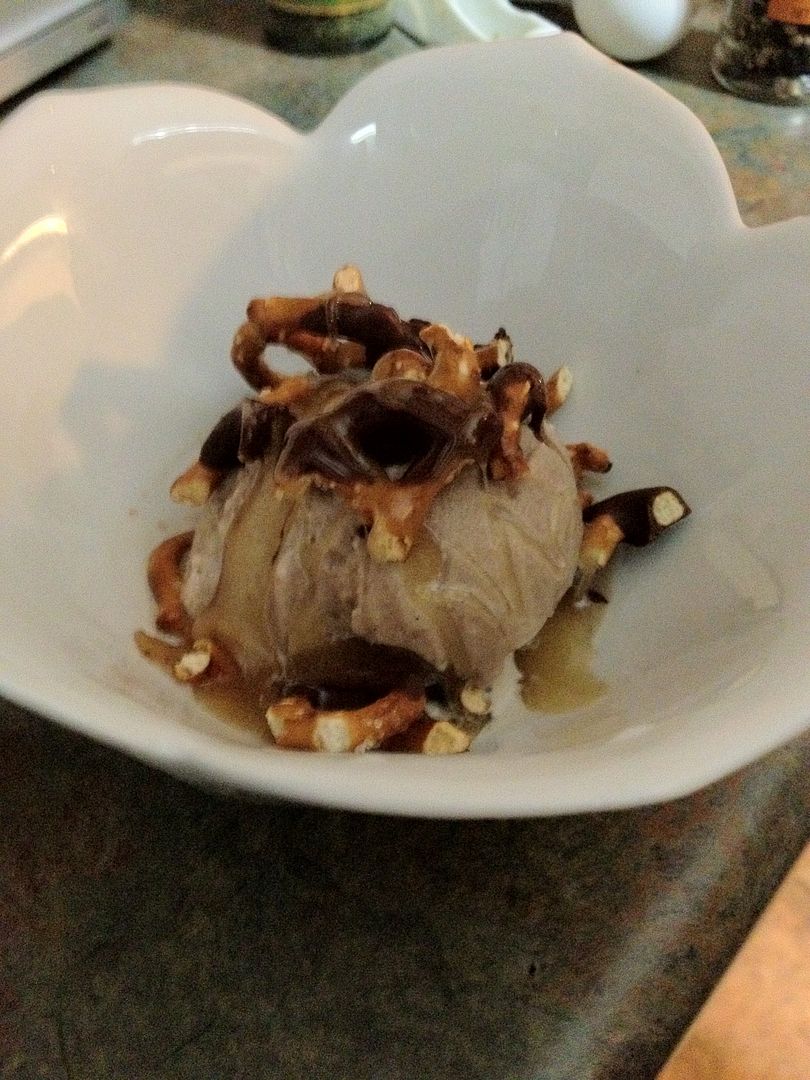 I yet again apologize for the quality of the picture! This was taken with a phone while friends were quickly devouring the ice cream in the dark. I promise to document things better soon.
I have been thinking about ice cream quite a bit lately. There are several flavors I plan on making soon. At least it's been unseasonably warm while I experiment with more frozen treats. Do you have any favorite ice cream recipes or flavors?
*I'd also like to thank everyone who has been reading my blog posts! Today I reached 10,000 page views which is so exciting. I'm also happy to hear feedback from so many people lately!