I am one year older. Maybe it's just because I have literally been elbow deep in frosting so many times in the past two years or maybe it's because I am feeling sturdier more stable, but I didn't want a traditional birthday cake this year. Normally I commit to some sort of two or three layer cake, but the sweetness and the fillings and all the piping just wasn't appealing to me for 26. I was considering foregoing birthday sweets altogether, but decided that was
quite
sacrilegious for a sugar sorceress like myself. I remembered bookmarking a pistachio citrus pound cake many seasons ago, promising myself to veganize it eventually. I decided that this was quite the proper occasion to splurge on a pound or two of pistachios and a lime since those have taken quite the price hike this spring. I zested all my fruits. Organic only, because we are getting older and wiser and we don't want to put too many things in our bodies that may contain pesticides. I baked the cake really hastily because I decided to spend some time with friends earlier in the evening and it was getting quite late and I still needed to go to work in the morning. Of course, in the haste or the adaptation of my previous pound cake recipe something didn't quite work out and the cake was very browned on the edges but still a little under baked in the center and of course fell in the middle. I was frustrated and went to sleep cursing at it.
The cake tasted good, but it wasn't something I would ever share. So I came home from work on my birthday and decided to start over. I am a perfectionist at my heart of hearts and no cake was going to defeat me. Especially not on the day when I am the queen of the world. I set away to zesting and juicing and chopping more pistachios. I folded it all together and filled my pans and scraped all the bowls. The batter tasted perfect. I put my little baby pound cakes into the oven, five minutes before my partner Greg came home from work. He walked in and mentioned how nice the kitchen smelled, then looked at the timer, saw 25 minutes ticking away, and his face dropped. I realized I had messed up some dinner plans, but he assured me it would be ok & we would only be ten minutes late. When I told him there was probably another 20 minutes of baking after that, I saw in his face that I was spoilin' some serious surprise dinner plans. After a few minutes of scrambling and panicking and not wanting to take cakes full of expensive ingredients out of the oven or waste several of my friends' time, I realized I could ask someone else I live with to take the cakes out of the oven. I asked a housemate and he so nicely agreed, so this year I got to have my cake & eat it too. Note to self for twenty six: Utilize your resources, but don't squander them. It helps if you can offer cake in return for favors. Also, buy yourself flowers more than once a year. It feels great.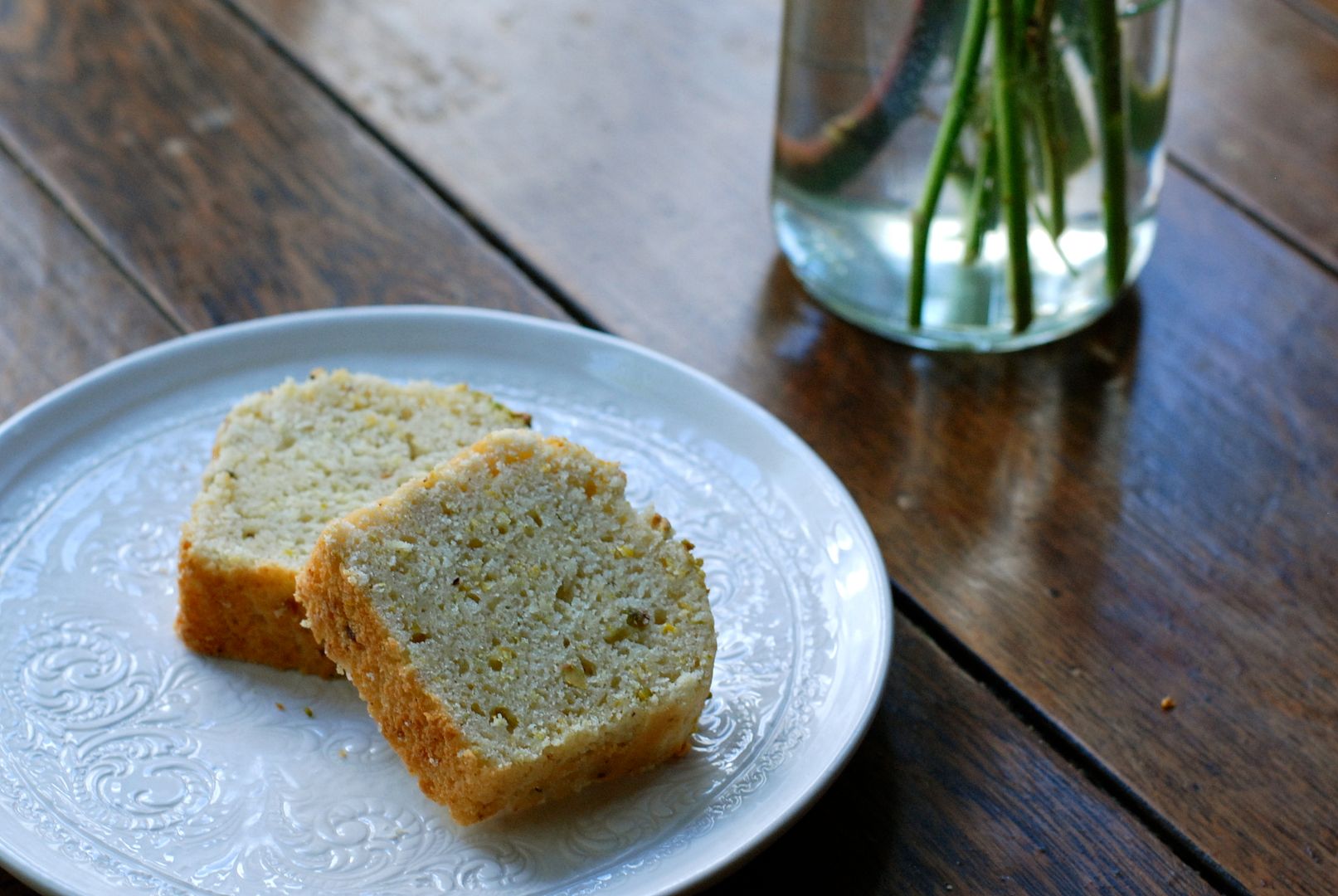 Mini Citrus Pistachio Pound Cakes
altered from Mini Almond Poundcakes by Isa Chandra, queen of vegan baking

1 lemon, zested & juiced
1 lime, zested & juiced
1 orange, zested & juiced
7 oz almond paste
6 oz extra firm silken tofu
2/3 cup almond milk
1/3 cup citrus juice
1 cup granulated sugar
1 teaspoon pure vanilla extract
1/2 cup Earth Balance margarine, melted
2 cups all-purpose flour
1 1/2 teaspoons baking powder
1/2 teaspoon salt
1/2 cup pistachios, finely chopped

Preheat oven to 350 degrees F. Lightly grease & flour three 4x2" loaf pans.
Zest each of the citrus fruits and set the zest aside. Juice all the fruits and stir mixture well. You'll need a third cup of juice for the recipe; I stirred the remainder into the water I was drinking for prosperity. Combine almond paste, tofu, almond milk, citrus juice, and sugar in a blender or food processor bowl. Blend until smooth. Add the vanilla and melted margarine and blend again. In a large bowl whisk together flour, baking powder, salt, and zest until well combined. Whisk in wet until just combined. Add 1/4 cup pistachios and fold with a spatula. Portion into loaf pans until 3/4 full. Smooth tops and sprinkle with remaining pistachios. Bake for 40-50 minutes until the tops are firm & golden and a toothpick inserted in the center comes out clean.