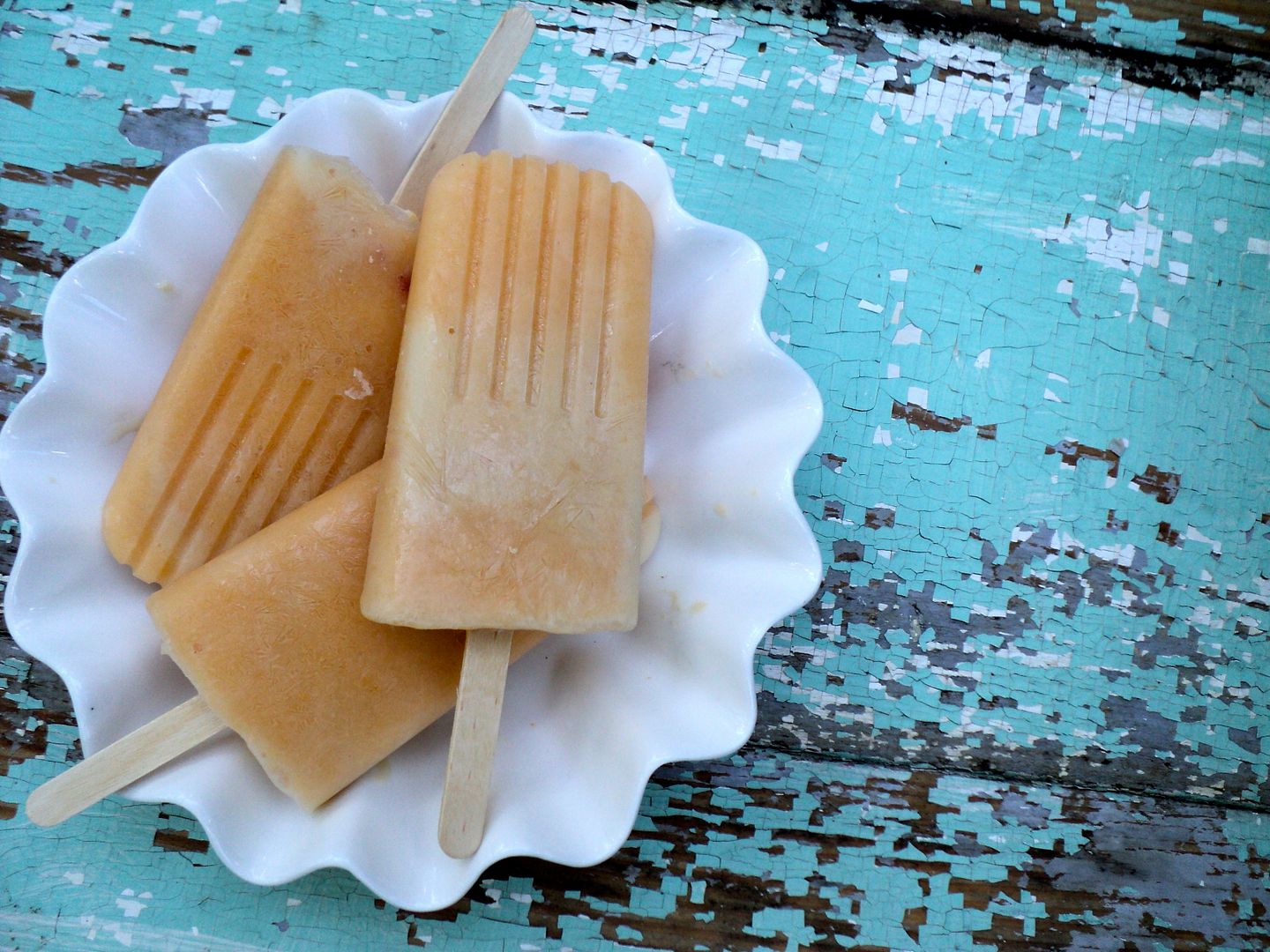 It's been so hot lately. With the temperature reaching ninety plus degrees a few days in a row, I finally understand the phrase "if you can't stand the heat, get out of the kitchen." The sun shining in the bakery's glass windows acts like a green house, and when combined with the heat from the ovens, it's impossible for the air conditioning to have much of an effect. So when I get home from a long day of heat, the last thing I want to do is turn on the oven and bask in it's warmth. Instead, I break out the blender and make popsicles!
I bought my first set of popsicle molds last summer but never really put them to use. I remember making popsicles from some juice I had squeezed but didn't want to drink all of immediately. Over the winter I created an ever-lengthening list of flavors that I plan on making throughout the summer. The first was peaches & cream. It's really so easy, that you don't need a recipe, but I will give you the guidelines that I followed. The nice thing about popsicles is that unlike most baked goods, it's pretty hard to screw them up!
Peaches & Cream Popsicles
makes ~6 popsicles, varies by size of molds

10 oz frozen peaches
6 oz yogurt (I used Whole Soy peach yogurt)
1/4 cup milk of choice (I used vanilla almond milk)
1 tsp vanilla extract

Combine peaches, milk, and 4 oz of the yogurt in a blender. Mix until desired consistency is achieved. I blended mine until it was smooth, but feel free to leave small chunks of peaches if that consistency is desired. In a small bowl, whisk vanilla extract into remaining yogurt. Spoon the peach mixture into the molds until they are half full, then add a few teaspoons of vanilla, then top off with peach. Using a chopstick or skewer, slightly swirl the layers into each other.
Let freeze 3 hours before attempting to remove from molds. Run each popsicle under warm water before attempting to pull them out. Alternately, if you don't have popsicle molds use small paper cups and cut them off once frozen.


What's your favorite popsicle flavor? Do you prefer your popsicles really fruity and simple or do you like creamy flavors?