I have a confession to make. I get sucked into TV shows really easily. I am a binge watcher, and Netflix is an enabler. The way it will just play the next episode consistently, only making you hit a button saying you are still watching every few hours is a really dangerous thing for me. Aside from that, I legitimately love television shows. I remember being a neigh-sayer in my earlier years, but I have since really developed an appreciation for TV. I would never say that it's better than reading a book, but I appreciate TV for the same reason. Being transported to a world where I can see interesting things and laugh and cry, without having to stand up on my achey feet after a long day at work is exactly what I want.
I'm also not a TV snob. There are only a few shows that I can legitimately say I dislike (Twin Peaks, I'm lookin' at you). I love Criminal Minds, Parks & Recreation, Downton Abbey, Buffy, & Game of Thrones. I am currently on a Battlestar Galactica binge. I watched the first season in a little over one day, and am currently working my way through season two while I am at home sick. It's a little bit like this
Portlandia skit
.

Raspberry Basil Popsicles

1 cup water
3/4 cup sugar
8-10 leaves of basil
3 1/2 cups raspberries, fresh or frozen

In a sauce pot bring the water & sugar to a rolling boil. Turn off heat, add basil leaves, and cover. Allow to steep for 30-45 minutes. Strain to remove basil leaves. Puree raspberries (I prefer the seeds in my popsicles, but if you don't you can also strain the berry puree before freezing. Add basil syrup to puree and pulse until combined (I prefer the seeds in my popsicles, but if you don't you can also strain the berry puree). Pour into popsicle molds and freeze for 3-4 hours until solid. These popsicles melt really quickly, but you won't be able to eat them slowly enough to worry about that.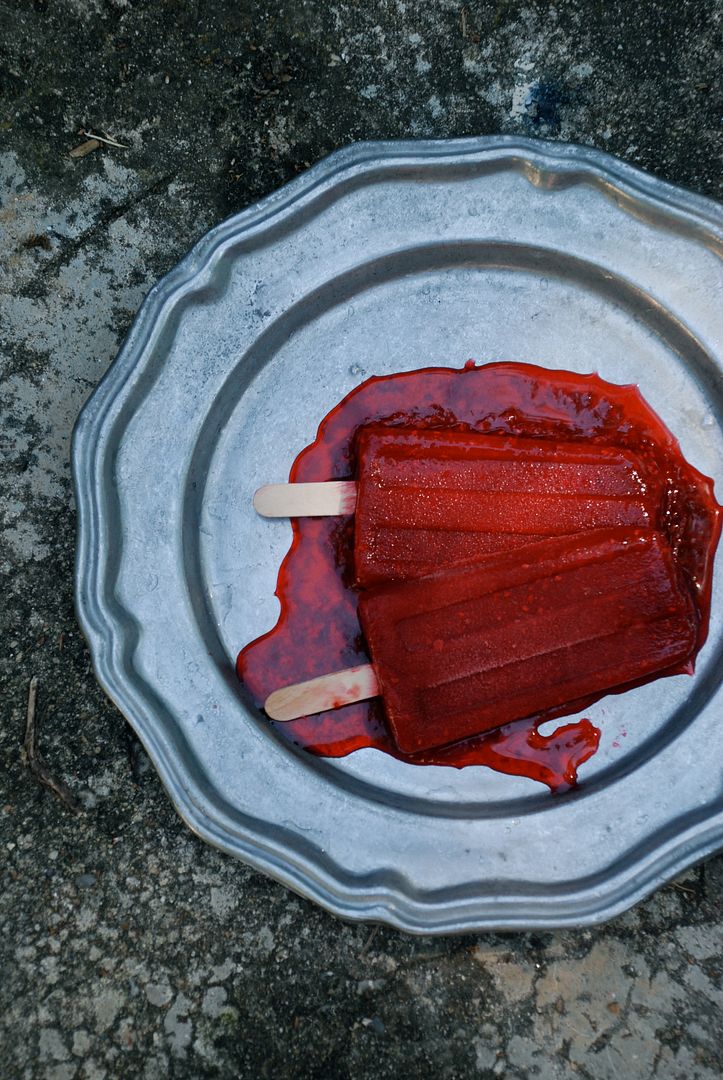 Dexter is back on for it's final season, which is really what started this train of thought for me. Those melty popsicles just remind me of the Dexter intro with their bloody redness. Sometimes it's just nice to have things come to an end. TV shows can take things a little too far, pushing beyond good writing to crank out more shows while ratings are still high (cough, The Office, cough). I am fine with a series coming to an end, and I don't think they always need to be revisited. I loved Arrested Development, but the newest season just didn't cut it for me. Sometimes the magic is in that time and place that it was originally created. Of course if they come out with another season or movie, I will watch it. Just like I will watch the Veronica Mars movie (ya know, for completion's sake). But all good things must come to an end. Until then, I will be on this couch cranking my way through the remaining 59 episodes of Battlestar.