I am writing this from my desk on the first rainy morning where I'm calling a new city home. The last month has been wild and busy and emotional. I have repeatedly tried to wrap it all up into a few neat paragraphs, but the words just kept eluding me. For a few years my parter, Greg and I have been telling everyone that we were going to move to Philadelphia. After a year or so, it seemed to folks like maybe we were crying wolf. But we finally felt like it was the right time & mustered up the courage to leave a city that we love and venture to somewhere new. Everything was going smoothly, but then Greg got in a bike accident and broke his collar bone in a few places. He needed some surgery and got a metal plate put in his shoulder. So while it's really cool that I'm dating a bionic man, it wasn't conducive to moving. I was able to pack everything up alone and we convinced some friends and family to help us pack up the moving truck in DC. We left behind a queen size box spring since we couldn't fit ours down the stairs of our old bed room. We got it up the stairs by opening a window. But then we repaired the banister on the stairwell, and the extra two or three inches that we added made it impossible to bring it back down.
I narrowly escaped demolishing a tiny gas station in the city in my first ten minutes in our 14 foot U-haul, and then almost hit a cop car as soon as we got to our new block. But the ride in between wasn't too bad. Just small moments of nervous energy as I had to approach a toll booth or merge across 4 lanes of traffic. We got to Philly and thirteen amazing friends came to help unload the truck. You know you are moving to the right place when you already have as many friends helping you on your first day in town as you did at your going away party in the last city.

photo by Massimo Catarinella
Our first week has been pretty quiet. We are unpacking slowly, working on a few projects everyday. I'm almost done assembling the kitchen, obviously the most important room in the house to me. Even though it's large for an apartment, it's half the size of what we left. And in the last three years I have acquired a ton of bakeware. I'm hoping that an ingenious storage solution will strike me at any minute.
One of my favorite candies happens to be a Philadelphia creation, so it seemed very appropriate to share this cheesecake with everyone. If you haven't had a
peanut chew
before, you should see if they are available in your area or let me know and we can swap candy! It's a molasses caramel filled with roasted peanuts and then dipped in chocolate. Heaven. The factory is still in the city but I
maybe
already checked into it, and they don't give tours. This shows you my list of priorities. Touring the peanut chew factory > finding homes for all my displaced tea cups & saucers > hanging curtains. But eating sweets will always be at the top of that list. We moved two blocks from an ice cream shop, so things are about to get dangerous. If you have any suggestions of places to eat or visit or things you love about the city, please let me know. I am pretty well versed in Philly vegan food, but there are still so many places I haven't tried before.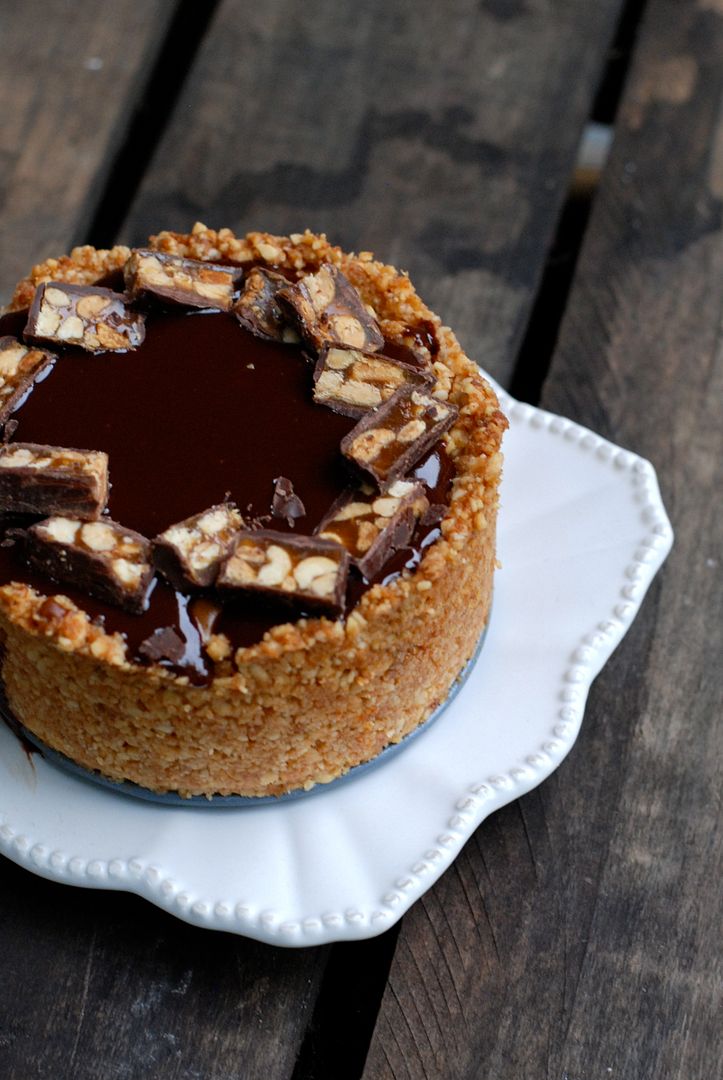 Peanut Chew Cheesecake
one 9" or several mini cheesecakes, varying based on size of pans used

Peanut Graham Crust
9 ounces peanuts
3 ounces graham crackers
10 tbl shortening

Pulse the peanuts and graham crackers to crumbs in a food processor. Melt the shortening. Pour over the cookie and peanut crumbs and mix with hands until fully incorporated. Press firmly into the bottom of your springform pan(s). This is not a sweet crust. If you would prefer it to be a little sweeter, replace two ounces of peanuts for more graham crumbs. I used gluten free graham crumbs, but they should be interchangeable with regular graham crackers.

Cheesecake Filling
24 oz non-dairy cream cheese, I prefer Tofutti
2/3 cup sugar
3 tbl blackstrap molasses
2 tbl Ener-G beaten into 1/3 cup hot water
6-10 peanut chews cut into small pieces, depending on how much candy you want in each slice

Make your cheesecake filling by beating the cream cheese, sugar, molasses, and Ener-G together until smooth. Place some candy around the bottom of the crust. Pour half of the batter into your springform pan. Add rest of candy and top with remaining cheesecake batter. Smooth surface & bake at 350 for 40-45 minutes until the cheesecake appears set. Allow to cool for at least 4-6 hours before attempting to slice the cake. I find that overnight is best.

Ganache
1/3 cup dark chocolate
1/4 cup non-dairy milk of choice
1 tablespoon agave nectar

In a double broiler heat all ingredients whisking frequently until the chocolate has totally melted and the ganache is smooth. Remove from heat and allow to cool for several minutes before assembling the cheesecake.

Assembly
Once your cheesecake has cooled for several hours or overnight, top with ganache shortly before serving. I also chose to add additional peanut chew pieces around the top of the cheesecakes to give it a little more height & decoration. If it's already on the sweet side for you, additional sprinklings of peanuts would also be lovely.