Last week was my 24th birthday. I decided that this year I was going to break out one of my fancy aprons and make myself a really ridiculous birthday cake. I didn't have any intention of eating it, because I am a little overwhelmed with sweets lately. But I knew if I made it took enticing enough, it would slowly disappear from the kitchen.
I have somewhat of a problem with hoarding sprinkles. I looked into my giant tupperware bin full of sprinkles and pulled out several types that I had never opened. If I won't use them on my own birthday cake, then what good are they? It's like filling cabinets full of china that never gets used. Beautiful, but a waste.
I also filled the cake with a tart cherry filling. This was only my 3rd time making a layered cake at home, and my first time filling one. I was a little too nervous about the cherry juices leaking out and piped my rim too far into the center of the cake. Be reckless and just do a thick line around the edge of the cake. That way you can pack in more cherries per bite!
I wanted a colorful, shiny, sprinkle encrusted cake. Coating the top is easy peasy. The sides are where it gets a little tricky. I set my cake on the edge of my kitchen sink and tilted it slightly and basically tossed handfuls of sprinkles onto it. This is not incredibly effective. I sort of had to push the sprinkles into the cake. I wasted tons of sprinkles and eventually got frustrated and stopped attempting it. I was fine with the patchiness on the sides. I was also really pleased that when I washed all the sprinkles into the food disposal and turned it on that a burst of colored water shot out!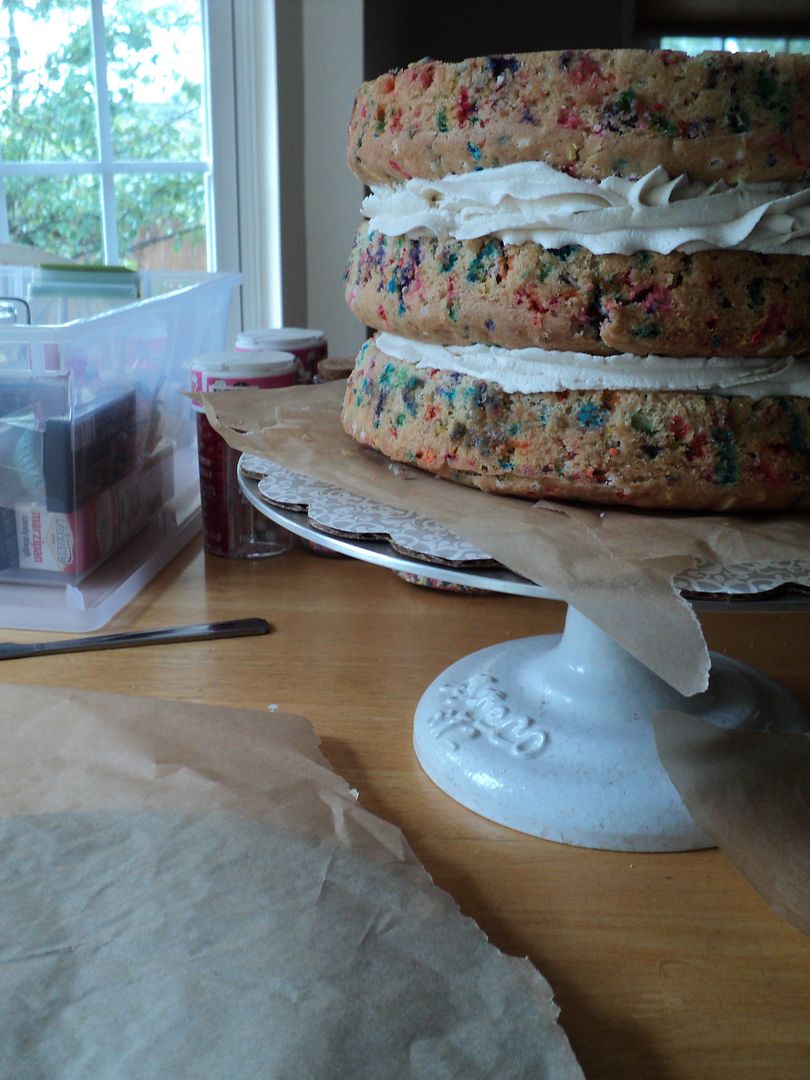 Confetti Birthday Cakee
Three 9"cakes, each approximately 1.5" thick

2.25 cup almond milk
2 tbsp white vinegar
4.5 tsp ENER-G mixed with 1/3 cup water
2.5 tbsp vanilla extract
2.25 cup sugar
0.75 cup oil
4.5 cup flour
2 tbsp baking powder
1 tsp salt
1.25 cup sprinkles

Curdle the milk with the vinegar. Make ENER-G eggs and allow to thicken for several minutes. Add vanilla, sugar, oil, and egg replacer to the milk. Sift dry ingredients into mixer. Add wet to dry and stir until just mixed. Add sprinkles, and mix until distributed evenly.
Pour batter into three oiled 9"cake pans. It is also recommended to cut parchment circles for the bottom of each pan, as the sprinkles tend to stick to the pan. Bake at 350 for 40-55 minutes or until a toothpick comes out clean. Let cool fully before icing.



Tart Cherry Filling

48oz tart cherries
2 cup cherry juice
0.5 cup sugar
0.5 cup cornstarch

In a small bowl combine 0.5 cup of cherry juice and cornstarch, set aside. Combine tart cherries, 1.5 cup of juice, and sugar in medium sized sauce pan. Allow mixture to come to a boil, stirring frequently. Once rapidly boiling, add the cornstarch slurry to the pan. Whisk until smooth. Allow mixture to boil several minutes until the juice reduces to a thicker syrup like consistency. The mixture will thicken as it cools.


I iced the cake with a triple batch of the vanilla buttercream from
VCTOTW
. I am not an icing fan, so this was just enough for the rims inside the layers, a thin layer all around the exterior of the cake. If you are wanting to pipe borders or want a thicker layer of frosting, you will definitely need a larger batch of frosting.
You are also probably going to have cherry filling left over. That's not a problem. Throw it in your fridge and use it to top some waffles the next morning. Get wild and add some coconut whipped cream and maybe another handful of sprinkles, it's still your birth week after all.
Have you ever made yourself a birthday cake? Or bought yourself a really extravagant birthday gift? I think those are my favorite things to do. Each year I buy myself a few small things that are a little silly, but that I want. This year I bought a pack of mint striped paper straws, a mouse cookie cutter, and a tooth cookie cutter.