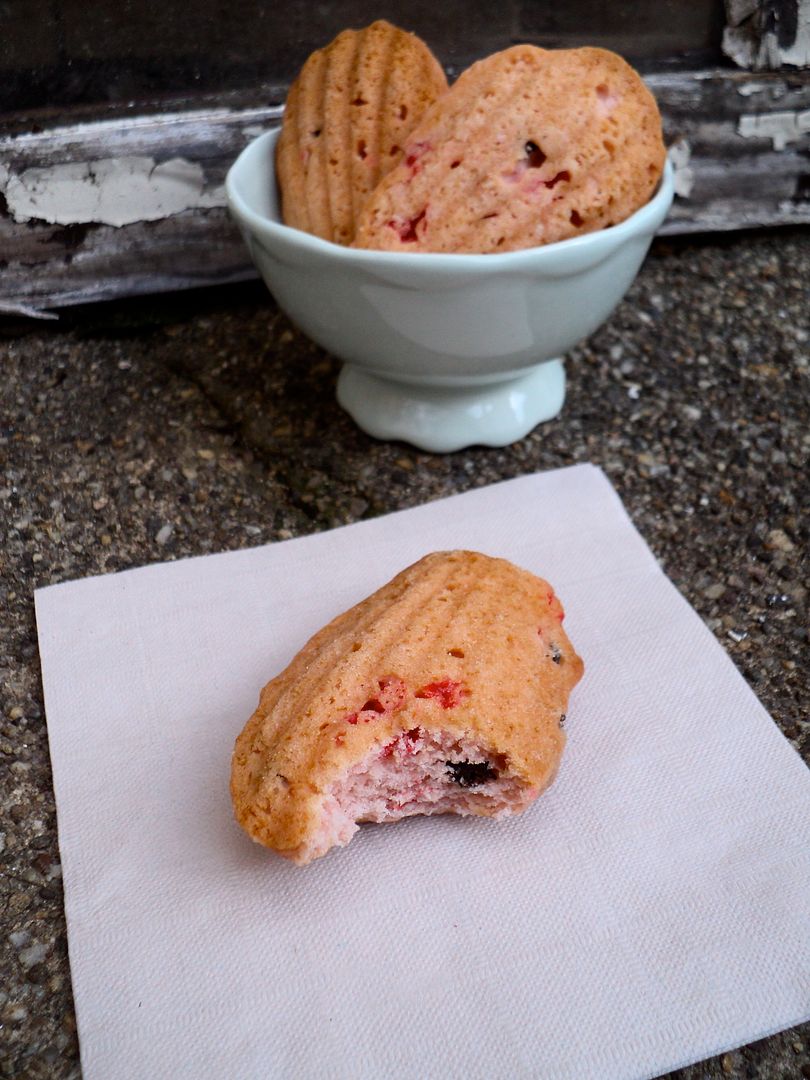 My love for Valentine's Day is still overflowing. I wanted so badly to sneak in one more holiday relevant post before the fourteenth, but I wasn't sure if I was going to make it. My partner got sick earlier this week and gave me his cold as an early gift. I am still not sure if it pairs well with a little black dress, but at least we didn't make any major plans for tomorrow night. After a wave of exhaustion hit me at lunch today, I worked my schedule out to leave a little early. I got home before dark and was even able to snap pictures of the remaining madeleines before I napped and drank a few cups of ginger tea. It's back to the bakery in the morning. I have a few dozen more pounds of strawberries that I need to dip in chocolate!
I had seen a
chocolate dipped cherry madeleine
a few weeks ago, and it sparked my interest. I knew Hannah had a much more animal-friendly recipe for a lemon lime version, so I tweaked it to make it all pink and chocolatey. I opted for mini chocolate chips in the batter instead of a ganache to keep the cakes a little lighter. I used tart cherries but maraschino would work as well. If you are reading this in the future and it's pleasantly warm out, you might even be able to use fresh cherries. You could just use additional non-dairy milk in place of the juice, and you might want to add a bit of cherry extract to boost the flavor.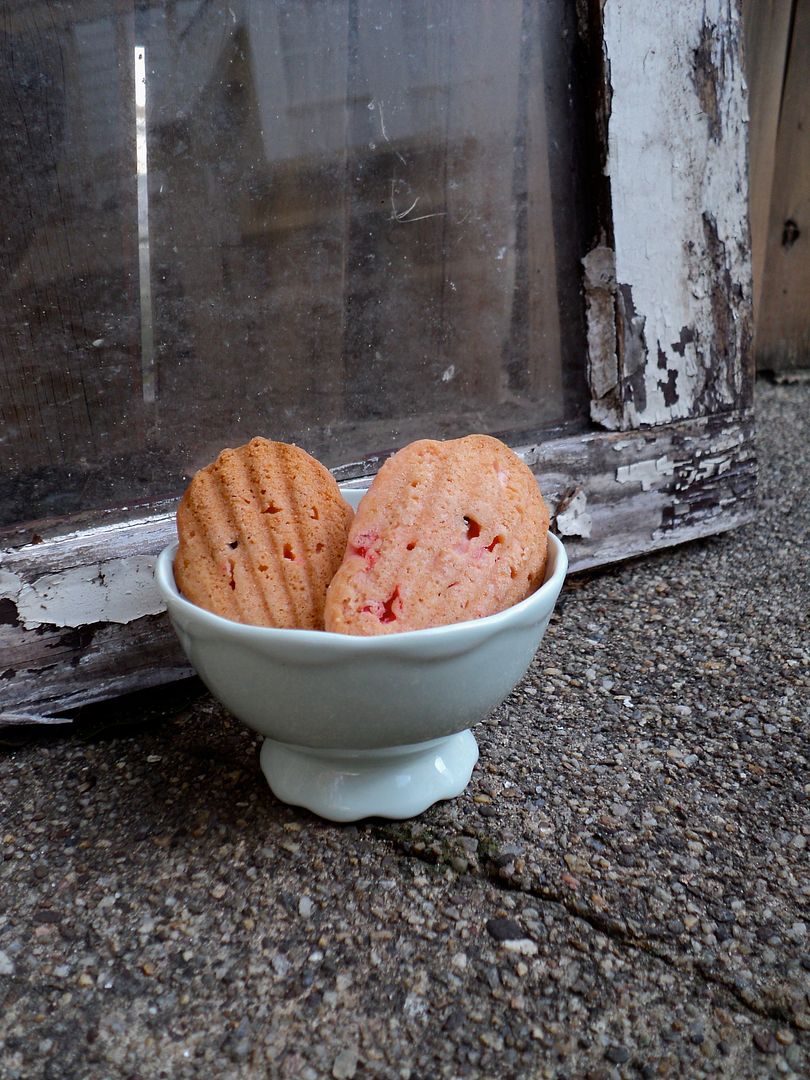 Cherry Chocolate Chip Madeleines
Adapted from the Lemon Lime Madeleines in Vegan Desserts: Sumptuous Sweets for Every Season


1 cup flour
2 tbl tapioca starch
1/3 cup granulated sugar
1 tsp baking powder
1/4 tsp salt
1/4 cup Earth Balance, melted
6 tbl non-dairy milk of preference
2 tbl cherry juice
1/2 tsp vanilla extract
2 tbl mini chocolate chips
9 whole cherries, chopped

If using jarred cherries, pat dry and allow as much juice to be removed as possible. Chop into small pieces & set aside. Preheat oven to 400 degrees and lightly oil & flour your madeleine pan.
In a large bowl combine all the dry ingredients from flour to salt. In a small bowl combine milk, melted Earth Balance, vanilla and cherry juice. Whisk until combined. Fold gently into dry ingredients. When almost combined, add chocolate chips and cherry pieces. Spoon into madeleine pan until all wells are even. Once in the oven, lower the temperature to 375. Bake for 18-20 minutes until the edges are browned.


Without another holiday for a month, I am hoping to bake more elaborate things at home. I know I want to experiment with cannoli again. Third times a charm, right?! I will also never be over donuts. I feel like there are probably some other things bookmarked away that I will have to dig up. Is there anything fun on your list of sweets to make?