I feel like I have become a bad gift giver. Not consistently, but sometimes. It's bizarre when it strikes. The panic sets in as I go through dozens of ideas in my head trying to sort them out. At Chanukah, I thought I had gotten my partner the best gifts possible. But I forgot to check the completely accessible book shelf. One of them was in fact perfect. So perfect that he had already been given it for a holiday a few years earlier. I eventually returned the book and replaced it with two pounds of
vegan M&Ms
. They disappeared quickly and all was forgiven. Fast forward to the next season of gift selection and I knew I couldn't bungle it again. I decided to go homemade, because it's just practical. I can make something that I know no one else has already gifted. The shortage of vegan black and white cookies has been mentioned a few times in our history, so I decided to finally attempt it. Having never eaten a black and white cookie I was a little nervous about this adventure. So nervous that I also bought two boxes of chocolate, you know, just in case. But everything turned out nicely, and we even had fancy chocolates to boot.
I used the
recipe
from
Vegan Cookies Invade Your Cookie Jar
, a tried and true cookbook. I used orange zest but omitted the lemon zest/extract. I also added 2 tablespoons of black cocoa powder to the chocolate portion of the frosting to make it darker. If you don't have black cocoa powder, you could still add a bit of dark or regular cocoa powder to enhance the color a little.
The baking of these cookies was a two part stealth mission. There is a little over an hour between when I get home and when he walks through the door after work. The first day I baked the cookies, hastily did the dishes, and then cleaned the house to remove any fresh baked cookie odor from detection. The next day I frosted these cookies really quickly while also performing neighborly duties. Someone needed assistance getting their 200lb scooter out of a truck bed?! Of course they knocked on the door right as I was ready to apply the fickle chocolate icing. I went outside and attempted to finagle the back wheel to the little ramp as he steered the front wheel. As the scooter started to roll down the ramp I had to quickly walk backwards hoping it wouldn't roll me over. My life flashed briefly before my eyes. I am not the most graceful, and there is roughly a thirty percent chance that I will take a tumble at any given moment. Luckily I safely made it back inside, got the grease off my hands, and finished frosting the cookies in time. So no hate for the imperfect frosting.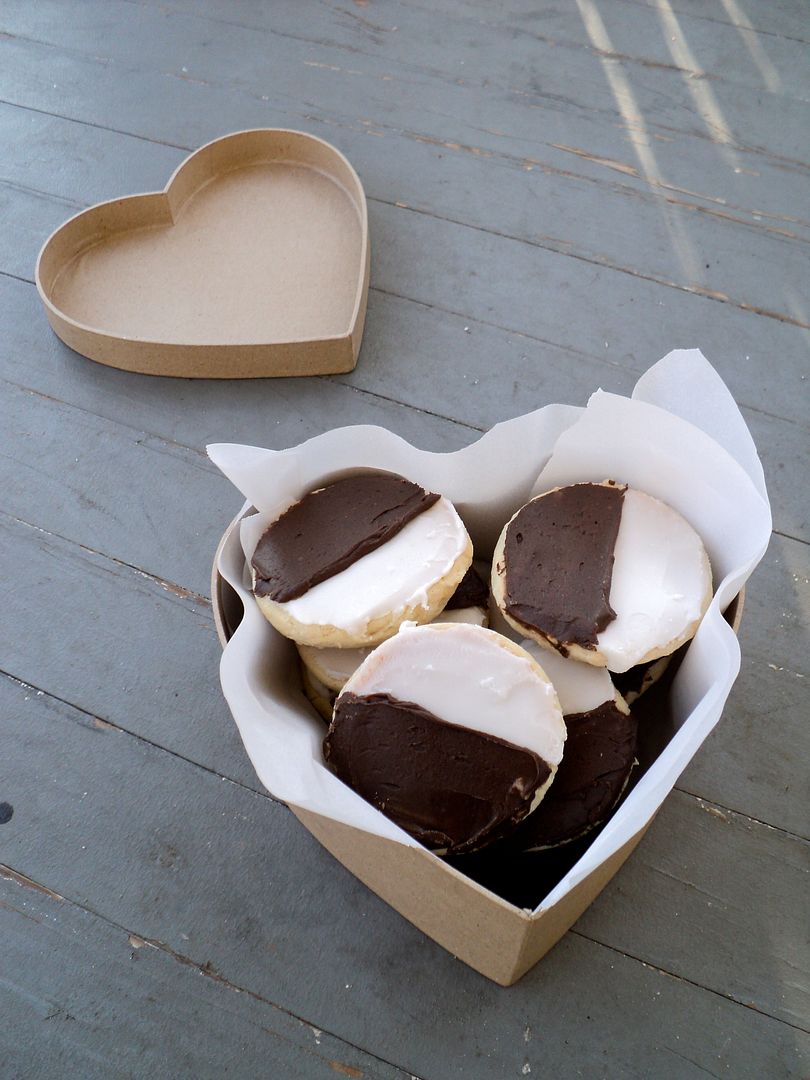 As we were snacking away and watching the X-files, I decided to research a bit more about black & white cookies. I was curious why the cookies were so cakey, and figured it out pretty quickly. They were basically a way to utilize left over cake batter created by bodegas and other small markets?! Have you learned anything interesting facts about food lately?