This summer has been escaping me at every twist and turn. Until this past week I hadn't gone swimming or seen the beach. I hadn't taken a spontaneous trip or gone a picnic. It's certainly been hot, and I have the bug bites to remind me of the season. But I wasn't getting any of the fun. The last few days I worked really hard to remedy that. I made it to my first
Fort Reno
of the summer, where I shared this coconut cream pie with a handful of friends on a picnic blanket while we listened to music as the sun set. It was a repeat of the pie I made for 4th of July, but somehow hadn't managed to post yet. It's been a busy summer full of moving, long work days, and nights with little sleep. I can't complain too much. Things are going well, and I am actually quite happy.
I managed to arrange a whole weekend off (a rare occurrence for me!), and used it to make my first trip to Ocean City. I swam in the ice cold ocean. Salt water does amazing things for my hair & my heart. I dug my feet deep in the sand and took a quick nap. A friend and I ooh-ed & ahh-ed over cake decorating books for several hours of the drive. We took silly photo booth pictures. A rampant child kicked sand all over us while running between our towels. A disgusting amount of sugar, soda, and Wawa soft pretzels were consumed.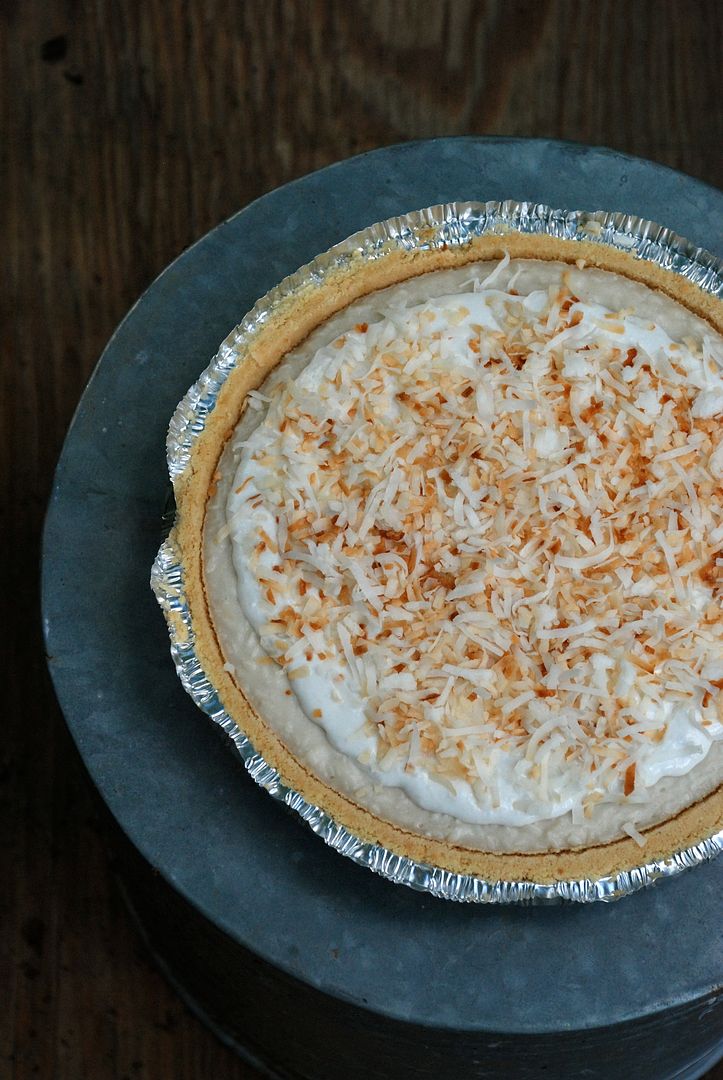 Coconut Cream Pie

1 nine inch pie crust
3 cans full fat, canned coconut milk
1 1/2 cups shredded coconut
1/2 cup blended, extra firm silken tofu
2/3 cup sugar
1/2 cup cornstarch
1/4 teaspoon salt
1 teaspoon vanilla extract

Toast your coconut in a frying pan over medium heat until it becomes lightly browned. Don't neglect it, it will cook fairly quickly and burn the instant you forget about it. While that's toasting, puree your silken tofu. In a 2 quart stock pot, combine 3 cups of coconut milk (that's just shy of 2 cans, so you will have a little extra), one half cup of the tofu, the sugar, cornstarch, and salt. Whisk it until combined, then bring to a boil over medium-low heat. Remove from heat, stir in 1 1/4 cup of toasted coconut and vanilla extract. Pour into your pie crust and allow to chill overnight. When you place the pie in the fridge also throw in your remaining can of coconut milk to make coconut whipped cream. The next day top your pie with whip & remaining toasted coconut. If you are really impatient you can probably get away with only chilling the pie for 4-6 hours, but keep in mind that the flavor really does further develop overnight.
I am hoping to see a little bit more of summer before she leaves again. There's still so many things to be done. I haven't picked any ripe fruit or visited the city pool. I need to read a book in the sunshine while I drink giant glasses of iced tea. There's at least a few more pitchers of lemonade & little day trips in my future. Don't go away so soon. I will miss you when you're gone.