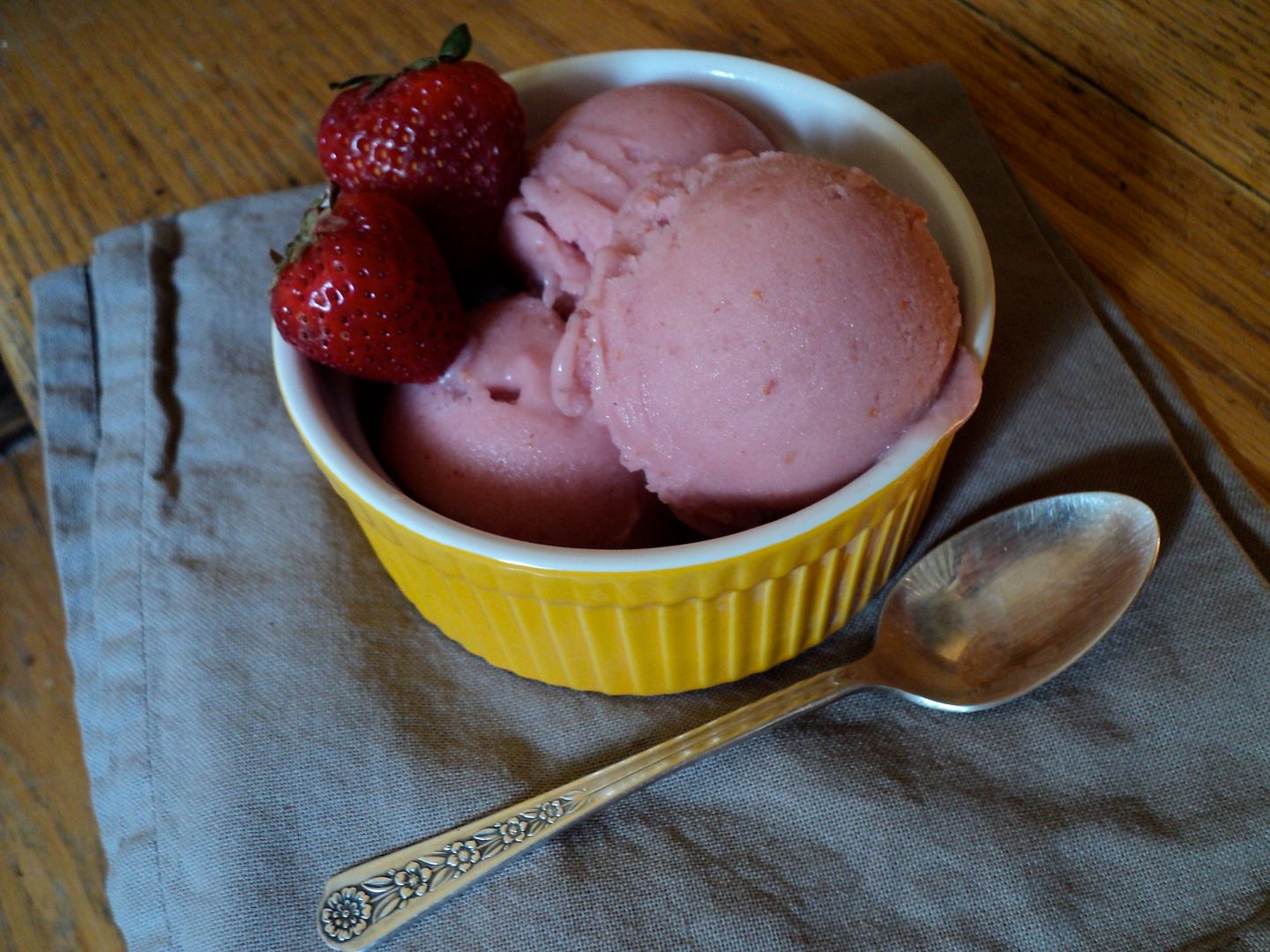 Last week I saw a quart of early season strawberries in my local organic market, and I knew I needed to turn them into ice cream. Last summer I had a strawberry lavender gelato at the restaurant Cafe Green here in DC. While I have really mixed feelings about the food and service at Cafe Green, it was one of the best desserts I have ever eaten. This was my first attempt to replicate it.
Strawberry Lavender Gelato
2 tbsp arrowroot
2 tbsp lavender blossoms
1 tbsp lemon juice
1 tbsp melted coconut oil
3/4 C sugar
1 C soy creamer
1 C almond milk
3 C strawberries

Wash & hull the strawberries. Puree and set aside. In small bowl, mix 1/3 cup almond milk with arrowroot and set aside. In medium sauce pan combine sugar, creamer, lavender, and remaining almond milk. Bring to a boil. Stir in slurry until slightly thickened, around 2 minutes. Remove from heat and seive to remove lavender blossoms. Add the strawberry puree to the ice cream base through the sieve to remove seeds, or simply stir in if the seeds are desired. Add lemon juice and coconut oil. Refrigerate until chilled and process according to ice cream machine directions.


For a first attempt I think this was a decent ice cream. However, it is not as creamy as I desired it to be. When I make it again, I think I will slightly reduce the amount of strawberries added and use only creamer.
Are you a fan of lavender? It seems to be one of those controversial flavors that people either love or hate. I have a few more lavender recipes up me sleeve this spring, and am hoping to convince a few more people that lavender doesn't have to taste like soap.