Thick yeasty bread filled with a homemade chocolate and hazelnut spread? Count me in. When I saw
this recipe
on Maple Spice, I knew it was only a matter of time before it went into my oven. I enjoyed this bread for breakfast for a few mornings. Due to the minimal sugar in the bread and the lack of sugar in the nutella spread I made, it actually wasn't a sweet bread. It was just rich and complex and super filling. However, I am sure if you used a store bought chocolate hazelnut bread, it would be much sweeter. You could also add a bit more sugar to the bread dough if you are hoping to eat it as a dessert rather than a breakfast (but what really is the difference these days).
I very
loosely
followed the no-tella recipe in
Veganomicon
. I basically pureed hazelnuts with cocoa powder and a bit of vanilla extract and canola oil until it was smooth enough to spread on the dough. I am sure that if you actually used hazelnut or peanut oil and added the recommended sugar that it would be even more phenomenal. Also, I baked this bread in a bundt cake pan than already doesn't get enough use. I don't have an angel food cake pan, because vegan angel food cake is still sort of a mystical thing. I didn't have any problems with the bread sticking to all the indentations once the pan had been floured.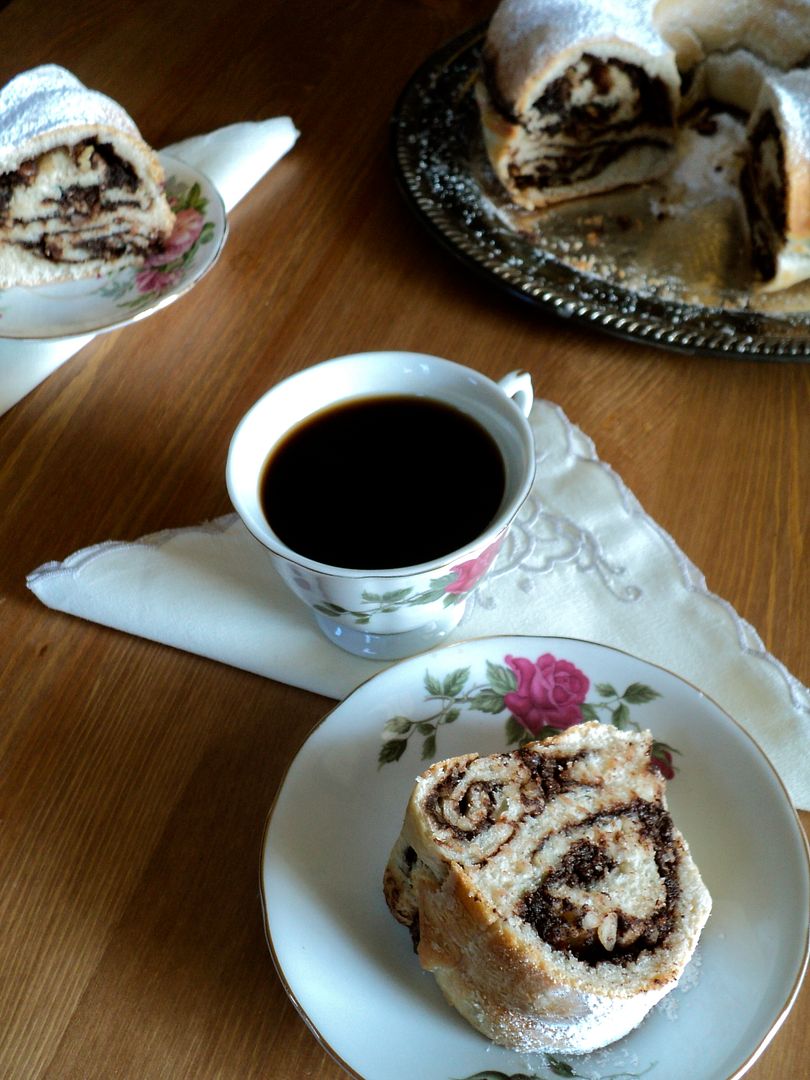 I was really excited to use those rose tea cups & plates. I have been having a ton of wonderful thrift luck lately. Last week I found, the tea cup & saucer and a bundle of saucers that all very loosely matched the tea cup for just a dollar. Recently I have also found all sorts of wonderful vintage napkins and bakeware that I can't justify spending twenty dollars on but have no problem grabbing for a dollar or two. I even found a few more vintage mason jars at a shop called
Jinxed
when I was in Philadelphia this weekend. I thrift pretty regularly but often forget to document my finds. Sometimes it's nice seeing how beautifully everything pairs together.