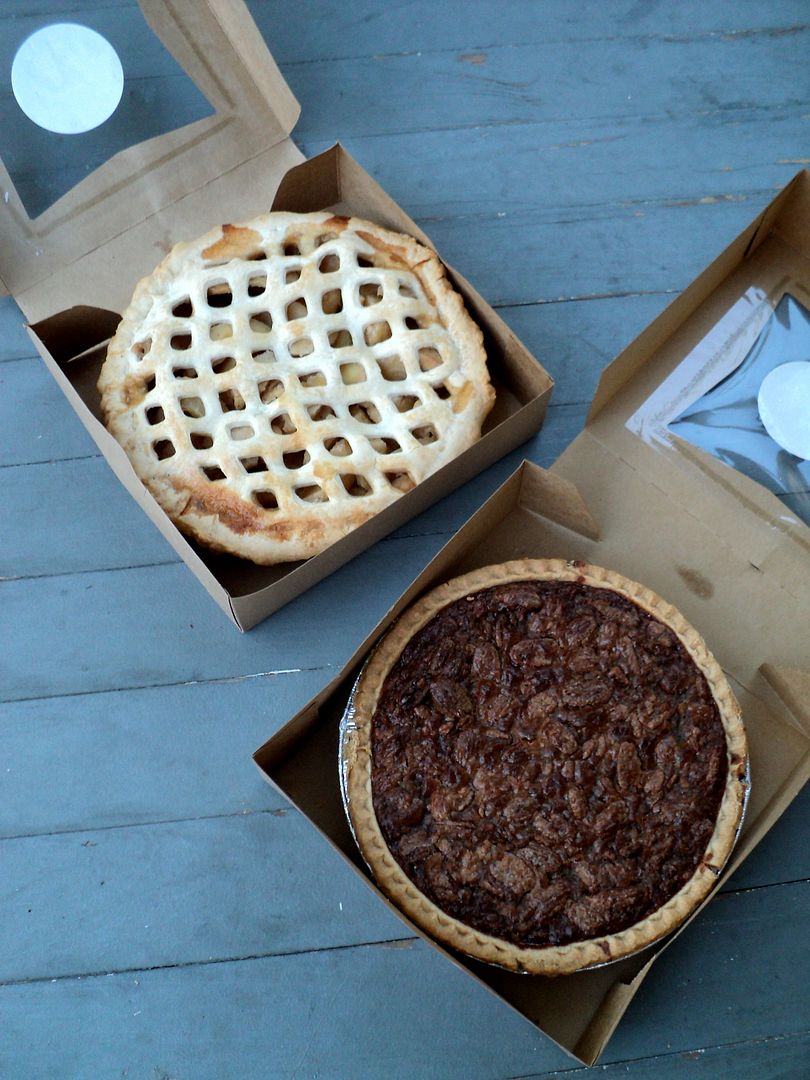 A few sweets went undocumented throughout the month since they didn't pertain to chocolate. My favorite dessert, a fruit tart, complete with a thick shortbread crust, my top secret pastry cream recipe, and several of my favorite fruits. You also see an apple and pecan pie from the bakeshop. The apple pie is topped with a faux lattice crust, using one of these handy dandy
lattice cutters
. It doesn't work quite as well as you might originally think. Even after rolling it a few times with a heavy rolling pin, I had trouble picking out many of the little squares of crust. Sometimes even resorting to just cutting squares with a paring knife. It still took quite a bit less time than folding lattices over 80 pies. So I am thankful for that.
After getting a flat tire on a stressful Saturday morning, one of my coworkers fixed it for me. On my lunch break, he took my tire off, patched it, and got it back on with ample time left for me to eat. I returned the favor with a loaf of
banana bread
. I added a cup of crushed walnuts to the batter, and even more to the top of the loaf. I even took the time to run an oiled knife over the top of the batter so that the loaf had that perfect split down the middle. That's how you show someone you really wanted to put in effort.
Somehow it is already December. That means it's time for me to come up with another food theme to get me through these hectic holidays. I decided to go with all things yeast. My first thought was donuts. I haven't made many batches of baked yeast donuts that really won me over. This attempt was definitely not one of them. I left the dough to rise away over my warm little radiator. It rose the first time, but after I cut them, they didn't rise again. I baked them anyways and hope for the best. Unfortunately they just remained flat little doughy disks. Perhaps it is just time for a new jar of yeast or maybe the recipe was just a flop. But I am sure that I can come up with a successful batch before the end of 2012!