I grew up in Girl Scouts. I started as a Daisy and made it all the way to being a Senior. I was obsessed with the pins and buttons and patches. My neighbor Jen and I spent countless hours together working our way through our books trying to earn as many badges as possible. I distinctly remember having both a vest and a sash as Junior because I had too many patches to fit on just one. My favorite patch of all was an image of Juliette Gordon Low wearing a fancy dress, in shades of pink and brown. I liked it so much that my mom agreed to sew one on both my vest and my sash. One day a bottle of bleach leaked in the washing room, and it ended up coating a fair portion of my vest, whiting out all the batches. I cried for days.
Aside from earning all sorts of swag, Girl Scouts led to a lot of amazing opportunities for me. I went rappelling. I went canoeing. I went to sock hops & lock-ins & tons of workshops. But most of all, I sold cookies. My sister and I sold countless boxes of cookies. I remember cookie season well. My dad would take our order forms to work and ask people to buy cookies, making sure everything was split evenly between us. We would stand with our troops at grocery stores every weekend. When the cases came in, our living room turned into cookie central. We organized each order in a different corner, double counting all the boxes to make sure everything was just right. And then it turned into a giant delivery operation. There is no doubt in my mind that selling thousands of boxes of cookies helped lead me to my life of baking. The excitement that only came once a year now comes every week as I sling baked goods on the daily.
The Girl Scouts started selling homemade cookies in the early 1900s, but starting using factories in the late 30's. Currently there are two licensed Girl Scout cookie vendors, ABC and Little Brownie Bakers. This year ABC revealed that four of their cookies were vegan! Those are the Thin Mints, Peanut Butter Patties, Thanks-A-Lot, and Lemonades. The only problem is that the vendors generally sell cookies in different regions. I haven't been able to find any of the vegan cookies in my area. While I am sure that I could wrangle a few boxes online, my conscious won't let me do it. The point of Girl Scout cookies is for the girls to be actively involved, and they intentionally don't allow online sales to promote hands-on learning. Since I can't find the vegan cookies in my area and the cookies I crave the most still aren't veganized, I don't feel too bad about baking my own. I really liked the filling from the
samoa hamantashen
I made, so if the caramel recipe seems familiar now you know why.

Shortbread Cookies
1 cup Earth Balance margarine
1 tsp vanilla extract
2/3 cup powdered sugar
2 cups flour
8 oz chocolate chips
1 tbl coconut oil

Preheat oven to 350 degrees F. Beat the Earth Balance until fluffy. Add vanilla and powdered sugar. Beat until combined. Add flour in two parts. Mixing until a thick dough forms. Roll dough out between sheets parchment, with additional flour to sprinkle if needed, until 1/3" thick. I cut the dough using a 2.5" cookie cutter and then cut the center with a piping tip. Alternatively, if you have a donut cutter it would be great to use here. Bake 15-19 minutes until edges are browned. Allow to cool completely. While the cookies are cooling melt the chocolate and whisk in the coconut oil. Dip bottoms of shortbread in chocolate and allow to set.

Coconut Caramel
1 cup full fat canned coconut milk
2/3 cup dark brown sugar
2 tablespoon Earth Balance margarine
1 tsp vanilla extract
2 1/2 cup unsweetened shredded coconut

In a small sauce pan combine coconut milk, brown sugar and Earth Balance. Allow to come to a low boil. Simmer for 20-25 minutes until the mixture has thickened into a syrup and smells like caramel. It will also darken in color. While this mixture is simmering, spread your shredded coconut on a sheet pan and bake at 350 degrees for 4-7 minutes. After 4 minutes stir the coconut to ensure that the coconut isn't browning unevenly. Remove when half of the coconut is lightly browned and continue to stir on the pan while it is cooling, as the coconut will continue to toast while the pan is hot. Stir the coconut and the vanilla extract into the caramel.

Assembly
I found it easiest to pipe the caramel onto the cookies. You don't need a piping tip, just cut the bottom of the bag. I piped a ring around each cookie, then lightly pressed the caramel flat with my hand. I had a little trouble with it sticking to my hand instead of the cookie, so I lightly greased my palm with coconut oil. Drizzle the remaining chocolate in stripes on the top of the cookie. I added a few more chocolate stripes than you would find on a classic samoa. But who can blame me, there's no such thing as too much chocolate.


If you have vegan Girl Scout cookies in your area and are interested in arranging some sort of mail swap, I am all ears! I could trade you all sorts of terrific vegan goods from the DMV area. But there are
a few things to keep in mind
when you are dealing with the girls!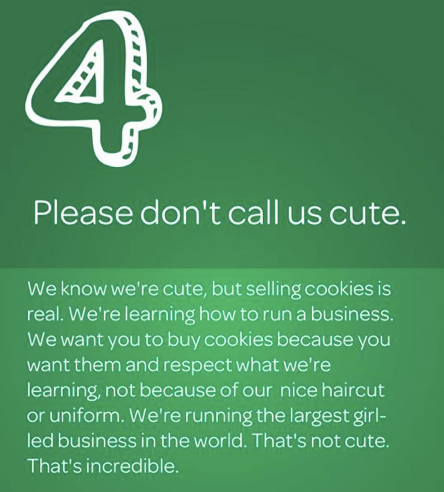 Heck yeah! The Girl Scouts are amazing for a whole slew of other reasons too. Like their huge push in science, math,& technology programs and their trans* acceptance! Was anyone else in a troop growing up? Or do you have children that are currently involved? I would be really interested in hearing what sorts of events were popular these days.