My best friend and I frequently experience something I refer to as same brain. She will often send me a message that is exactly what I was thinking. She will be forming ideas for projects that pair perfectly with what I am working on. It's mind boggling how similarly we think sometimes. Earlier this week she wrote about the
6 things she did instead of blogging
, which basically wrapped up my last two weeks. I haven't been writing about what I have been doing, because I have been doing so much. I have been working extra hours in the kitchen while my assistants have gone on vacation. I baked a birthday cake for a friend. I did a bake sale at a punk show. I have been organizing some details for my participation in
Worldwide Vegan Bake Sale
. I have been teaching myself how to lift weights & taking new classes at the gym. I've been obsessed with my upgrade from a five or six year old flip phone to an iPhone (Instagram is possible my favorite thing about this transition!). I have been making an active attempt to be a better friend and make more plans with people I want to spend time with. Next Sunday I plan to
finally
watch the Beyoncé documentary with several of my favorite DC ladies. There are still so many more things that I want to do. There are terrariums I want to build & museums I need to visit. With longer days and (slightly) warmer weather I feel a lot more motivated to push myself.
I have always been interested in veganizing snacks that I loved prior to my shift in diet. I've done malt balls and Girl Scout cookies, but last week I set out to do something I haven't tried before. I found
BraveTart's recipe
for homemade
Little Debbie oatmeal cream pies
, and they were immediately bumped to top priority on my must-bake list. The only down side is that you need a scale to make the recipe. If you don't have one, I'm sorry! You should consider investing in one. I use it almost every time I bake. It's way easier to weigh out my Earth Balance and shortening than scoop it into cups or buy overpriced sticks!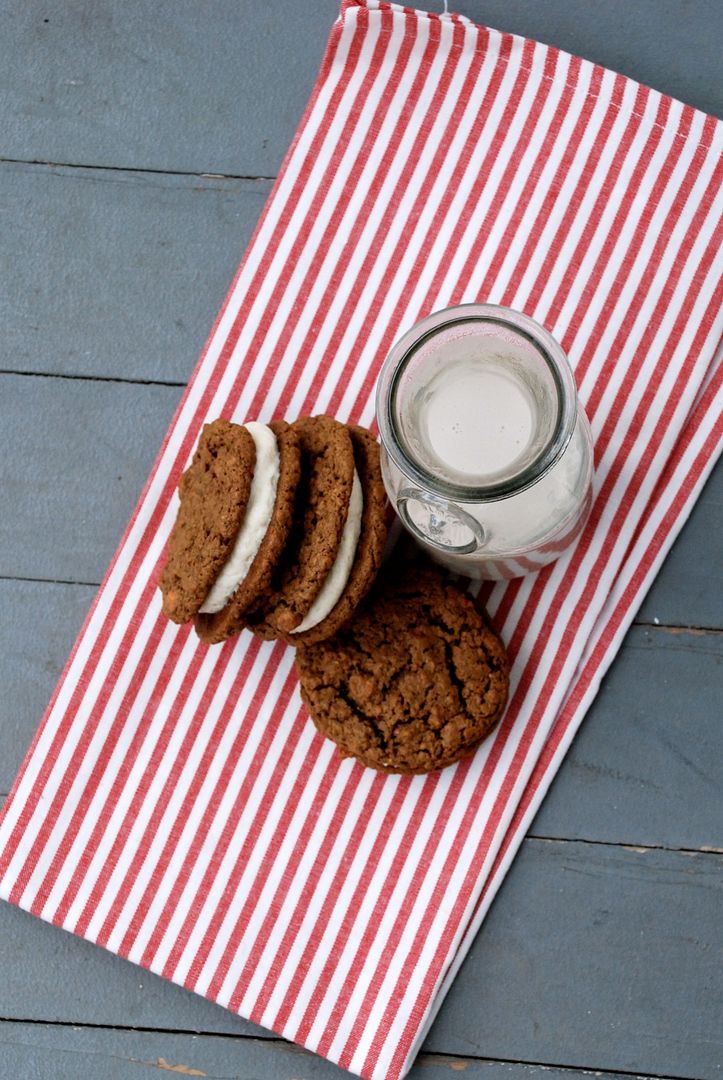 Oatmeal Cookies
veganized from BraveTart's amazing recipe

8 ounces all purpose flour
4 ounces rolled oats
1/2 ounce cocoa powder
2 ounces dried apple rings
3 ounces Earth Balance margarine
2 1/4 ounces canola oil
7 ounces sugar
1 ounce molasses
3 1/2 ounces corn syrup
1 1/2 teaspoon baking soda
1/2 teaspoon baking powder
1/2 teaspoon salt
1/4 teaspoon ginger
1/4 teaspoon cinnamon
1/4 teaspoon mace
1 Ener-G egg
2 ounces almond milk

Preheat the oven to 350°. Chop the apples into small pieces to save your food processor a little of its life. Then combine the flour, oats, cocoa and apple rings in your processor bowl and allow it to chop for several minutes until all it looks uniform. Cream together the margarine, oil, sugar, molasses, corn syrup, baking soda, baking powder, salt and spices until fluffy. Add the egg replacer and beat another minute. Add the dry ingredients all at once and mix on a low speed while drizzling in the milk. Mix until the dough forms. I used a medium sized 1 1/2 oz scoop for the cookies and placed them 8 to a cookie sheet and ended up with 3 trays of cookies total, with a lot of room to spread. Bake for about 8 minutes, or until the cookies edges are just firm. The cookie should look under-baked when you remove them from the oven. They will crisp as they cool, but you want them to stay perfectly soft!

Marshmallow Cream Frosting
1/2 cup Earth Balance margarine
1/2 cup shortening
1 ten oz container Suzanne's Ricemellow Creme, divided
1 tsp vanilla extract
2 1/2 cups powdered sugar

Beat margarine and shortening until fluffy. Add 5 oz of the Ricemellow and beat again for several minutes. Add vanilla extract and powedered sugar. Beat until combined. Fold remaining half of Ricemellow into the frosting with a spatula. For extra oomph, toast the Ricemellow under your broiler for about thirty seconds and let it cool before using in the frosting. This step is vital if you are going to make a s'mores cupcake!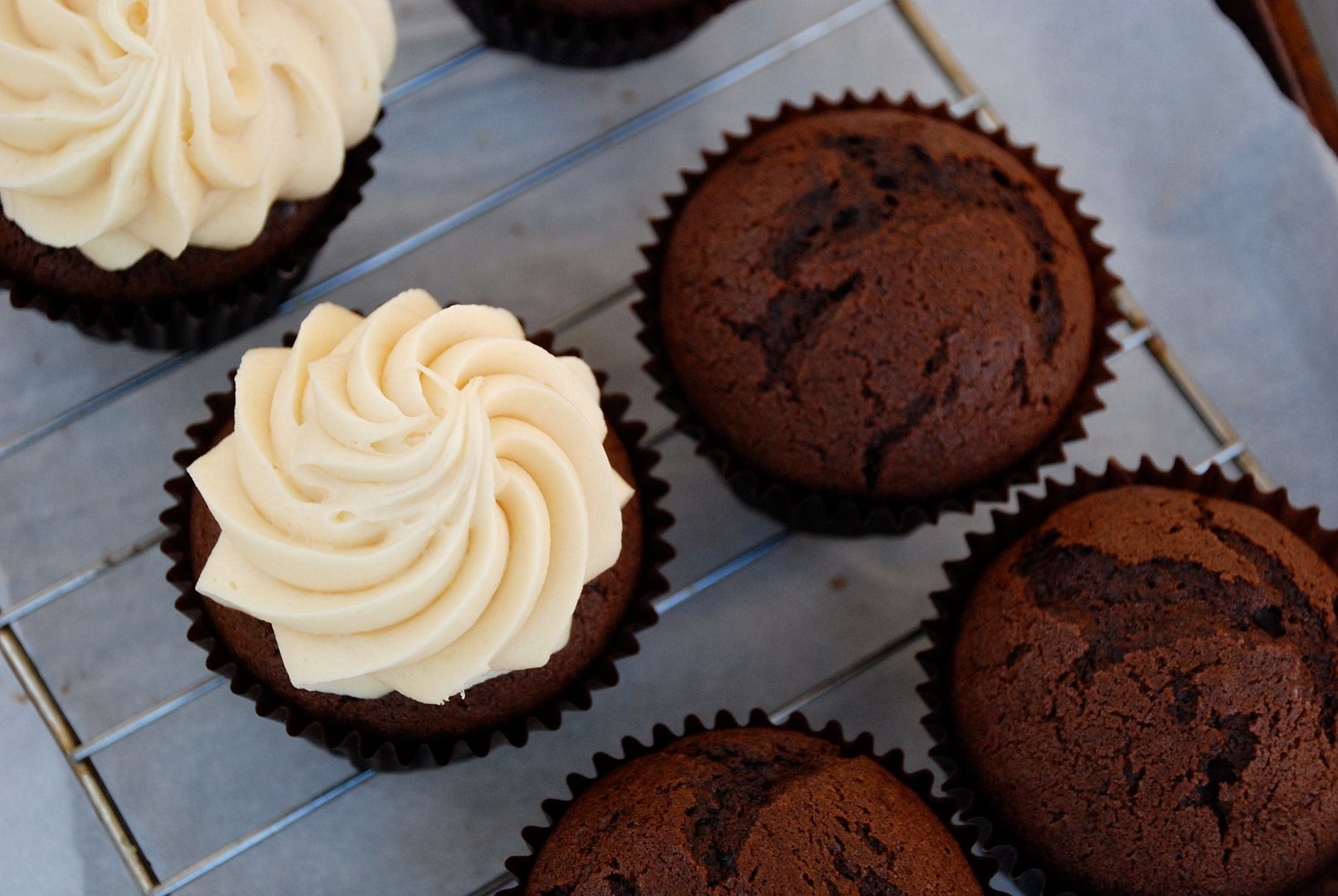 What's keeping you busy lately? I feel like I am always interested in starting new hobbies, but I am not always consistent at following through with them. I am a perfectionist. I get frustrated when I am not good at something quickly and then to avoid it afterwards. I
know
that it's a problem. I am trying to work on it. I just tend to feel like I would rather spend my time doing something that I know I am good at. I don't feel compelled to be a jack of all trades, but rather a master of one. What's your stance?