I remember my junior high history teacher very distinctly. His name was Mr. Cecil. He was a crotchety old man with a strong appreciation for Tennessee history and high water trousers. He also happened to be my basketball coach during the same years. Which means I had the distinct pleasure of frequently witnessing him jog around the court in his above the knee, white linen shorts. Starting in March, I got to hear the same lecture twice every Friday in both class and basketball practice. It was about the perils of spring fever. How it warps the mind of many a dedicated scholar and/or athlete. One stops focusing on what is truly important and yields to the desire to frolic in warmer weather. I am currently a victim of spring fever. All I can think about is iced tea, bike rides, sunshine, & fresh produce. I have even succumbed to purchasing several pints of over-priced berries. I couldn't wait any longer. I wanted those bright, sweet & tart little bursts of pure happiness, and I wanted them now. I was even reckless enough to forego folding the berries into my standard morning fare of granola or oatmeal and instead piled them on top of cake. That I ate it for breakfast! I wonder what sort of lecture this would merit if Mr. Cecil could see me now.




Vanilla Cake
Makes one 6" cake, approximately 3 inches deep

1 1/2 cups flour
2 tsp baking powder
1/2 tsp salt
3/4 cup sugar
3/4 cup canned coconut milk
2 tsp white vinegar
1/4 cup oil
1 tbl vanilla extract
1 Ener-G egg

Make Ener-G egg. While resting, curdle coconut milk and vinegar in a bowl. Add sugar, oil, and vanilla to bowl. Add flour, baking powder and salt. Mix until just combined. Pour into a lightly oiled & floured 6" cake pan. If your pan is not 3 inches deep, then split the batter and bake in two pans. Bake at 350 for 30-40 minutes until a toothpick comes out clean. If you are baking the cake in two pans, you should reduced the baking time by ten minutes and check every few minutes until done.
Top with a thin layer of vanilla buttercream and layer on fresh fruit. I used blueberries, raspberries, blackberries, and strawberries. After I cut the slices I served them with additional berries and slices of kiwi.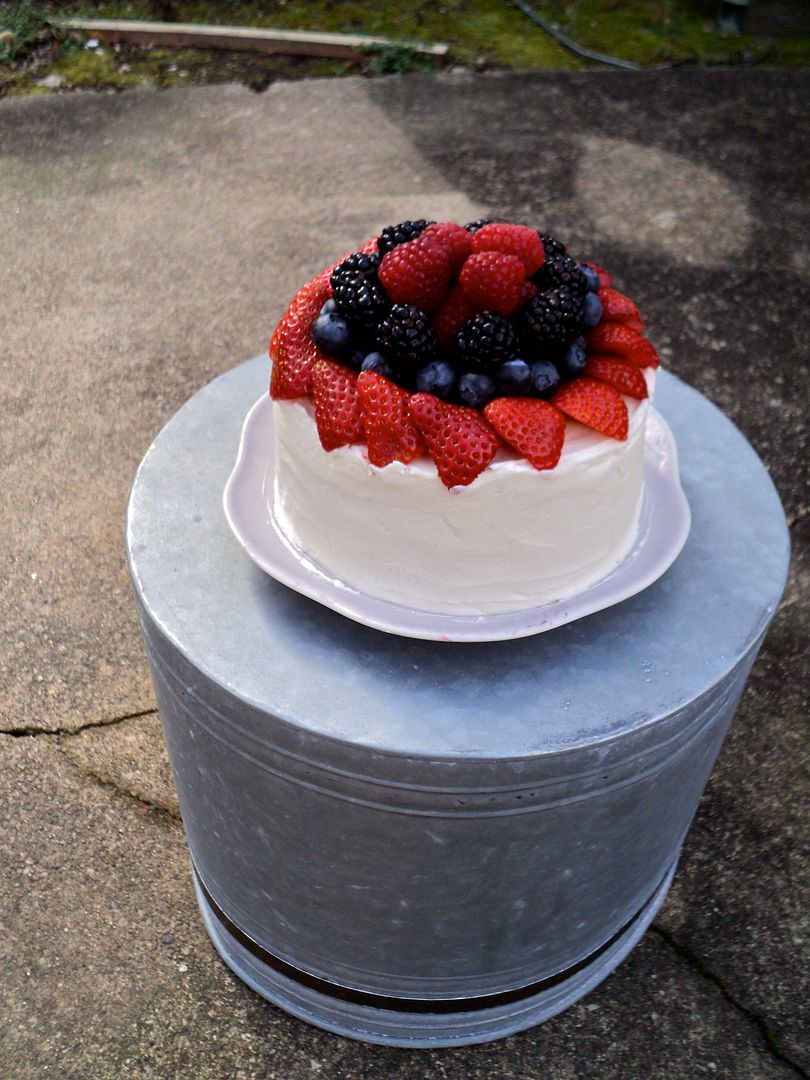 Spring fever has never looked so good. Is everyone else suffering too?! I keep trying to wear clothing that isn't quite seasonally appropriate yet too. I will don a cardigan, leave my coat on the couch, and then shiver running to my car, darting snow flurries. I am just so ready for warm weather and longer days. I feel infinitely better in every season that isn't winter.