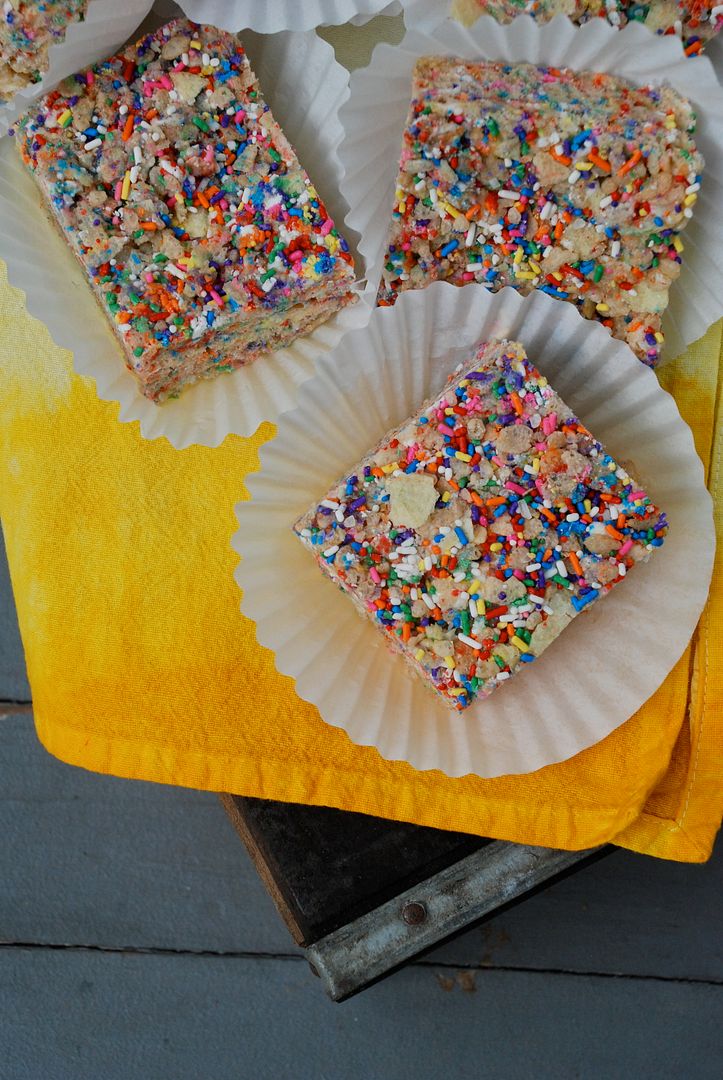 You know that thing that your mother tells you countless times (especially if you have siblings that are close to your age so you're more prone to bickering and harassing each other like children do)? If you don't have something nice to say then don't say anything at all. While I feel like that is generally a good rule of thumb, it's not helping me out right now. I have plenty of nice things to say about these rice crispy treats, I just don't have any words to pair with it. Cat's got my tongue? Maybe it's like the Buffy episode
Hush
, except that instead of being unable to speak, I can't type my thoughts? These rice crispy treats are delicious. They are adorable. There's all sorts of layers of crunch and texture and just enough salt. I feel like that's all you need to know? Maybe it's true that a picture is worth a thousand words, because I definitely have several of those?!

Sweet & Salty Rice Crispy Treats
makes one 9x13" pan

6 cups rice cereal (Erewhon is always GF & there's a new Rice Krispie GF version too)
1 1/2 oz (or a large single serving bag) potato chips of choice
1 cup sprinkles*
1 1/2 tsp coarse sea salt
one 10oz bag Dandies
5 oz (half a tub) Ricemellow
2 tbl Earth Balance

In a large mixing bowl combine cereal, crumbled potato chips, sprinkles, and sea salt. Mix until combined. In a medium sauce pan melt Dandies with Earth Balance and Ricemellow on low heat, stirring consistently. This will take several minutes, just be patient. Once totally melted scrape marshmallow mixture into mixing bowl and press into the cereal. Don't be afraid to use your hands. Press into a parchment lined 9x13" pan, then press additional sprinkles and sea salt into the top if you want a prettier, brighter appearance. Let cool in fridge for 2 hours before cutting with a sharp knife into squares.
*I have had luck finding confectioner's glaze free rainbow sprinkles at bakery supply stores. You just have to be patient. If you can't find any, then use the tried and true Let's Do… sprinkelz or make your own using this recipe!
I suppose I'm just getting a little sleepy. Trying to do too many things at once. Last week I fell asleep with an open but uneaten ice cream bar in bed. And today I left the pint of ice cream I bought at work. When you start losing track of your ice cream, you know things are getting rough.