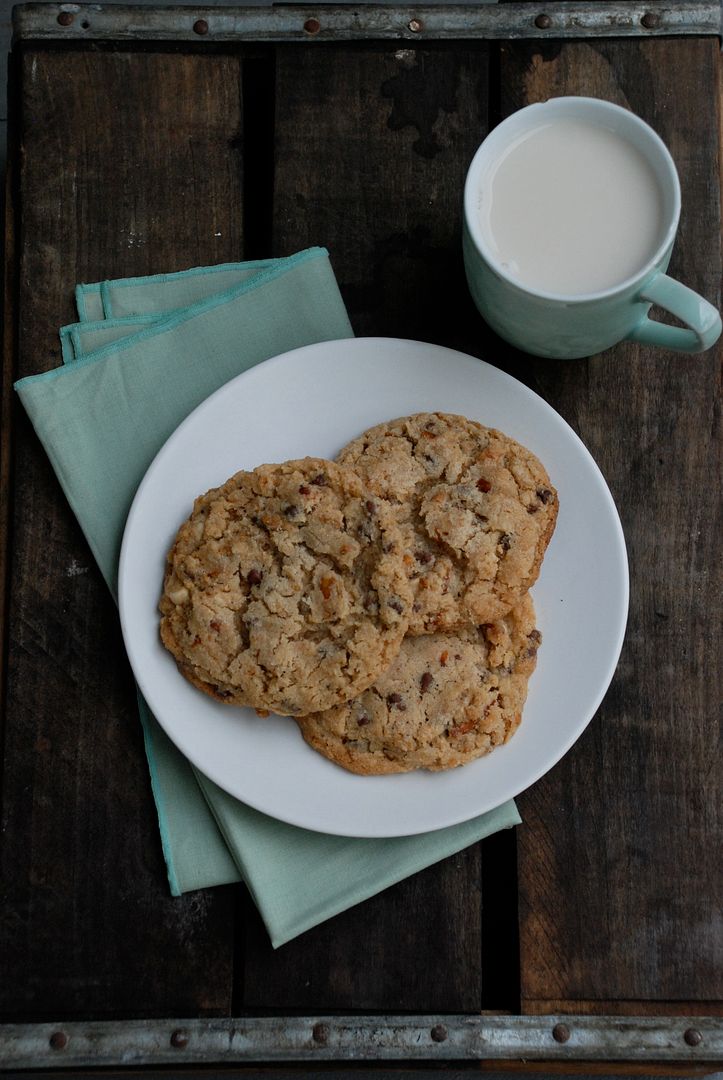 Easily the most inspiring cookbook I read in August was the
Momofuku Milk Bar
book by Christina Tosi. The food photography is stunning. Every recipe is totally original and innovative. The whole book is beautiful from cover to cover. While many of the recipes would be a tad bit tricky to veganize with all the gelatin and milk powder and what not, the compost cookies caught my eye right away. All the flavors and textures are magical. I didn't make them the way suggested since I had already just filled my
rice crispy treats with potato chips
, so I upped the amount of graham cracker crumbs and pretzel bits. I am glad I didn't make a half batch like I normally do with cookies, because these flew off the sheet tray almost before I had time to properly photograph them. It doesn't matter what you have in your pantry, it will work in these cookies.

Momofuku Compost Cookies Veganized
original recipe here!

1 cup Earth Balance
1 cup sugar
2/3 cup light brown sugar
1 tbl corn syrup
1 Ener-G egg
1/2 tsp vanilla extract
1 1/3 cup flour
1 tsp sea salt
1/2 tsp baking powder
1/4 tsp baking soda
3/4 cup mini chocolate chips
1/2 cup white chocolate chips
3/4 cup crushed graham crackers
1 1/3 cup crushed pretzels
1/3 cup rolled oats
1 1/2 tsp malt powder
pinch of ground coffee

Beat Earth Balance, sugars, and corn syrup in a mixer until combined. Add prepared Ener-G egg and vanilla extract. Beat several minutes until fluffy. Add flour, salt, baking powder, and baking soda to mixer bowl. Beat until just combined. Add all the mix-ins. Using a large ice cream scoop, portion out the cookie dough & slightly flatten the tops. I piled all the scooped cookies into a tupperware lined with parchment. Chill the dough overnight. Bake at 375 for 18 minutes or until the edges of the cookies are firm & browned.


If you haven't heard of
Mind of a Chef
yet, it's a PBS show (also on Netflix)featuring David Chang, who opened Momofuku Noodle Bar. While some of it's really interesting, the show has a lot of footage revolving around meat so I tend to skip through them when something comes up I don't want to watch. Towards the end of the season Christina shows up in the show. She makes a burnt miso apple pie in episode 13 (Soy), and all of episode 14 (Sweet Spot) is centered around her recipes! It's worth watching for just her techniques. It really makes me want to invest in acetate strips for making layer cakes. Look at this
beauty
! There's a few other Milk Bar recipes I think I might make my way to eventually. Those blueberries & cream cookies sound pretty great. And an Arnold Palmer cake! I highly suggest checking out the cookbook if you are looking for a little inspiration or if you are thinking about opening your own bakery someday. Her story will motivate you.