I have had apples piling up for about two weeks now. I eat a lot of apples, but somehow I still don't enough apples to keep up with fruit share deliveries from my CSA. I eat an apple almost every day, but I somehow still had a basket with 4 or 5 just hanging around when my share came last week. I knew it was time to start preserving them in some way before they spoiled. So I made a batch of homemade apple sauce.


Fresh Apple Compote
makes one large mason jar

6-7 small apples
2 tablespoons cane sugar
2 teaspoons vanilla extract
roughly 1 cup water
You can use whatever apples you happen to have around. I used a mixture of red delicious, golden delicious, & granny smith. Peel & core your apples. Chop them roughly to 1/3" size pieces. Throw them in a sauce pan with 1/2cup water and the sugar. Bring to a boil, then reduce heat to medium-low. Allow the apples to simmer, covered, for roughly forty minutes. Check the apples every twenty minutes to stir and add a few more tablespoons water if the water is evaporating before the apples soften. After the apples have cooked down to a sauce, remove the pan from heat & stir in the vanilla. Mash with a wooden spoon to desired consistency. I prefer my apple compote to have a quite a few intact apple pieces.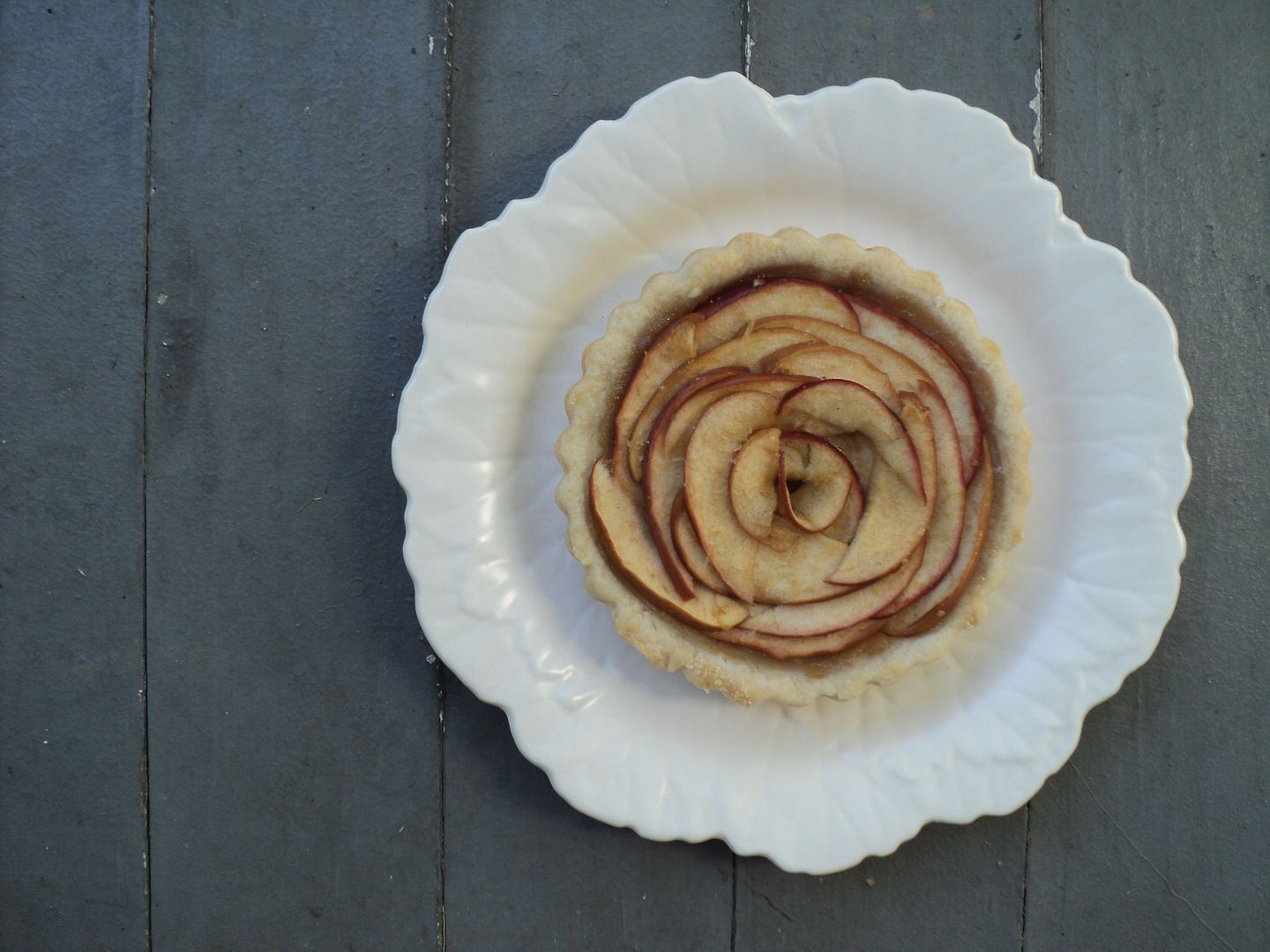 Apple tarts look a lot more difficult than they are. You just need a batch of tart dough, some apple compote, and a few apples to slice for the top. I used 4" pans, but feel free to make a 6 or 8" tart. The apple slices are actually a lot easier to arrange in an 8" tart. I used the shortbread tart dough from
Vegan Pie in the Sky
. I gave more extensive directions on filling the pans when I made
fruit tarts
a last winter. The only difference in the baking. You don't need to blind bake these tart shells, since we want to bake the apples. Just fill the pan with dough, level it, add a thin layer of apple sauce (I used three tablespoons for a 4" tart), and arrange the apple slices. If you can make thin enough apple slices, you can fold rosettes for the center of the tart. I also sprinkled lemon sugar on top of the tart just before baking. I zested a half of a lemon into 1 cup of sugar a few months ago, and pull it out when I need a little hint of lemon in my tea or on my baked goods. You could also use
vanilla sugar
!
I also made a second tart from an apple I hard recently seen. Pink pearl apples are so lovely. They are a beautiful shade of pink when you cut them open, and as I was dying to know, remain pink after they are baked. The apples are similar in taste to a granny smith, so they are tart & wonderful when paired with the sweetness of a nut butter. The texture was a little mealier than I would have preferred, and the apples weren't the easiest to slice thinly. But they baked up nicely. Can you imagine serving someone a pink apple pie?! It's perfect for a tea party.
Have you ever tried a pink pearl apple? Or do you have another favorite apple? I am pretty partial to the honeycrisp myself, but I normally bake with granny smiths. I am so glad apple season is finally here. Prepare to be inundated with apple recipes. At least Rosh Hashanah is almost here, so I have an excuse right?! We are also filling the bakery shelves with apple flavored items. I just put out a few dozen apple cakes and am working on a caramel apple cookie too.