I don't think it's difficult to make cute treats, it just takes a little practice. I find it harder to create something elegant, that stands alone, and one desires to look at for a while before they eat it. That's what tarts are for me. Tarts are something that make me stand at bakery counter windows for far too long, just looking all the beautifully molded crusts, thick creams, and shiny decorations that I know aren't vegan.
Vegan Pie in the Sky
's recent release has had my daydreaming for a while now. This is a variation on the Strawberry Kiwi Crème Tart. It uses the shortbread pie crust, and the cashew crème from the recipe with additional fruits on top. My friend and I doubled the recipe, and used six 4" & three 3" tart pans with removable bottoms. If you have tart pans with removable bottoms, it makes cleanly removing the tart quite a bit easier.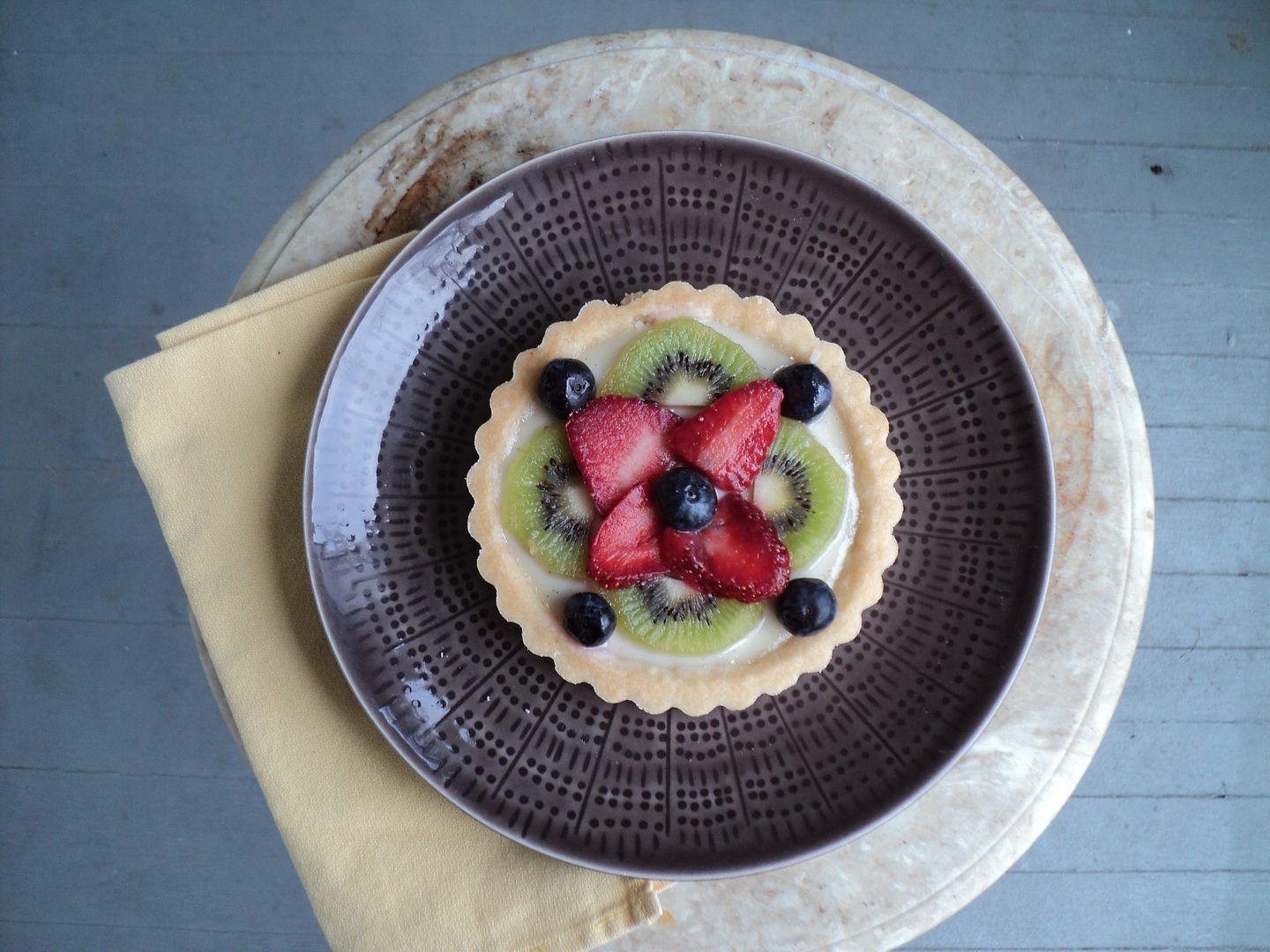 The shortbread crust take a little love. Just have patience. Eventually all the butter will mix into the dough, but it might make the process a bit quicker to use a pastry cutter. We tried filling the pans in a few ways. The first technique we tried was rolling out the dough. This dough is not suitable for that, it will just rip.
What we found worked the best was making a ball of dough and firmly squishing it against the round bottom of the pan until it was smooth and thin. Then trim the excess from the bottom, and place it inside the other portion of the pan. Make a long rope of dough, and wind it inside the tart pan. Cut where needed, and firmly push the dough in. Make sure that the two doughs are sealed together, the sides are thin, and then trim the excess dough off the top of the pan.
There was not room in my freezer for all the pans, so we froze a few and refrigerated a few. We also used pie weights on a few, and no weights on most. There really wasn't much notable difference between the crusts. The crusts with pie weights had a few divets where the weights had rested during baking, but they all ended up to be a similar thickness.
Making the crème for these takes a little forethought. If you don't have a vitamix or other really powerful blender, you are going to want to soak the cashews for at least 8 hours or overnight. Because I have a vitamix, we got away with only soaking them for 2-3 hours and blending for a long while. We followed the recipe closely, only adding the seeds of two scraped vanilla beans rather than extract. I also want to note that if you don't have agar powder, you could probably get away with it in this recipe by just adding less liquid. However, in several of
Vegan Pie in the Sky
's recipes, the agar powder is necessary. And agar flakes are NOT interchangeable.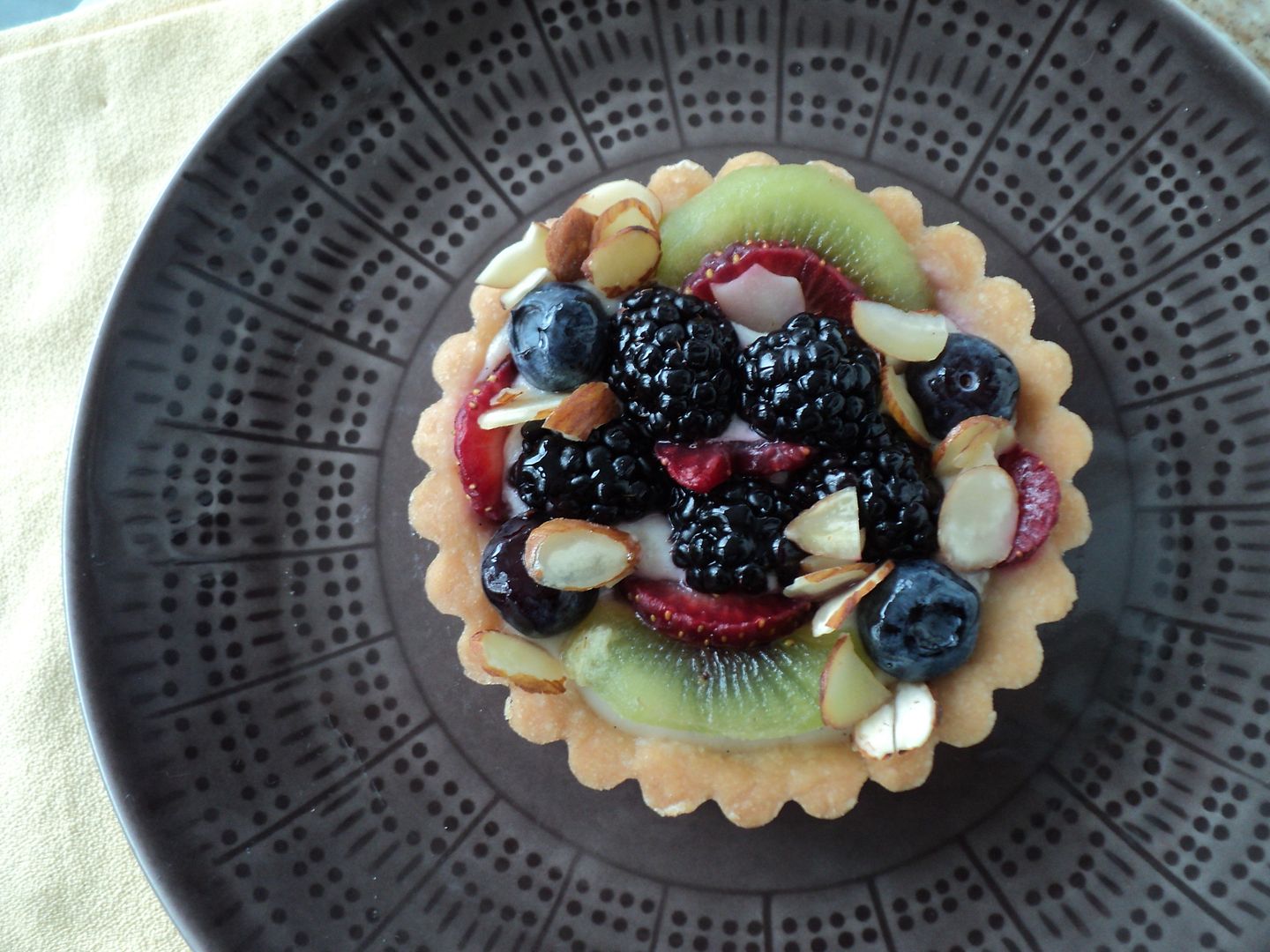 We used a mixture of strawberries, blackberries, blueberries, kiwi, and sliced almonds on the tart. After adding the fruit, we brushed on a mixture of apple jelly thinned with water. This helps seal the fruit to keep it fresher and adds a really beautiful shine. You could probably get away with a different jelly if that's all you have in your fridge, but apricot and apple will add the least amount of color to your tart. Let the tarts sit for a few hours for them to firm up. There's a little bit of a waiting game in waiting long enough for them to be firm and waiting too long, to where the fruit starts to look not as lovely. These pictures were taken the morning after making the tarts, and you can probably see that the sliced fruits aren't quite at their peak any longer.
If you wanted to make this tart gluten free, I recommend using an almond meal crust. The flavors really complement each other. We also had additional crème left over that I used to make a parfait with several layers of fruit. That could be a really elegant dessert in a glass if you don't want to mess with a crust.
Tarts can be really simple or a labor of love, but I think are worth the wait. Is there another dessert that stops you in your tracks when you see it?
*These are going to be posted at
Sweets for a Saturday
. There aren't many other vegan treats, but a lot of ideas for things to veganize!