I cannot believe how quickly time has been going by lately. It feels like November just started a few days ago, and yet I am already writing another rent check. It must be a good sign that things are moving smoothly. I have been feeling pretty confident in myself lately. I have been working on a few small crafty projects and making some larger plans that I am not quite ready to spill the beans about yet (how elusive of me). I am really looking forward to December too. While I really enjoy having time to just hangout and watch obscene amounts of the X-Files, I am going out of town at least twice in December. Eating at the best spots in other cities will always be one of my favorite things to do. Besides the obvious, which is making all the sweets.
I finally made the second flavor combination of fudge that I had intended on making when I made the
rocky road batch
. I planned the timing well because a few hours after cutting it, six friends came over for a few hours. While they all played Mario Kart the pile of fudge kept slowly diminishing. What I am saying is that this recipe makes a ton of fudge. So if you aren't planning on feeding the masses, then you probably want to split it in half. What I am also saying is that I don't get video games. I didn't grow up playing them, so maybe it is just a total disconnect. I actually tried to play Mario Kart for the first time a few weeks ago on the easiest level with my partner, and it just made me really panicky. Maybe it's a skill that is a lot easier to pick up on as a child. Or maybe I just archaic hand eye coordination?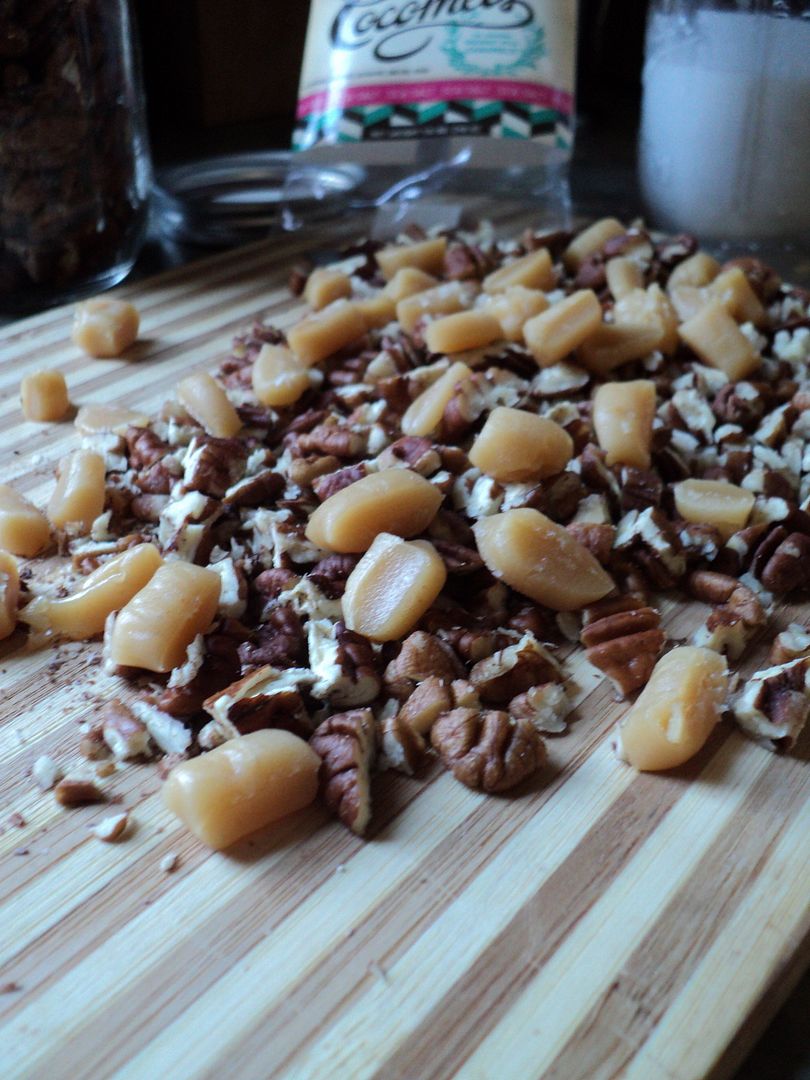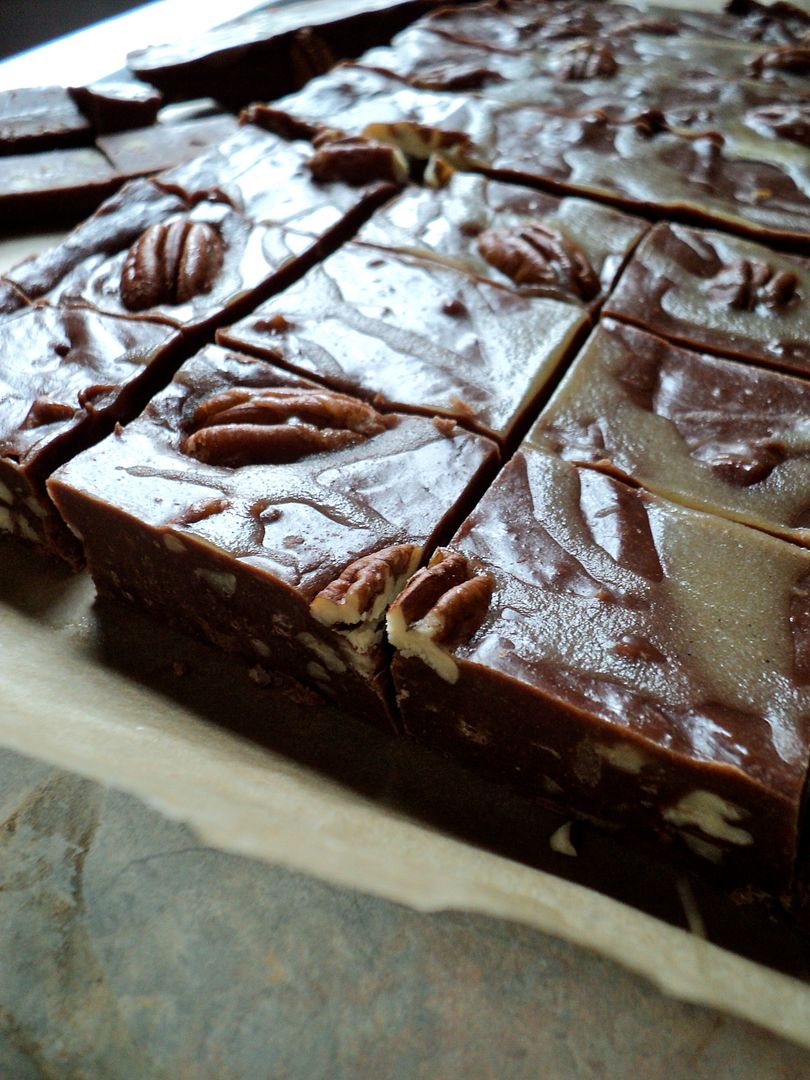 Turtle Tracks Fudge
base veganized from Kraft's Fantasy Fudge

3 cups sugar
3/4 cup Earth Balance
2/3 cup full fat coconut milk
12 oz semisweet chocolate
1 ten oz container Ricemellow Creme
2 tsp vanilla
1/2 cup chopped pecans
2 ounces vegan caramels, chopped into small pieces
additional pecans or caramel sauce for decoration

Line a 9x13" or 9" square pan with parchment (I used a larger pan this time because I wanted thinner pieces of fudge). In a heavy bottomed pot combine the sugar, Earth Balance, and coconut milk. Stir continuously over medium heat until it comes to a rolling boil. Allow to boil for 5 minutes. Stir in chocolate, vanilla, and Ricemellow creme. You will need to stir quickly. I highly recommend an electric mixer. Fold in pecans and caramel chunks, then pour into the pan. I reserved a few unchopped pecans and added additional caramel sauce to the top to add a little more visual appeal. Allow to cool for at least 2 hours before slicing into squares with a sharp knife. It's also best if you can find a knife without indentions on the side. You will get a much prettier cut.