Double double toil & trouble. Fire burn and cauldron bubble. Candy making might not be magic, but it does feel super witchy. There's nothing like stirring molten sugar with a wooden spoon to make me feel powerful & seductive. You start with a few boring, simple ingredients and end up with a kitchen smelling of vanilla & several bags of candy to give to whoever you so please.

Peanut Brittle
1 cup sugar
1/2 cup corn syrup
1/4 cup water
1 1/2 cup peanuts
2 tbl Earth Balance margarine
1 tsp baking soda
1 1/2 tsp vanilla extract

You need a candy thermometer to make this recipe! It's a great investment and will allow you to make all sorts of neat stuff in the future like caramel & lollipops. I have this thermometer by Maverick, but if you are looking for a digital one, I hear this is a solid option. It also helps to pre-measure all the ingredients! I keep my peanuts in one bowl. And then I combine the Earth Balance, baking soda, and vanilla in a separate bowl so I can add them to the hot candy as quickly as possible. Most recipes will tell you to cook the candy to 300 degrees, but I cook mine to 290. I prefer it to be a tiny bit softer. It will still crunch when you bite, but I feel a little less worried about breaking a tooth.
Lightly grease a cookie sheet. In a heavy bottom, 2 quart sauce pan combine sugar, corn syrup, and water. Place on medium heat and add your candy thermometer. Stir frequently, until the temperature reaches 240 degrees. Add the peanuts and stir continuously until the temperature reaches 290 degrees. You will see the sugars start to brown, and if you don't stir quickly enough the peanuts will burn. Remove from heat and immediately stir in the margarine, baking soda, and vanilla extract. Pour onto your greased cookie sheet and tilt the pan to allow the candy to spread as much as possible. Allow to cool to room temperature before breaking into pieces.
If you are worried about using corn syrup, you might be able to replace it with maple syrup, brown rice syrup, or the elusive tapioca syrup. I am not sure how it will affect the taste, and I haven't tried it myself. But I do think it's an option if you are actively avoiding items that may be GMO.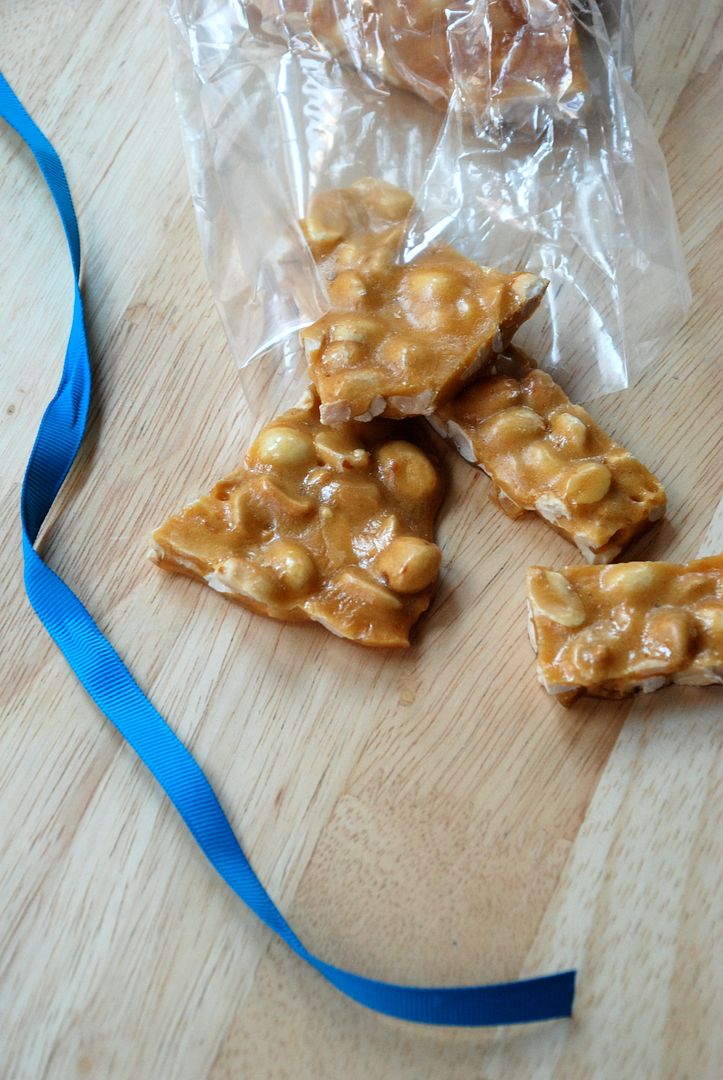 Last week, I was hoping that April would be a little more easy-going for myself, but it's hasn't proven true quite yet. I filed my taxes last week, to find out that a document I didn't really pay much attention to when all my tax forms came in, was going to cause me a bit of a pinch. A bank that I had an undergraduate loan with was consolidated into a much larger bank, and they forgave my loan. It's great that I don't have to pay $6000 back, but I did have to pay taxes on it all at once unexpectedly. As soon as the accountant told me I owed the government $1500 in a week, I started tearing up. I even publicly embarrassed myself and cried the whole walk from the tax office. After a few days of panicking, things are starting to resolve themselves a little. As my mom phrased it "it's like a gift horse kicked me in the mouth."
I do finally feel like things are turning around. It's been beautiful out the last few days. Tonight I am going to a baseball game. I have lots of friends coming in to town over the next few days. April is packed full of exciting things. I might be a little sleep deprived for the rest of the month, but at least I will have a lot of fun!