Even though it has been such a warm winter, I'm still really excited that it's starting to feel like spring. I love that it's light out until seven at night already. The daffodils are blooming everywhere, and I'm ready to spend my first official cherry blossom season in DC. I sort of jumped the gun on berry season and bought a quart of strawberries grown in a hot house. I was worried that they would be flavorless reminders of strawberries, but these berries were so juicy and wonderful. I savored them for a few too many days, and the last berries were getting overly ripe. I had bookmarked a recipe for strawberry corn muffins a few months ago and knew it was time to put it to use.
These muffins were light and subtly sweet. They were great for breakfast or lunch. I will definitely be throwing fruit in my cornbread from now on. While I love the portion control that muffins offer, these would definitely work in a pan if you want to make a sheet of cornbread.

Strawberry Corn Muffins
adapted from Eating Out Loud

3/4 cup cornmeal
1 & 1/4 cup flour
1/2 cup sugar
2 teaspoons baking powder
1/2 teaspoon salt
1/4 cup applesauce
1/4 cup oil
1 cup almond milk
1 & 1/2 cup chopped strawberries

Preheat oven to 350 degrees. Combine dry ingredients. Pour the wet ingredients into a well in the center of the dry. Gently fold the batter until just mixed. Add the chopped berries, and fill liners 3/4 full. Bake for 22-25 minutes.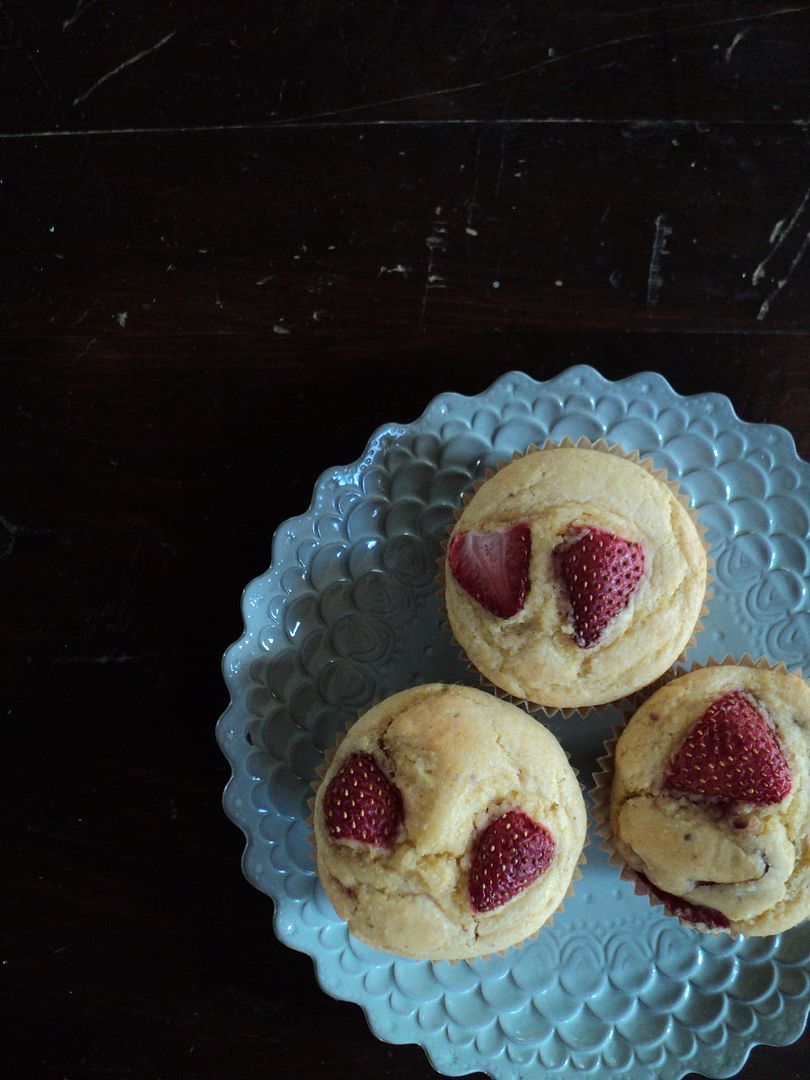 Do you like sweet cornbreads? I have always been a fan of them. I know a lot of people prefer savory mixes with jalapenos or spices, but I have always preferred sugary things.