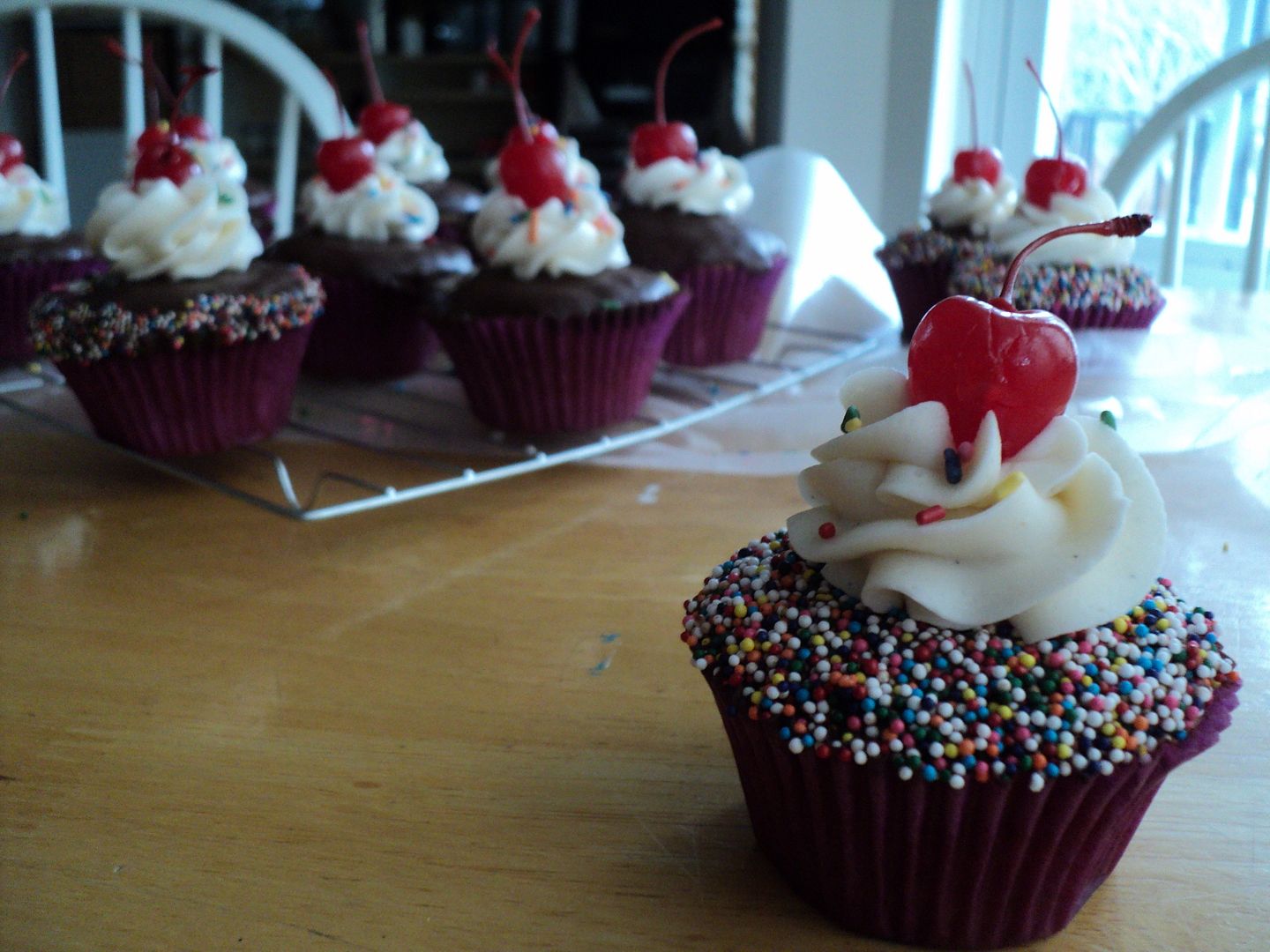 These were the most fun-flavored cupcakes I could think of earlier this week while I was prepping for a bake sale. It's also nice to have an option besides banana bread when you have rapidly browning fruit sitting around too! There is a banana split cupcake in VCTOTW. While I used their banana cake base, I have never made the full recipe. Maybe it's just a different preference in my banana split toppings, but I would NEVER include pineapple preserves. I prefer to keep my banana split simple: dipped in a coconut oil-chocolate ganache, topped with a tiny dollop of vanilla bean frosting, a handful of sprinkles, and a cherry.
I have made my variation of the cupcakes a few times now. While I always want to rim the cupcakes in nonpareils, it is too tedious for me to complete a whole dozen recently. There is some stage between the ganache being too soft & falling off into the bowl of nonpareils and the ganache being just firm enough to still stick to the sprinkles that I have not yet mastered. Maybe some day. So instead, for the large majority of these cupcakes I just tossed a handful of sprinkles on top of the vanilla frosting and called it a day.
If you are going to top your cupcakes with cherries, I not only suggest using cherries with stems (solely for the visual appeal) but also letting them dry out on a napkin or towel for a few minutes first. Maraschino cherry juice is delicious, but it will ooze into your frosting and discolor it.
I have heard lots of other great topping ideas. The fun of these cupcakes is customizing them. Always hated vanilla ice cream in your splits? Then use strawberry frosting, squiggles of chocolate ganaches, and throw on a handful of crushed peanuts. Make them your own! Have you ever made banana split or sundae cupcakes? Do you have any other toppings that you think I should have mentioned?
These are headed to
Sweets for a Saturday
.