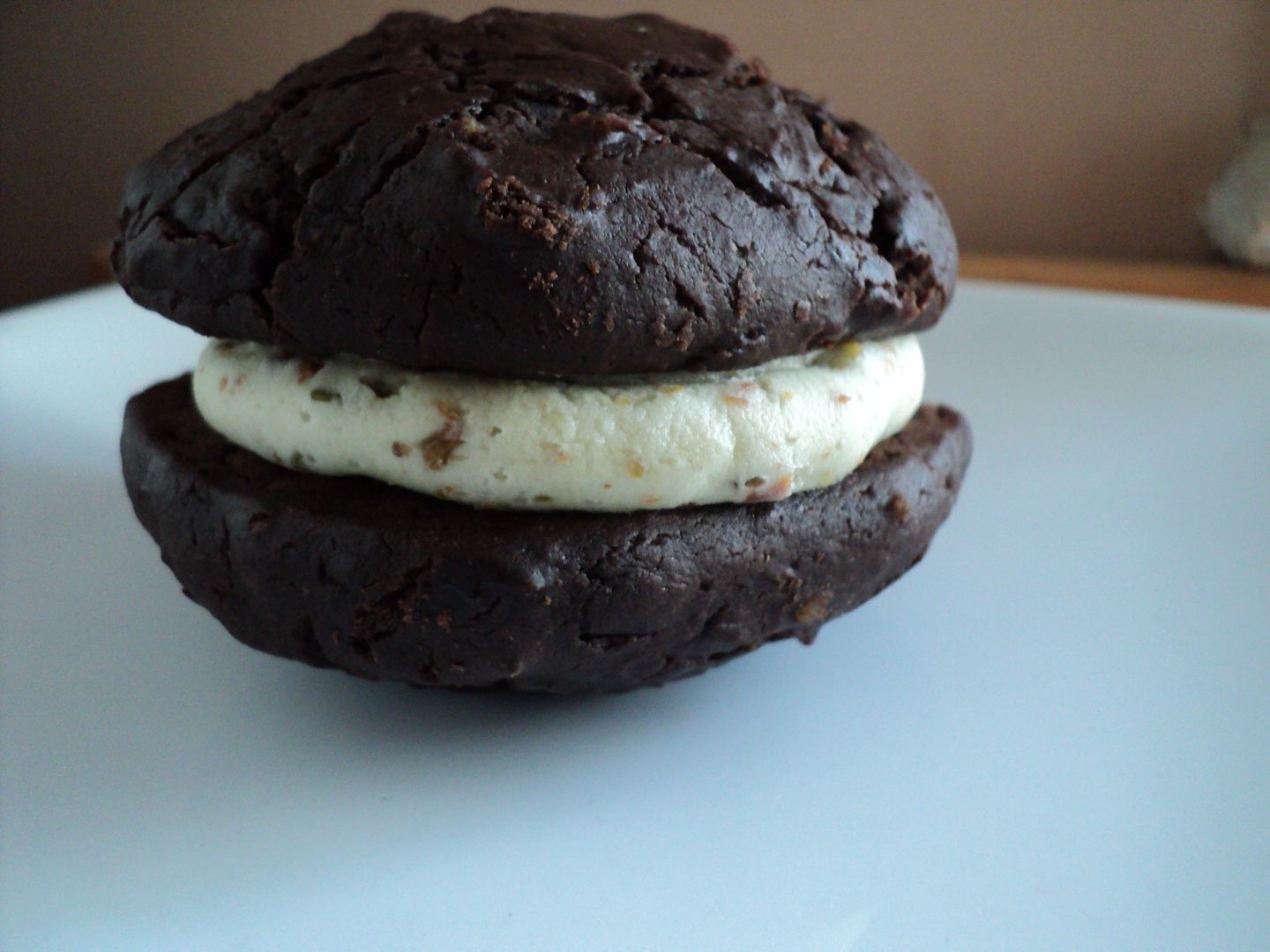 Whoopie pies are some combination of cake and sandwich cookie that intrigues me. I definitely prefer them to cake, but they rank a little lower on my scale of my favorite sweets than an ice cream sandwich cookie. I haven't made whoopie pies many times. In fact I can only remember having made two batches that were both pumpkin and cream cheese. I saw the recipe for these on
Bake and Destroy
. Natalie's vegan recipes have never failed me.
I followed the recipe pretty closely. I used a mixture of regular and dark cocoa powders, and vanilla soy yogurt rather than tofu. I haven't gotten over my fear of tofu in sweets yet. I have made two cream pies, a chocolate and a coconut, that were successful at hiding the soybean flavor. In most cases, I can still taste the soybean and so I tend to avoid using it.
My chocolate cake looks a little different than hers. I'm not sure if I overmixed the dough accidentally. My little mounds had lots of cracks, and while those look great on a muffin, I want my whoopie pies to be smooth.
The pistachio cream is spot on! It was salty and sweet and had just the right amount of texture. I made the cream and went out for a few hours. When I came back, it tasted exponentially different. So I highly recommend making these a few hours early and letting the pistachio flavor develop. I might play with the filling a bit in the future. Natalie suggested adding some cardamom, and I think that's a great idea. Also, if you aren't using pre-roasted and salted pistachios, I would suggest adding a bit of sea salt to your frosting.
Overall, I really liked this recipe. These were a hit with several friends. However, they were very rich so I would probably make them a little smaller next time. I was feeling a little lazy, so I just plopped down 1/4 cup dough on the cookie sheets, which made about nine ~3" whoopie pies. I also suggest using a cookie scoop if you want really uniformly shaped treats, that are more photogenic than mine!
I also really want to bake more with pistachios. I've made a few pistachio-rose and pistachio-cardamom things, but not recently. Are there any other flavors you think work well with pistachio?