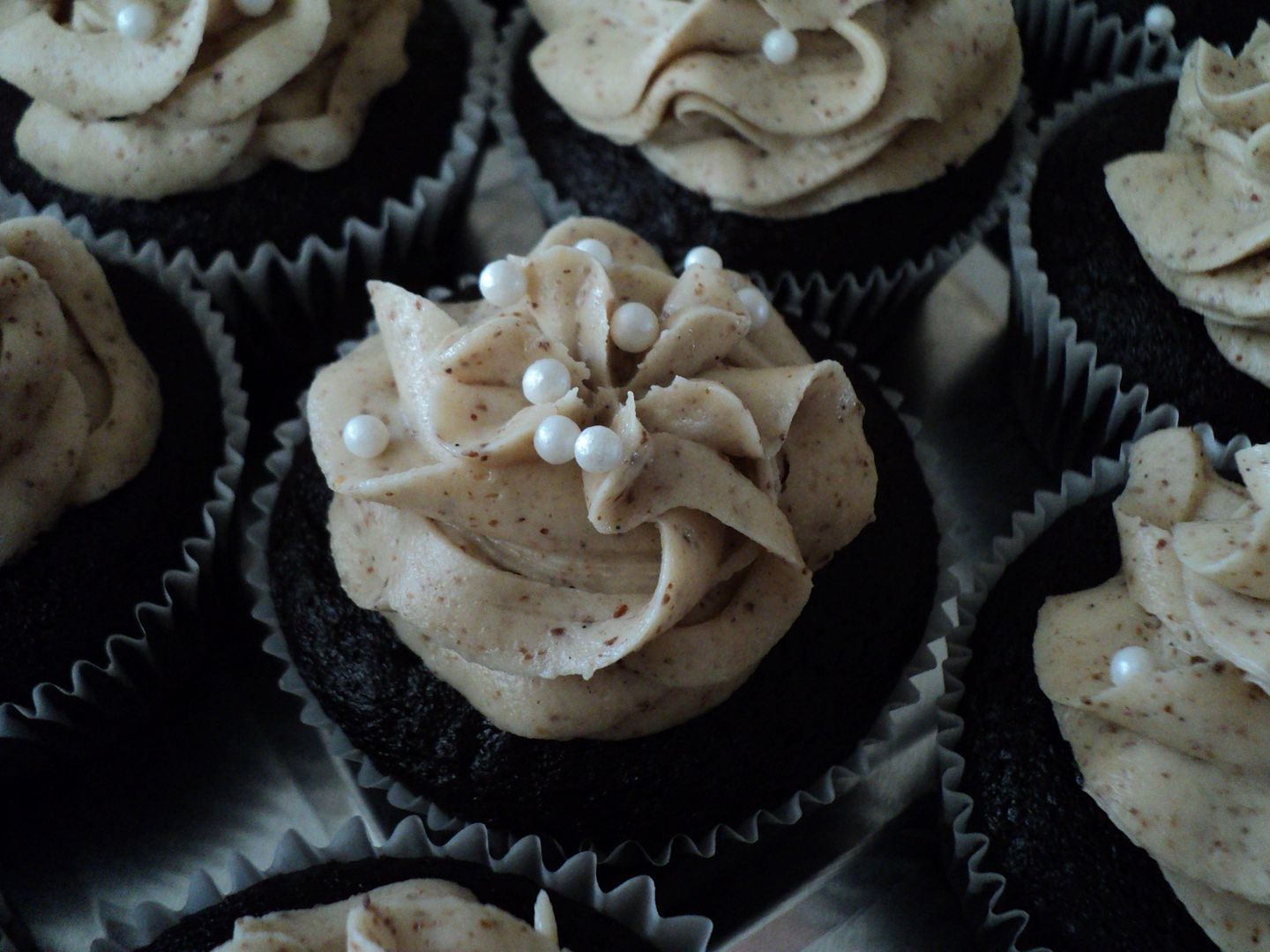 I don't think that I can do an adequate job describing these cupcakes. I generally am not a fan of cake. I think it's often too sweet, and though I like piping beautiful mounds of frosting, it isn't something I generally desire to eat. These cupcakes changed that for me. The first time I tasted this flavor combination was over the summer, when my friend Sheena made a batch for a friend's birthday. I knew I had to recreate them. Using the basic chocolate cake recipe from
Vegan Cupcakes Take Over the World
, I made the batter with chocolate extract and a mixture of dark cocoa and Valhrona cocoa powders.
The almond butter frosting is what takes these to the next level however. I used a raw almond butter with a smooth texture. I am not sure how much the consistency of almond butter varies among brand, but mine was very, very thick. If yours is thin, you might need to add quite a bit more powdered sugar to achieve the desired texture. Also, these were piped with a Wilton 2D tip. If you look closely, you might be able to tell that even the smooth almond butter had enough almond pieces in it to clog the tip.

Almond Butter Frosting
(adapted from VCTOTW peanut buttercream frosting)

1/4 cup Earth Balance
2 tablespoons shortening
1/2 cup almond butter
1/2 tsp vanilla bean paste (or extract)
1 cup powered sugar

Cream butter and shortening. Add almond butter and vanilla bean paste. Mix until blended. Slowly add powdered sugar. If not the desired consistency, either thicken with additional powered sugar or thin with almond milk.

Have you ever tried a nut butter frosting? Peanut is pretty common, but I love the almond version. It's not very sweet, and I even used the leftover frosting to flavor my oatmeal the next morning. I have used cashews to make creams, but I wonder what a cashew frosting would be like? Or hazelnut? A chocolate hazelnut cupcake might be like eating nutella?!