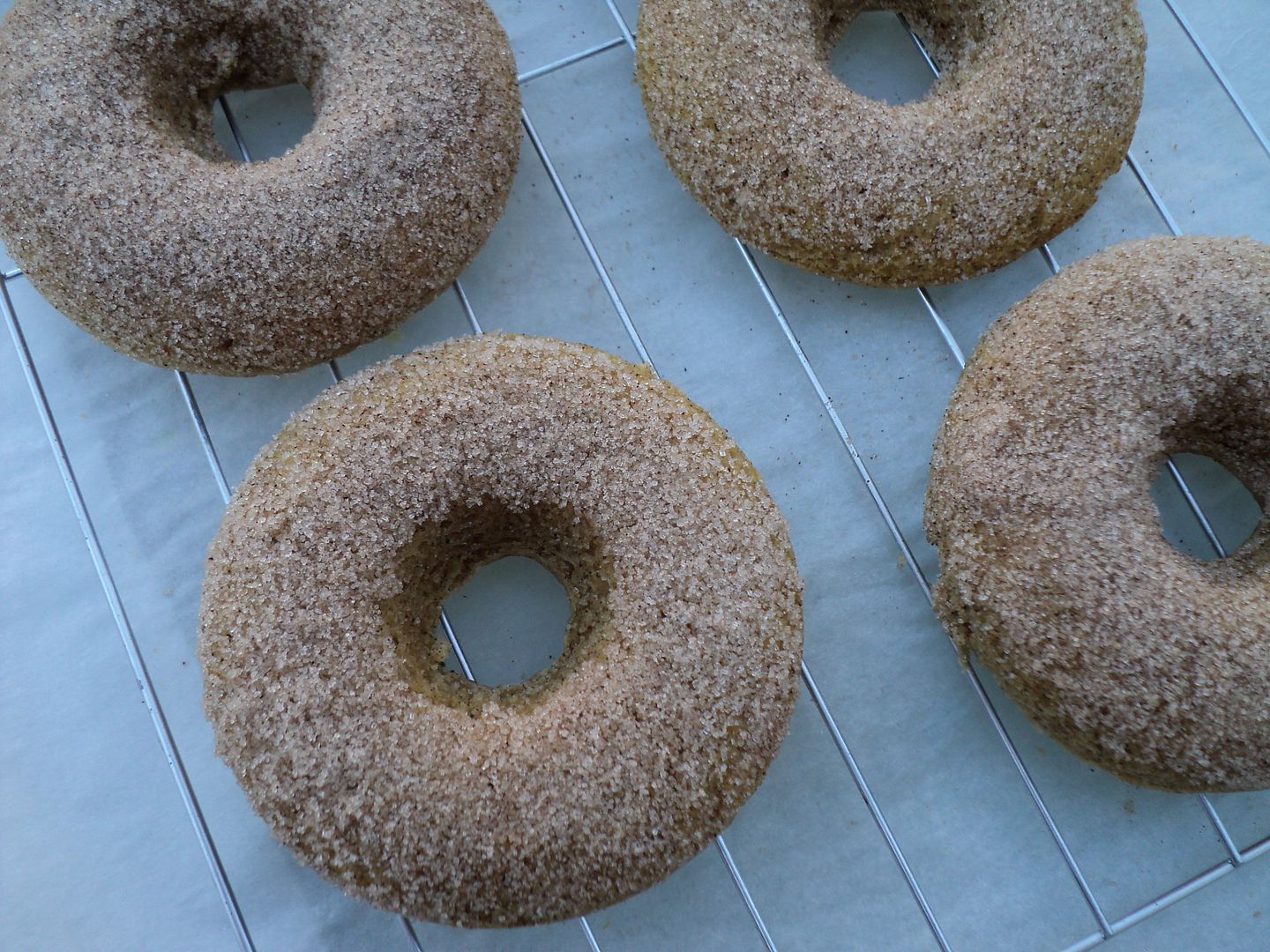 I have had a mini donut pan for a few months now, but earlier this week I found a pair of regular sized donut pans at a thrift store for less than five dollars! Today I spent most of the afternoon baking donuts while watching Stranger Than Fiction. Maggie Gyllenhaal's character has my dream life. And her partner
brings her flours
! I swoon.
A friend had asked me when I started this blog if I would work on gluten free donuts, and I was happy to attempt. I started with a
recipe from Jeanette's Healthy Living
because it sounded the most appealing and I happened to have all the necessary ingredients at hand. When I first mixed the batter I felt like it was way too thing to possibly bake properly, and so I added more of the flour mixture until it seemed to be a workable consistency. I would guess that I used 200-250 grams of the total 400 grams I made. These donuts also became cardamom spice, I dumped tons in when I failed to realize the plastic cap was missing from the spice jar. Baking blunders, you gotta love 'em. Thankfully I was able to remove quite a bit of it, and the flavor wasn't too overwhelming.
This batch made 7 donuts for me. If you aren't familiar with using a donut pan, it takes a little practice to gauge the correct amount of batter. I highly suggest attempting to make one donut first to have an idea. You might feel like there is no way the tiny amount of batter you place in the tray will expand so much, but trust me it will. These donuts were also really fragile. One crumbled in the cinnamon sugar mixture, even though I was turning it very carefully. If I were to make this recipe again, I would probably add a bit of xanthan gum to help hold it together. Also, I couldn't taste the pumpkin in the batter (even before I dumped in too much cardamom), so I wouldn't make it hoping for a very pumpkiny flavor.
I feel like this was a solid first attempt at gluten free donuts for me. I think I might also try
BabyCake's recipe
in the future and play with various toppings.
I have more donuts that there wasn't daylight to photograph! So I will share those with you soon. Do you have a favorite donut? I have had some pretty amazing donuts from
Mighty-O
in Seattle. But I haven't had the chance to try
Dun Well
yet in New York. I hear they have a root beer donut?!