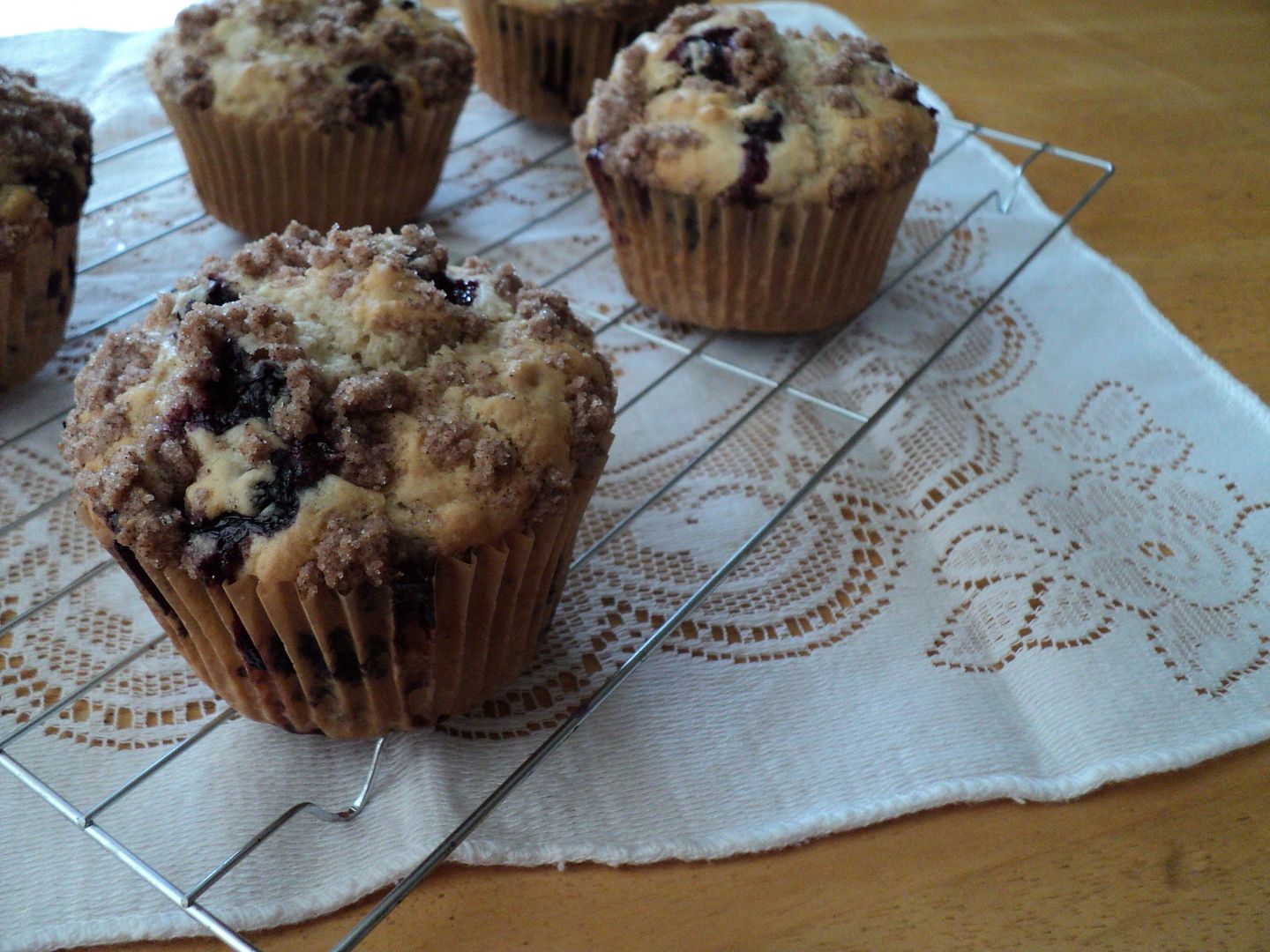 There's been a lot of changes in my life lately. In the past few weeks I took a leave of absence from graduate school and got offered a job as the head baker at a vegan bakery opening this spring. As the bakery is still being renovated, I am temporarily working as a pastry assistant in
Great Sage
, the vegan restaurant the group also owns. I've been learning a whole lot about baking on commercial equipment, lifting 30 pound boxes of vegan cream cheese onto top shelves of walk in fridges, and adjusting to the quick pace of a kitchen during brunch service.
I've also been adjusting to working weekends and having off on random weekdays. One of those random weekdays was a quiet, dreary Monday. I could feel myself coming down with a cold. So after filling myself with a fruit smoothie and vitamin C pills I walked across the eerily empty street and bought a pint of blueberries. I went home to catch up on silly TV shows, while I baked these muffins and drank a lot of hot tea.

Blueberry Streusel Muffins
This will make 6 jumbo muffins or a dozen standard size.

1/4 cup Earth Balance
1/3 cup Turbinado
1/4 cup applesauce
2 tsp vanilla extract
1 cup almond milk
2& 1/3 cups all-purpose flour
4 tsp baking powder
1/2 tsp salt
1/2 tsp cinnamon
1& 1/2 cups fresh blueberries

Streusel topping
1/4 cup Turbinado
2 tbsp flour
1/2 tsp cinnamon
1& 1/2 tbsp cold Earth Balance

Preheat oven to 350F. Cream Earth Balance and sugar. Add applesauce, vanilla, & milk. In a separate bowl whisk together flour, baking powder salt, and cinnamon. Add half the dry mixture to the wet, mix to incorporate, and repeat. Fold in the blueberries by hands. Fill liners 3/4 full with batter.
Combine all streusel ingredients. Cut the butter into the sugar and flour using a fork and some patience. Sprinkle on top of muffins. Bake for 28-33 minutes or until toothpick comes out cleanly.


These muffins are really, really dense. If you want a light, airy muffin this is not for you. This was a first attempt at this recipe, so I have a few changes that I suggest. Next time I might add even more blueberries, as the flavor was not quite as strong as I would like. I would probably add additional cinnamon. I might even attempt to throw in a handful of oats next time around to add a bit more texture.
If you are going to use frozen blueberries, make sure you keep them in the freeze until you are putting the batter into the muffin liners. Otherwise your berries will start to melt and ooze and turn the batter all purple, unless you are into that kind of thing.
Has anyone else had any wild life changes recently? It is both terrifying and exciting.