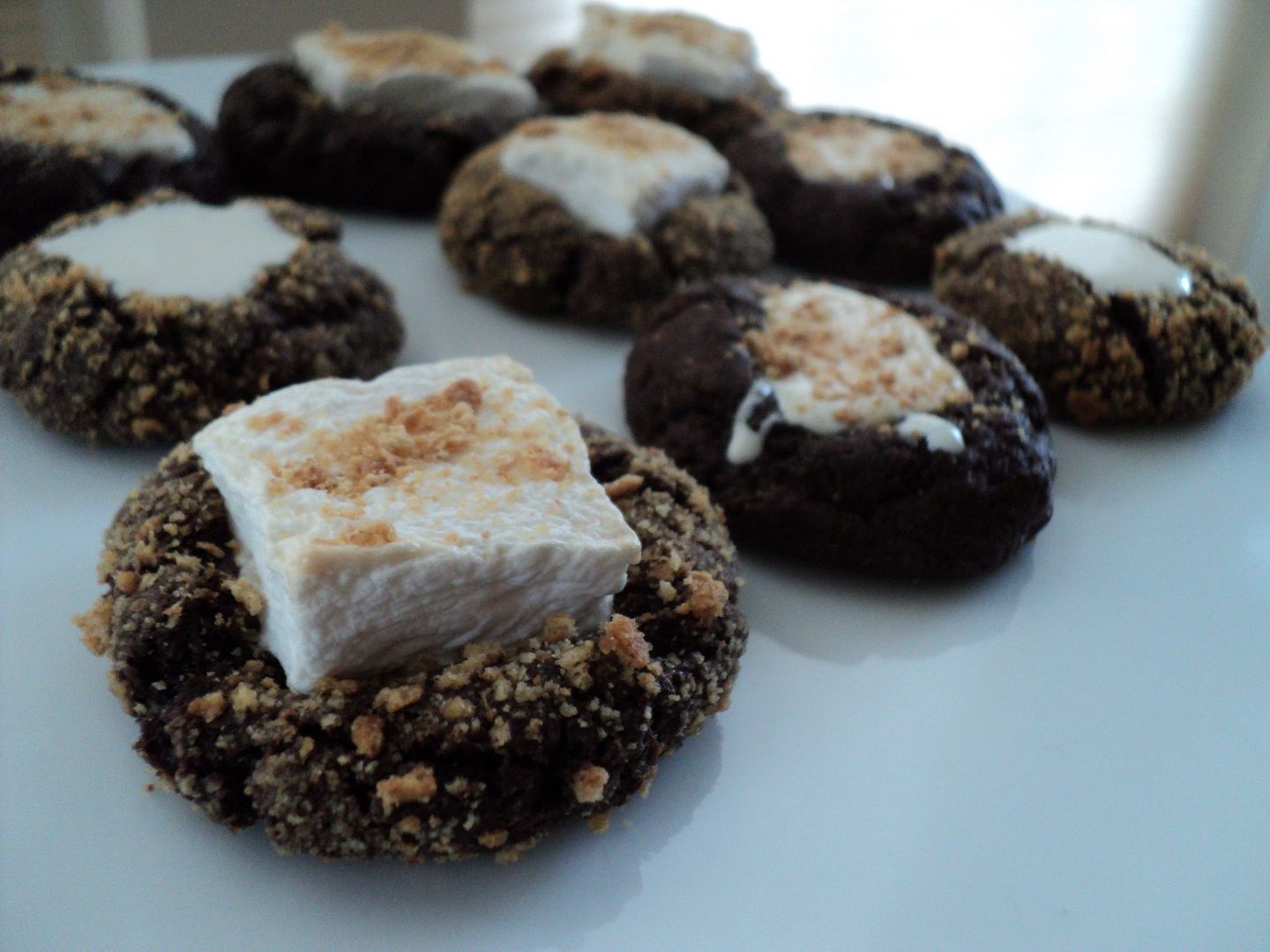 My grand plans for the rest of the Sweet & Sara marshmallows and Smuckers marshmallow topping, were these s'mores thumbprint cookies. I had seen the idea on a non-vegan blog called
How Sweet It Is
, and wanted to veganize them so, so badly. I started with the
chocolate thumbprint cookie
recipe from
Vegan With A Vengeance
. I used a mixture of regular and dark cocoa powders. I also subbed vegetable oil and almond milk for the peanut oil and soy milk, and added extra flour to make the dough a little thicker since I didn't have time to chill it.
I rolled the dough in small balls, slightly smaller than a quarter. Half of the balls I coated in crushed graham crackers prior to baking. After 6 minutes in the oven, I either pushed in half a marshmallow or made a large thumbprint. I baked them for another five minutes. While still warm, I filled the thumbprints with marshmallow topping. I also dusted the tops of all uncoated cookies with graham cracker crumbs (and even a few that I did roll, because I am overzealous like that). The marshmallows do get quite puffy in the oven and expand. Let them cool on their own, because if you squish them down with your hand, you will get large craters in your cookie. They will deflate quite a bit.
Personally, my favorite cookies were the ones with half a marshmallow in them and rolled in graham cracker prior to baking. However, none of them were disappointing. I attempted to broil the cookies to make them appear more s'more like, however my oven was uncooperative. You could try that, or use a kitchen torch if you happen to own one. The slight brown color I did get on the edges of the marshmallows is so similar to the color of the graham crackers, that it's difficult to differentiate.
I wonder what recipe I will get obsessed with next? I have a long to bake list, but am leaving town tonight to visit my home in Tennessee for a week. Does everyone else have huge folders of potential baking projects? It's normal to dream about cookies too, right?
I also just heard about this site called
Spencer's Market
. It's basically a Vegan Cuts or Living Social type site that it is specific to vegan food! I mean, who doesn't want to know about new vegan snacks, right?!