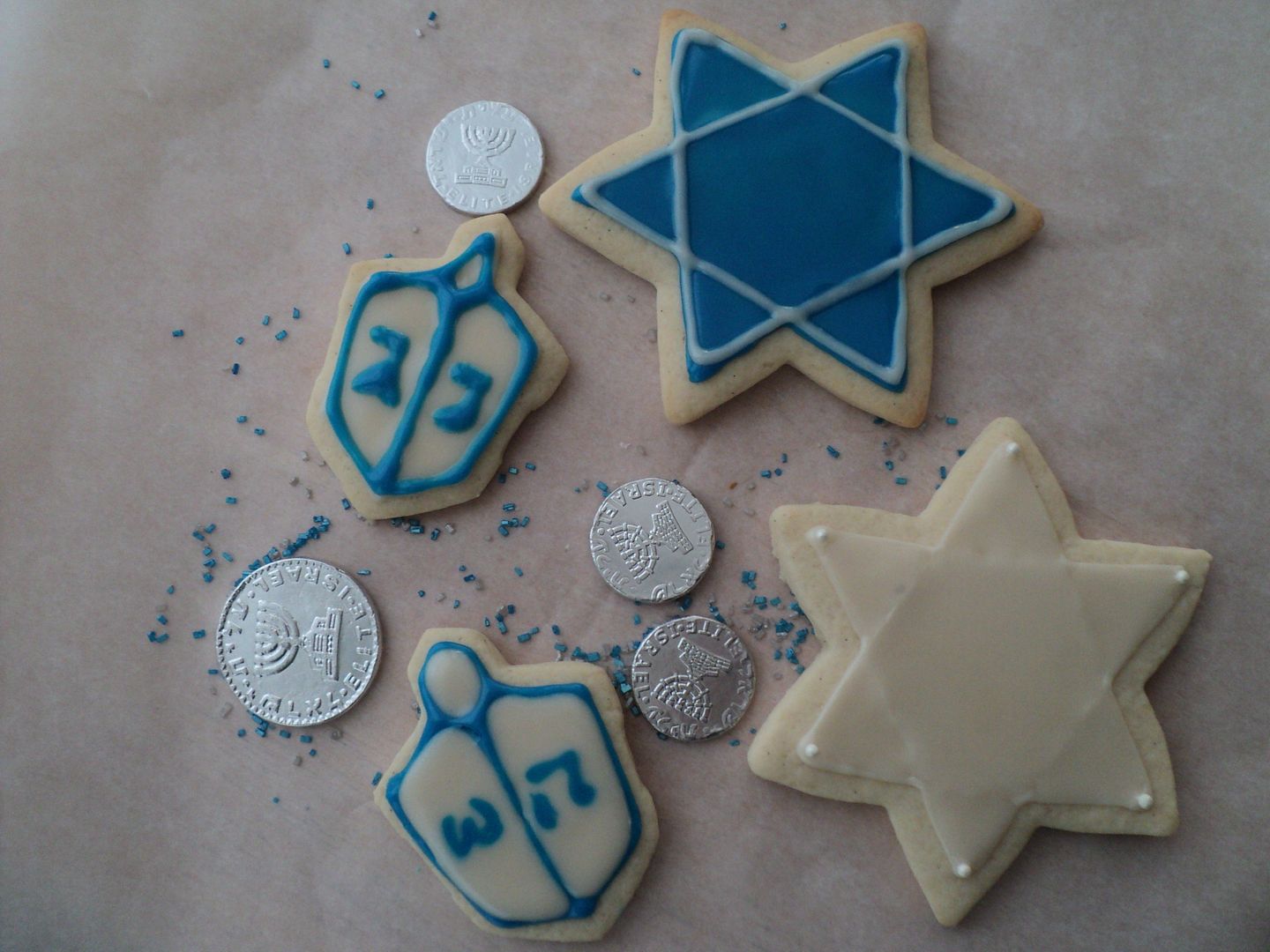 I am finally done with my 3rd semester of graduate school! I spent my first truly free weekend in months by making sugar cookies. I found
this recipe
about a year ago, and it has been my go to recipe for sugar cookies since. The only changes that I make are adding vanilla bean paste rather than extract, and I normally throw in a tablespoon or 2 extra cream cheese. The dough is incredibly thick, so if you aren't making it in a standing mixer be patient and prepare for the upper body workout.
Definitely don't skip the chilling step. I normally refrigerate the dough for at least an hour or two before I start the process. I always roll the dough out between parchment paper with extra flour under the dough and a bit sprinkled on top. The cookies will be really soft when you take them out of the oven, but do firm up quite a bit as they cool.
I have seen an overwhelming amount of Christmas cookies lately, so I thought it would be awesome to make a batch of Chanukah cookies. I also threw in a few snowflakes because I haven't used those cookie cutters yet this winter either. Piping royal icing is something that I both love and hate. I think of it as an endurance sport, because I spend at least 3 hours decorating just 2 dozen cookies. I hope one day to get to the skill level of Bridget who runs
Bake at 350
, but for now I am pretty pleased with where I am. The most important thing I have learned about piping sugar cookies is how important it is to have the proper consistency of icing for outlining and flooding designs. Outlining icing should be similar to the consistency of toothpaste, while flooding icing should be similar to shampoo. I don't really follow a recipe when I make royal icing, I normally just mix powdered sugar with a bit of corn syrup and water until it's the right consistency. I used vanilla extract in this frosting, which is why the shade is more of an off-white. If you want truly white frosting, you need to either use a
clear vanilla extract
or something like almond or lemon.
It was getting dark pretty quickly, so you might be able to tell that some of the icing isn't dry yet in these photos. These cookies take so long to dry. Be patient, and don't stack them until the next day! I also recommend baking the cookies the night before you plan to frost them. Do you have any other tips or tricks for elaborate piping?