Another simple cookie that I have somehow never made before. Biscotti! Twice baked, Italian cookies. I love everything almond, so I decided to tweak a recipe from
Vegan Cookies Invade Your Cookie Jar
for maximum almond flavor. Between the almond extract, almond meal, and sliced almonds there's all sorts of lovely nutty flavor. I often see biscotti dipped in chocolate, but I prefer to drizzle for maximum chocolate to cookie ratio per bite. Of course these flavors are perfect for dipping into coffee. You should probably keep in mind when you are dipping your biscotti into coffee what time of day it is. If it's 5pm and you were just craving a snack, you might not want to dip them. Otherwise you will be wide awake until 3am wondering why you aren't tired even though you need to be up in three hours. This might have happened to me this week. I am not sure where my brain was when I decided to order a cup of coffee while I was catching up with a friend. Hopefully I can keep this in mind next time and just order a nice cup of herbal tea instead.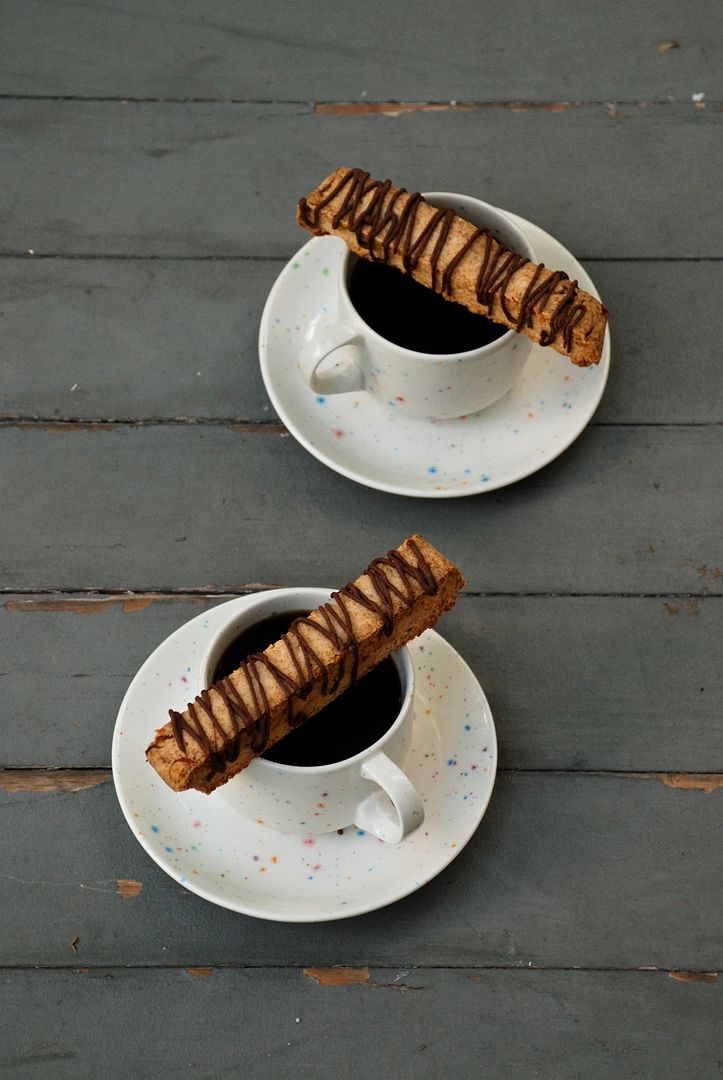 Almond Biscotti
adapted from cranberry white chocolate biscotti in Vegan Cookies Invade Your Cookie Jar

1/3 cup almond milk
2 tbl golden flax meal
3/4 cup sugar
3/4 tsp vanilla extract
3/4 tsp almond extract
1 1/3 cup all purpose flour
1/3 cup almond meal
2 tbl arrowroot
2 tsp baking powder
1/2 tsp salt
3/4 cup sliced almonds
2 oz dark chocolate for drizzling

Preheat oven to 350. In bowl of standing mixer, beat almond milk and flax meal for one minute. Add sugar and extracts and mix until combined. Add flour, almond meal, arrowroot, baking powder and salt and mix until a stiff dough forms. Fold in sliced almonds. On a baking sheet form dough into a a long rectangle, only 4" wide. Bake for 27 minutes. Allow to cool for 30-40 minutes.
Heat oven to 325. Using a heavy kitchen knife cut into 1/2" pieces using one solid motion pushing down. Tip the biscotti onto one of the freshly cut sides. Bake for 14 minutes. Flip onto other cut side and bake for the remaining 14 minutes. While the cookies are cooling, melt your chocolate. Drizzle to your content and allow to cool to room temperature.