This recipe is brought to you by inspiration from the cookbook
Desserts from the Famous Loveless Cafe
. I grew up in rural Tennessee, and Loveless Cafe was the stuff of legends. The last time I was in town, I drove by and there was still a line out the door just like normal. While their cookbook is probably one of the least vegan things you can look through, I found it super comforting. It sent me on a hunt for sorghum & made me yearn for the blackberry bushes & fresh peaches outside my front door. Most of all the Loveless cookbook reminded me that my insatiable sweet tooth is totally a normal thing in the South. We are talking about a place where people pour chocolate gravy on a pile of biscuits for breakfast. So it's no wonder that by the time that I finished flipping through the pages, the banana bread I was making that afternoon couldn't be
just
banana bread. I had to add extra brown sugar & pecans. Pea-cans y'all.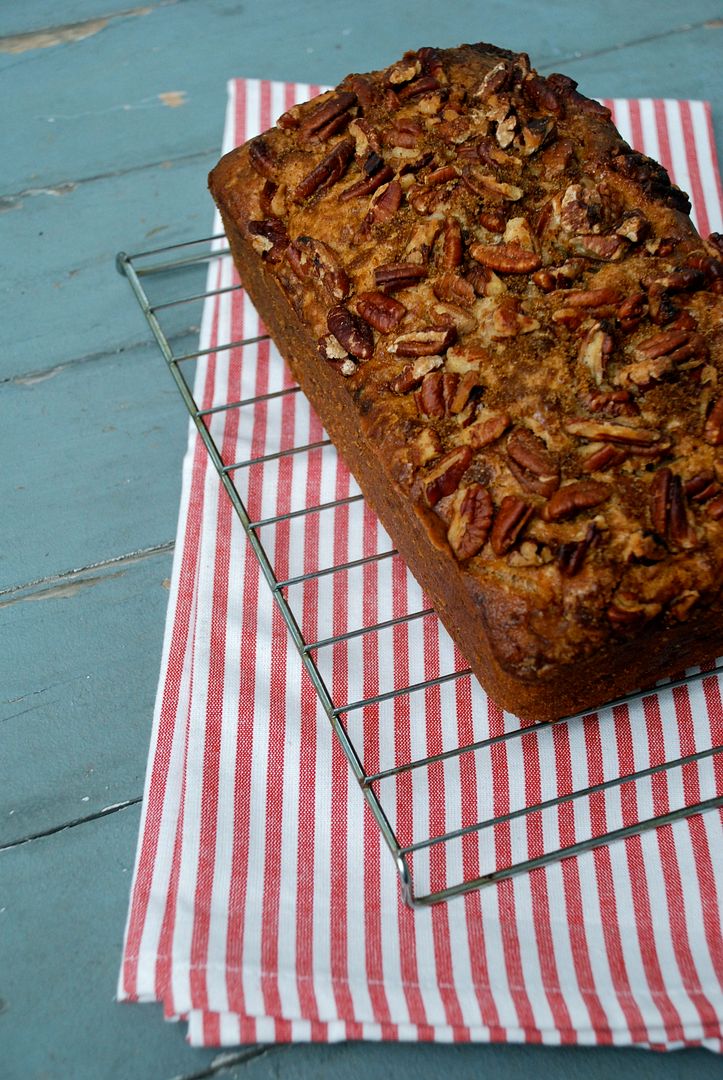 Brittany at Real Sustenance, came up with the best vegan gluten free quick bread base recipe. The following recipe is her's just tweaked with a little spice & some sugar swapping.

Brown Sugar Pecan Banana Bread

2 cups Bob's Red Mill Gluten Free All Purpose flour blend
2 tsp cinnamon
1 tsp baking powder
1 tsp baking soda
1 tsp xanthan gum
1/2 tsp salt
1/4 tsp allspice
1/2 cup light brown sugar
1/4 cup sugar
1/3 cup canola oil
3/4 cup full fat, canned coconut milk
1 tsp white vinegar
1 1/4 cup banana puree
1 tsp vanilla extract
1/2 cup chopped pecans
Preheat oven to 335 degrees. In a mixing bowl combine all dry ingredients and mix until evenly distributed. Puree bananas. In a small mixing bowl combine sugars, oil, coconut milk, vinegar, banana puree and vanilla. Mix wet and dry until no visible lumps. Fold in pecans. Pour into greased loaf pan (I normally make mini loaves, but this was an 8x4" pan). Top with additional pecans and brown sugar if you can't restrain yourself likes me. Bake for 50-60 minutes until a toothpick comes out clean.


This is the best gluten free quick bread I have ever bitten into. It's got a phenomenal texture & no beany aftertaste. I also tried the recipe with pumpkin purée, but that was no where near as enjoyable. The garbanzo bean flour in the Bob's Red Mill AP blend was too strong for such a subtle flavor. I know this recipe will become a mainstay in my gluten free recipe bank.
As it gets cooler out I have been craving more breads & muffins, so I have a feeling something similar will show up here again soon. What's your favorite quick bread/muffin flavor? I don't think anything can ever top blueberry streusel, but I am always willing to give things a chance.