Heather at
Sprinkles Bakes
makes the most unbelievable desserts all the time. Some of my favorites have been her hibiscus poppyseed shortbread cookies, Edgar Allen Poe inspired red velvet cake, and all of the recipes she shares on the Etsy blog. Everything she makes is beautiful and flawless. Her cookbook
SprinkleBakes: Dessert Recipes to Inspire Your Inner Artist
is one of my favorites. Her perfect execution of recipes inspires me to keep practicing, and hoping that I develop an artistic eye half as decent as her's. She made a baklava cheesecake at the end of May, that I have been stuck on since. Once I successfully made vegan
baklava
, I knew the cheesecake was the next step. It also fell perfectly into position. It wraps up cakes & ties in with my last theme for the month, pastry! I am definitely someone saves the best for last.


Vegan Baklava Cheesecake
one 8" cheesecake, veganized from this recipe on Sprinkles Bakes

Cinnamon "Honey" Syrup
1 cup sugar
1/2 cup brown rice syrup
1/2 cup agave
1 1/3 cup water
1 tsp cinnamon

Bring sugar, syrups, & water to a boil. Simmer for 25 minutes. Stir in cinnamon & allow to cool.

Cheesecake
7 oz walnuts, chopped into tiny pieces
1 tsp cinnamon
pinch sea salt
1/3 cup warm water
3 tbl Ener-G
24 oz vegan cream cheese
3/4 cup granulated sugar
2 tsp vanilla extract
1/4 cup Earth Balance, melted
15 sheets phyllo dough

In a small bowl, combine 5 oz of chopped walnuts, 1/2 cup of the "honey" syrup, the cinnamon, and salt & set aside. Whisk together water and Ener-G and let sit until it thickens. In a mixer, combine cream cheese with thickened egg replacer, sugar, & vanilla. Beat until smooth.
Preheat oven to 325 degrees. Place a piece of parchment paper on the base of your springform and then reattach the top of the pan (as Heather shows in her more detailed directions). Take each sheet of phyllo and lightly brush with Earth Balance. Fold in half. Lay in pan so that it is in the middle, and then hanging over the edge. Repeat many times so that each piece of phyllo is overlapping the last. Pour in half of cream cheese filling. Add a few blobs of cinnamon walnut mix, then top with rest of cream cheese. Add remaining nuts, and swirl.
Fold the overhanging phyllo on top of the cheesecake. I added another sheet of phyllo to the top of the cheesecake to fully cover all the filling to keep any of the syrup from burning. Bake for 1 hour and 10 minutes. Once your cheesecake has finished baking, turn oven off, open a few inches and allow to cool for an hour. Place cheesecake in fridge and allow it chill for 4 hours or overnight.
Bake a few of the remaining phyllo sheets at 350 for 10-20 minutes until golden. Sprinkle on top of cheesecake. Add remaining chopped walnuts and drizzle with some of the "honey" syrup.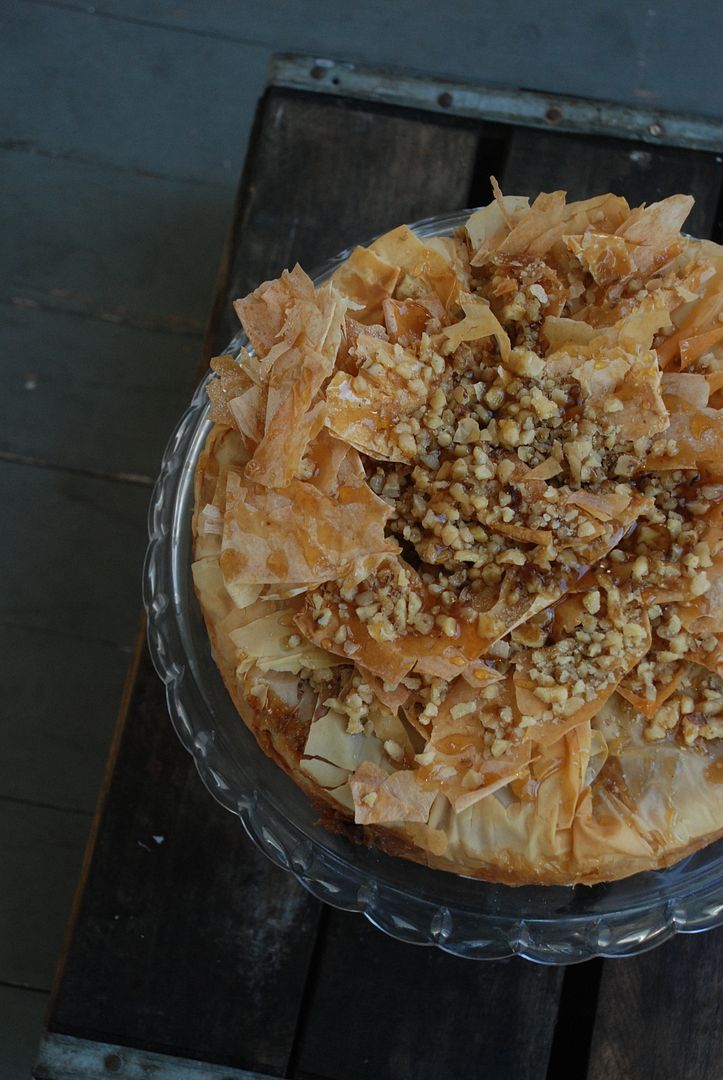 I am going to warn you. This cheesecake is
messy
. Next time I would consider putting a piece of parchment inside of the springform pan ring after I lock it as well. The syrup does ooze as the cheesecake is baking. While most of the syrup stayed on the bottom piece of parchment, I found that a bit did also spill onto the sheet tray I placed under the springform. Next time I might just line the oven rack with aluminum foil, because the sheet tray kept the bottom bits of phyllo from browning the way I wanted them too.
The mess is totally worth it though. This cheesecake is amazing. It's rich and just sweet enough to add a more syrup to the top without it being
too
much. It also looks beautiful with minimal effort. Really once you pile the extra phyllo & walnuts on top, it just looks amazing. The way the phyllo wraps around the edge of the cake and then has extra height in the middle reminds me of a wrapped package. One that I can't wait to open until it is totally cooled.