There's no stopping these cookies. Someone who would rather have no other sweet than a chocolate chip cookie, declared that these were better than chocolate chip cookies. And it's true. They are apple-y and gooey in the best possible ways. There are two necessary ingredients that you might have to go out of your way for:
Alpine Spiced Apple Cider
and vegan caramels. Alpine Cider is an instant cider powder that I found mixed in with the hot chocolate mixes on the shelf of my local Target. I checked a few other places, but didn't see it at Safeway or Giant. You should just go ahead and buy a box, because I have a few more recipes that will help you finish the whole thing off. And while it tastes great in baked goods, I don't recommend mixing it with hot water to drink. Just buy yourself a jug of fresh, locally pressed cider and leave this for the mixing bowl.
The caramels are a different story. There are a few options here. I happen to live only a few miles from the vegan super-center,
Pangea
, so I drove over after work one weekend and bought a bag of
Cocomel vanilla caramels
.
Also, Spencer's Market has the Cocomel caramel's on sale right now if anyone wants to buy them here!
Pangea also has a store brand called VeganSweets that makes caramels, which are delicious but I think not quite as nice as the Cocomel brand. There is also
Feed Your Face caramels
, which would work really nicely. Lastly, you can just avoid buying them all together and make your own. I love making caramel using
this recipe
.
Caramel Stuffed Apple Cider Cookies
veganized from the Cooking Photographer

1/2 cup Earth Balance
1/2 cup granulated sugar
1/4 teaspoon salt
5 packets of Alpine Spiced Apple Cider
1 Ener-G egg
1 teaspoon vanilla extract
1/2 teaspoon baking soda
1/4 teaspoon baking powder
1.5 cups all-purpose flour
7 oz of vegan caramel, chopped into third inch size pieces.

Preheat oven to 350 degrees. In your standing mixer, cream the sugar with the Earth Balance. Add in the cider powder and mix until combined. Then add the prepared egg replacer and vanilla. Add the remaining dry ingredients and mix until a thick dough forms. I used a small scoop to portion out the dough. I flatted a scoop of dough with my palm, placed a chunk of caramel in the center, and then topped it with another flattened scoop of dough. I then pinched all the edges together and rolled it the dough back into a ball. Based on the size of your caramels and your scoop, the batch size is variable. But I made 15 cookies.
Bake several inches apart for 12-14 minutes. If you bake them for 12 minutes they will be nice and soft the way I prefer my cookies, but if you bake them for 14 minutes they will be firm. It's up to personal preference.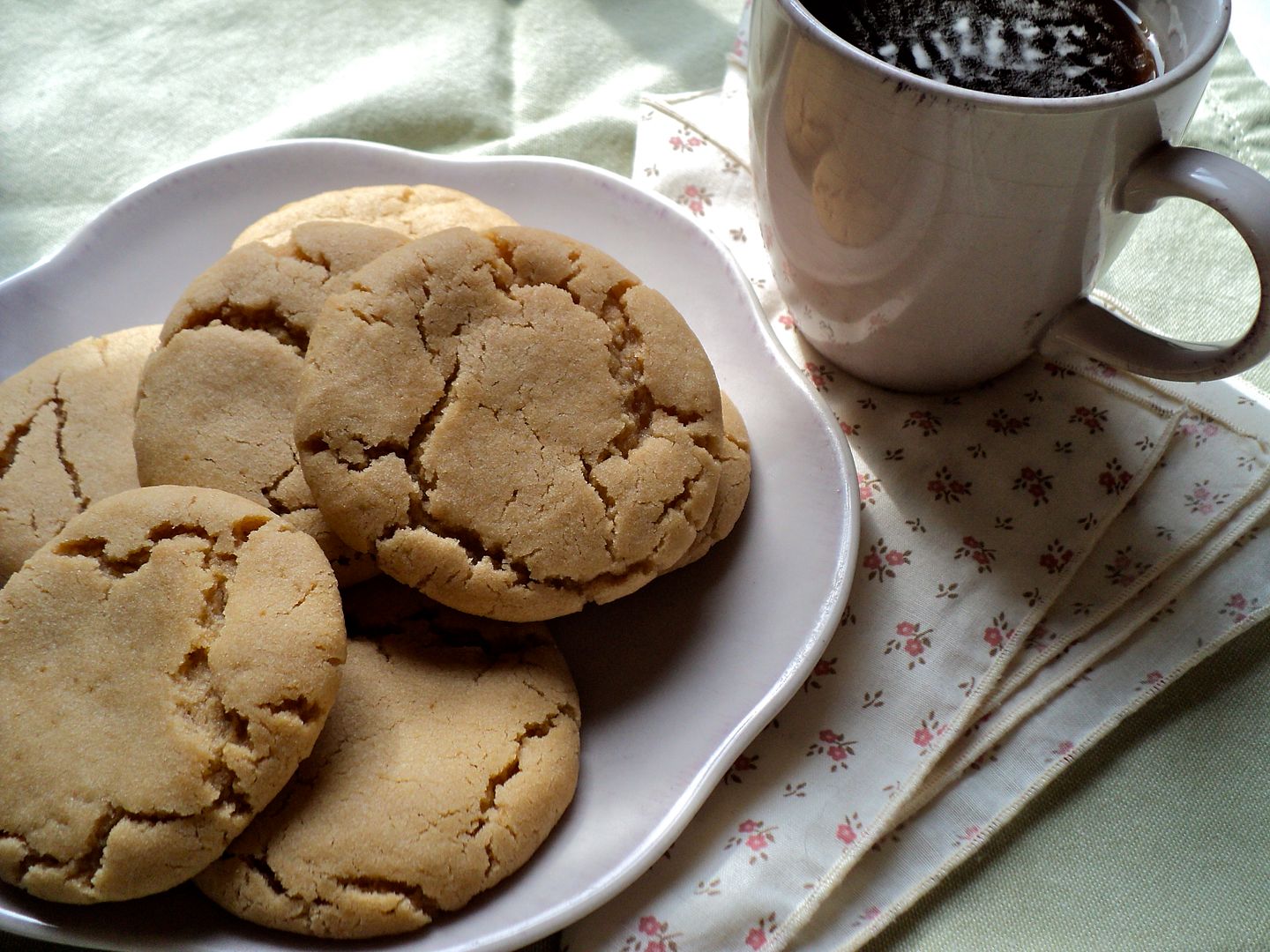 The only downside with this cookie, is that for the most part my caramel dissolved into the cookie rather than staying a separate layer like I saw in the non-vegan pictures. This could potentially be avoided if you used a really dense homemade caramel? I haven't tried it, but if anyone does I would be interested to see their results. Also if you want a heavier, spiced cider flavor I would definitely add some cinnamon and cloves and what not to the cookie dough. The spice of the cider is definitely washed out by the intense appleyness.