Some afternoons you turn on the oven and break out the jar of flour because you know that you should. You might just want to cuddle under the blankets and watch a movie, but instead you make a quick trip to the grocery store and make a batch of cookies. And it's good, because you have learned to let people help you bake. And so you know that not every cookie needs to look perfect and seeing their fingerprints in the cookie is pretty cute. And when you break it in the chocolate, it just means you get to eat one before you try to photograph the rest.
And some rainy evening you put on your nice shoes and go out even if you don't really feel like it. Sometimes you might feel like it would really be the best to just lie down and do nothing for a few days, but really what you need is to break your cycle and spend a little time with your friends. You might be stubborn and cranky at first, but after a few minutes you will be smiling and laughing and won't even mind that you are staying up a few hours past your bed time. Because you need to. You need to spend time with someone other than yourself and remember to let other people know how much you care about them.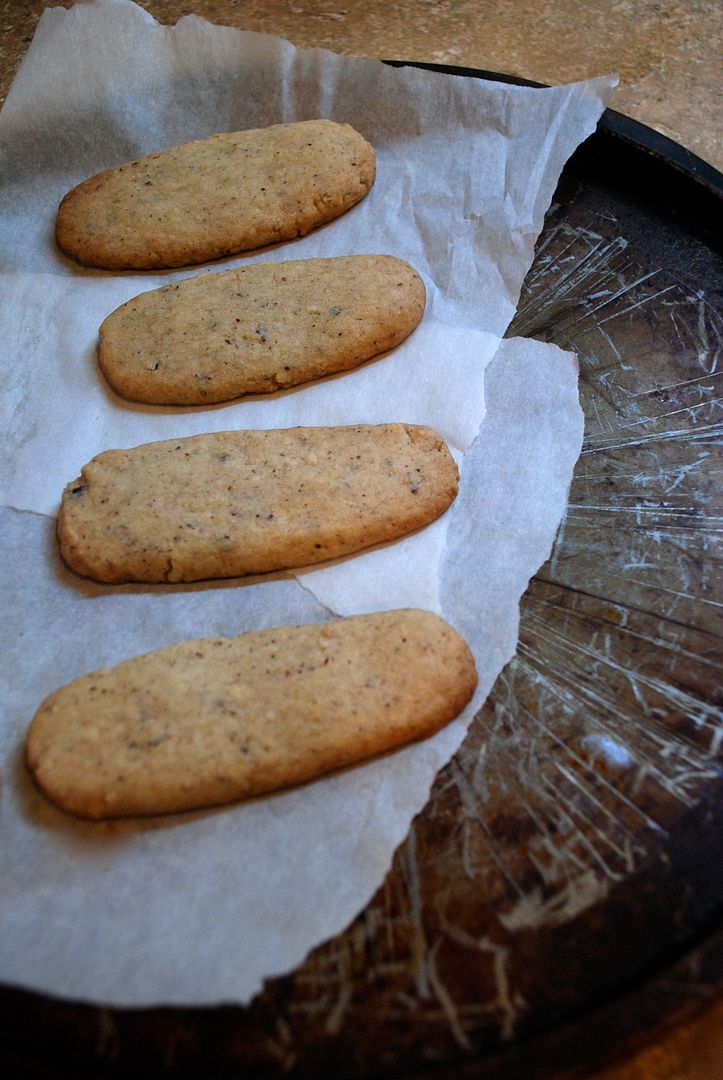 Chocolate Dipped Hazelnut Shortbread
Recipe from Epicurious; makes one dozen large cookies

1 cup all purpose flour
1/2 teaspoon baking powder
1/4 teaspoon salt
1/2 cup Earth Balance, room temperature
1/3 cup sugar
1/2 cup finely ground husked toasted hazelnuts (about 2 ounces)
1 teaspoon vanilla extract
4 ounces bittersweet chocolate
1/3 cup coarsely chopped husked toasted hazelnuts

Cream Earth Balance and sugar. Add ground hazelnuts and vanilla extract. Slowly beat in flour, baking powder, and salt. Roll into logs and press down onto parchment to form oval cookies. Bake at 325 for 20-25 minutes, until edges are lightly browned and crisp. While cookies are cooling melt bittersweet chocolate and chop remaining hazelnuts. Dip half of the cookie in chocolate and roll in nuts. Allow chocolate to firm for about 30 minutes before serving.