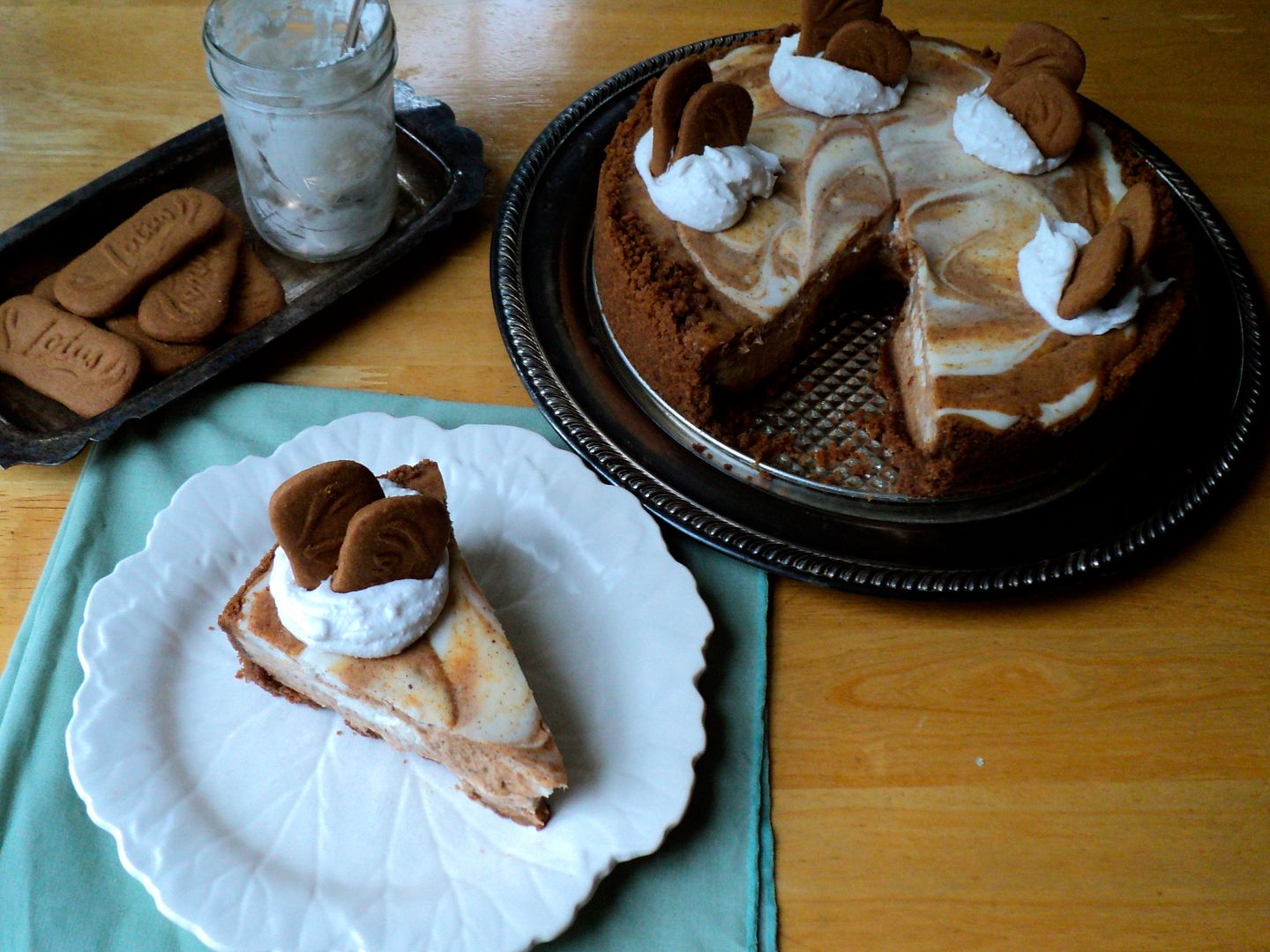 As the last few days of October are winding up I had to rethink what I was going to make a little more closely. I decided to combine a few of my things and make a pumpkin vanilla swirl cheesecake with a speculoos cookie crust. I always see pumpkin cheesecakes with gingersnap crusts, so I decided to tweak it and go with speculoos instead. I also have been trying to use more cookbooks, so I went with a recipe from Emily Mainquist's
Sweet Vegan
. I thought that I had all the ingredients, but when I started making the filling last night, I realized that somehow 2 of my 3 containers of Tofutti cream cheese had some sneaky little chunks missing. I ended up replacing the missing ~6 oz of cream cheese with vegan sour cream since the ingredients are pretty similar and the taste isn't too different either in my opinion. This might have led to my cheesecake setting a bit more softly than with all cream cheese, but no one seemed to mind. I also added a half tablespoon of vanilla bean paste to the vanilla cream cheese filling, and at least an additional teaspoon of cinnamon to the pumpkin cream cheese filling. I think pumpkin pie is pretty boring, so I was happy to know that this works & would be a fun substitute for the upcoming holiday dessert table.

Speculoos Cookie Crust
enough for an 8-9" cheesecake
13 ounces Speculoos Cookies (one & a half packages)
1/2 to 3/4 cup Earth Balance cinnamon spread
Crush the cookies to crumbs in a food processor. While those are being pulsed, melt the Earth Balance in the microwave. Pour over the cookie crumbs and mix with hands until the butter is fully incorporated. Start with 1/2 cup of melted Earth Balance. If the cookie crumbs still aren't wet enough to hold together when you squeeze it in your hands, then add the remaining spread. Press into the pan's bottom and up the sides. Bake as directed for your preferred cheesecake filling. If you want to use the regular spread, it will be just as good, but the kick of extra spice is really nice here, so I would add a half teaspoon of cinnamon to the cookie crumbs.
After the cheesecake baked I let it set overnight, then topped it with dollops of coconut whip cream and halves of the remaining speculoos cookies leftover from the crust recipe. I was glad to have so many people home from the storm so that I wasn't tempted to eat more than one slice of this cheesecake! Do you have a favorite cheesecake recipe? This is the first one I have ever made. I have never been a huge cheesecake fan until recently. Now that I found a nice springform pan at the thrift store for $2 I feel a lot more compelled to try a few recipes!