I was thinking about pomegranates a lot last week when I was making the panna cotta. I realized that while pomegranate juice was really expensive, I had recently gotten several whole fruits for pretty cheap. I looked up a few things on juicing pomegranates, and it's actually really easy! After I separated all the arils from the rind, I threw them in my food processor, then poured that into a fine mesh strainer. After squeezing the pulp for a minute or two I looked down at the measuring cup and was pretty pleased with how much juice I was able to get from the fruit. I reserved at least a third of a cup of arils for the top of the tarts, but from the remaining fruit I was able to get 3/4 cup of juice! That's so much cheaper than buying a bottle of POM.
These tarts are pretty simple. Once you have the juice it only takes a few minutes to make the filling. If you don't wanna go through the hassle of making tart shells, you could also buy pre-folded phyllo cups. They are most often vegan and are so, so convenient!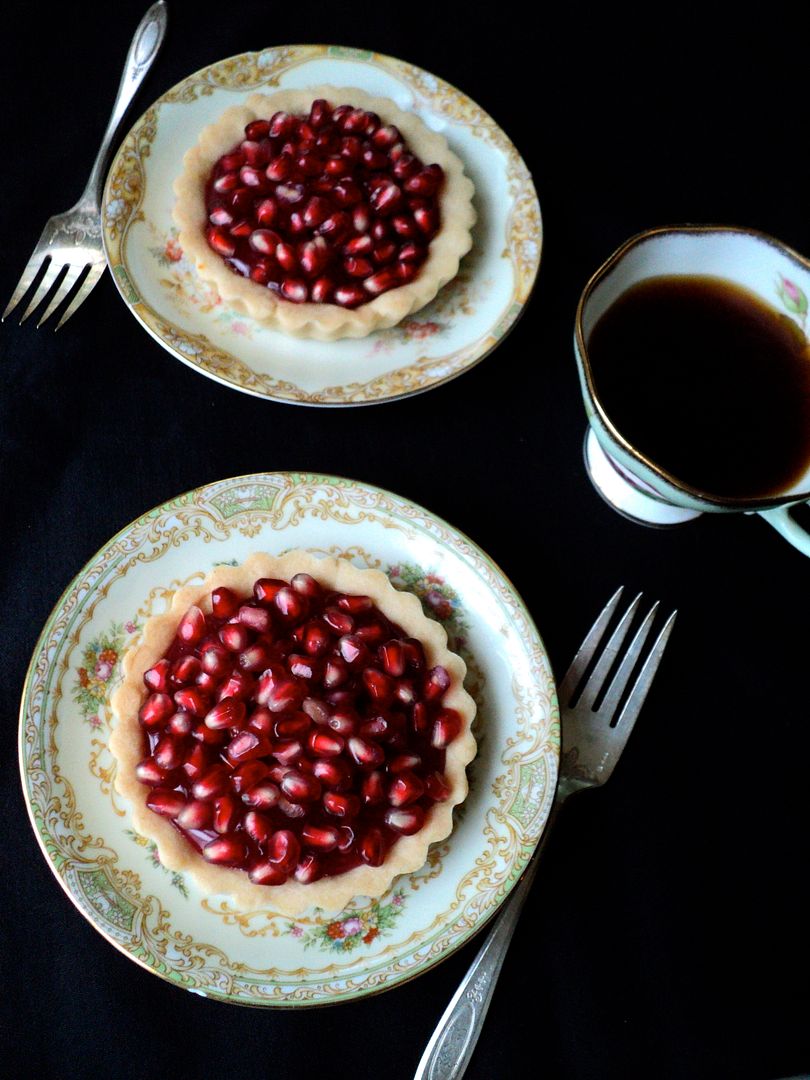 Pomegranate Tarts
makes three 3" tarts

1/2 batch of shortbread tart dough from Vegan Pie in the Sky
3/4 cup pomegranate juice
1/3 cup sugar
2 tbl cornstarch
2 tbl key lime juice
Prepare the tart dough, fill the shells, and bake them. While the shells are cooling, combine the pomegranate juice and sugar in a small sauce pan. Heat until boiling. While that is heating, whisk the cornstarch into the lime juice. Slowly whisk the lime mixture into the boiling pan. Whisk continually on medium heat until the mixture has thickened to a pudding like consistency. Fill tart shells and top with additional arils if so desired.