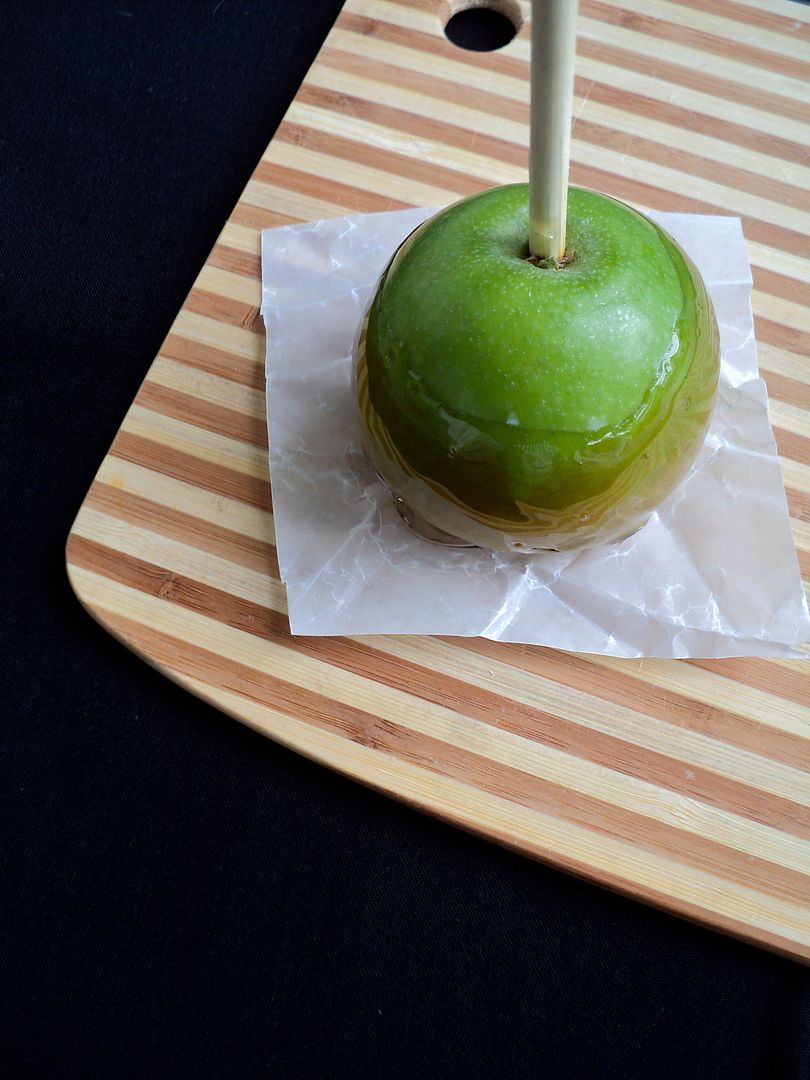 I have attempted to write this post four different times today. I don't feel capable of composing a sweetly written paragraph. All my words are gone. Some days it's just best to acknowledge that you aren't quite you, and move on. I'm sure it will be a little better tomorrow.
I wanted to make a corn syrup & dye free candy apple. I love sprinkles, and
vegan M&M's
, and all sorts of things that are full of dye. But apples are just so beautiful as is that I don't think they need to be covered in colored candy. There are plenty of reasons to avoid corn syrup, that I don't feel the need to go into detail about. I tried a few different versions. I tried one with brown rice syrup as the substitute, but I didn't enjoy the taste. I tried them with tapioca syrup, but the candy got far too hard. My third try I just used sugar and water. Because I used unbleached cane sugar, the color of the candy was just the slightest hint of tan. I cooked 2 cups of sugar in 1 cup of water until it reached 225 degrees. It was just the right amount of chewy for me. I didn't want something that was going to break my teeth. If you want a candy apple that has more of a crunch, cook your sugar syrup until it reaches 240 degrees. Just make sure to single dip your apple. A layer that is too think will make the apple inedible.
I also learned why people always add dye to candy apples. The high temperature of the syrup causes the apples to discolor when you dip them. If you look at the close up off the apple in the above picture, you will see what I am talking about. It happened with red & green apples alike. So lesson learned. I now know why for years people have added dye to candy apples. I am ok with the way the apples look. They reminded me of a Snow White-esque poison apple. Shiny and glossy and sweet but perhaps something a bit more sinister peeking out from under the candy.